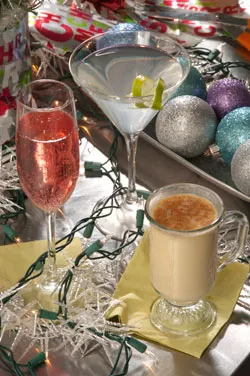 In the past year, Vermont has seen a tiny explosion of local, artisanal libations — drinks such as an herb-infused apple cider (Orleans); vodka and gin distilled from honey (Barr Hill Vodka and Gin, respectively); a maple-infused rum (Dunc's Mill Maple Flavored Rum); and an apple brandy (Vermont Ice Apple Crème Liqueur from Boyden Valley). Locally made genever and malt and corn whiskeys are on the horizon. We already benefit from a bounty of local food and beer; now we can count our local-spirits blessings, too.
So why not celebrate the season with a homegrown cocktail?
These whimsical drinks use one or more Vermont liquors. Some are served warm, most are chilled; some are simple to make, others require hunting down an obscure bottle or two. Many come with a backstory — and none calls for cloves or allspice, thankfully.
So raise a glass to the growing field of Vermont distillers. And remember, drinking locally still means drinking responsibly!
The Little Libertine
New Year's Eve usually calls for a glass of bubbly. If you want a change, dress up the flute with a splash of local elderberry cordial — for color and sweetness — and a splash of aromatic St. Germain.
1 teaspoon of Caledonia Spirits Elderberry
Cordial Champagne or sparkling wine
Splash of St. Germain*
Put elderberry cordial in a chilled champagne flute — more will give a deeper color. Top with champagne and a splash of St. Germain, and serve.
*If you don't want to splurge on a full-size bottle of the pricey Alpine liqueur, mini-bottles are available.
The Moscow (Vermont) Mule
At Vergennes' Bar Antidote, bartender Ian Birkett (also of Square Nail Hops Farm) recently bestowed on my friend and me a zesty Moscow mule and a citrusy sidecar, respectively. The former cocktail has little to do with Moscow, beyond its vodka base. It dates from 1941 as a fusion between the vodka of an East Coast distributor and the ginger beer of a Los Angeles bartender, according to various sources. The drink took off and helped launch Smirnoff Vodka.
As I live in Moscow, Vt., my friend and I micro-localized the drink back at my house. Substituting Shelburne Farms' new Ginger Jack for the ginger beer resulted in a sharp and spicy apple-ginger cider. A splash of ginger ale added effervescence. Though the drink sounds summery, the ginger gives it a warming kick.
Sprig of mint
Ice cubes
¼ lime
2 ounces Barr Hill Vodka
2 ounces Shelburne Farms Ginger Jack
1 tablespoon simple syrup
Splash of ginger ale or sparkling water
1 lime slice for garnish
To first make a batch of simple syrup, heat a quarter cup of sugar in a quarter-cup of water (or any amount with a 1:1 ratio) in a saucepan over low heat, stirring until sugar is dissolved.
Place mint sprig and ice in a tumbler (or better yet, a traditional copper mug), and squeeze juice from the lime wedge into the glass. Add vodka, Ginger Jack and simple syrup, and stir. Splash ginger ale over the top, garnish with lime and serve.
Green Mountain Flip
Once upon a time, New England was awash in locally made rum (mostly from Massachusetts and Rhode Island), and the egg-based "flip," as it was called, was sold in taverns everywhere. A concoction of rum, beer, eggs and sugar, the entire thing was brought to a violent froth by plunging a red-hot iron into one's mug.
These days, the flip is still around in simplified form. Here's a version that treads the line between flip and nog, and goes down like butter. Just be sure to use the best possible egg you can find — you're drinking it raw, after all.
2 ounces Flag Hill Pomme-de-Vie Apple Brandy, or Calvados
1 ounce bourbon (I used Maker's Mark)
1 egg, beaten
1 tablespoon of simple syrup
1½ ounces of light cream
A few drops of vanilla
Ice cubes
Freshly grated nutmeg
Add the first six ingredients to a shaker with ice. Shake vigorously until frothy, then strain into a glass. Grate fresh nutmeg over the top. (To make a "cleaner"-tasting alternative, substitute vodka for bourbon, and shave fresh, dark chocolate over the top.)
The Vermont Toddy
This drink comes from Marc Champoux, a veteran mixologist and bartender at Blue Paddle Bistro in South Hero. Though his creations can get complex — his recipe for last year's Sangria Smackdown used star anise and ginger syrup — Champoux calls this warm libation "simple and tasty." And, as he points out, ingredients are local, except for the lemon.
8 ounces apple cider (such as Cold Hollow)
1 ounce WhistlePig Straight Rye Whiskey
3/4 ounce Caledonia Spirits Elderberry Cordial
Lemon wedge
Heat cider on stove over low heat until warm. Do not boil. In a heat-resistant mug, combine rye and elderberry cordial, then pour warm cider over the top and stir. Add a squeeze of lemon for tartness.
The Peregrine
This cocktail comes via California-based mixologist and landscape architect Cooper Scollan, who already had a bottle of WhistlePig rye on his home bar. He writes in an email, "Notice how the Amaretto 'softens' the bold and fiery WhistlePig, and combined with tart sweetness creates a well-balanced mélange of flavors that linger like the smoke of a blown-out candle."
2 ounces WhistlePig Straight Rye Whiskey
1 ounce Disaronno Amaretto
Ice cubes
3 ounces sweet-and-sour mix
1 Asbach Uralt Brandy Filled Chocolate Cordial
Cherry
1 thin-cut lemon wedge for garnish
Lightly shake the first three ingredients and serve over ice in a highball glass. Garnish with cherry and lemon wedge.
The Local Buzz
The Inn at Weathersfield in Perkinsville, Vt., serves up consistently hearty, creative cocktails, and in winter you can sip them in front of a crackling fire. This drink recently debuted on the inn's menu. Co-owner Jane Sandelman writes in an email: "The Barr Hill Gin is key because it is made with raw honey — so the flavors marry up really well!"
2 ounces Barr Hill Gin
½ ounce Cherry Hill Farms' Just So Vermont black currant with lime juice
½ ounce local raw honey
1 ounce fresh-squeezed lemon juice
Ice cubes
Lemon twist
Put first 4 ingredients in a cocktail shaker and shake with ice. Strain into a cocktail glass and garnish with a lemon twist.
Hot (Buttered) Maple Rum
Made in Barnet with organic cane sugar and distiller Duncan Holaday's own maple sap, Dunc's Mill Maple Flavored Rum is subtly sweet and warming all on its own. Blend it in a mug with hot water, sugar and butter, and it doesn't just warm but seems to melt muscles and relax synapses. The small pat of butter makes the drink silky, the comforting spices seem to repel viruses, and the maple rum lends sparkling sweetness.
2-3 cardamom pods
1 pat unsalted butter
A few slices of peeled, fresh ginger
1 teaspoon light-brown sugar, or more to taste
Pinch of nutmeg
Pinch of cinnamon, or a cinnamon stick
Pinch of orange zest, or an orange twist
2 ounces Dunc's Mill Maple Flavored Rum
Hot water
Vanilla (optional)
Put cardamom pods in the bottom of a tall mug and crush lightly with a pestle or other blunt kitchen tool. Add butter, ginger, sugar, spices and orange zest. In a separate mug, combine rum and hot water. Pour over spice mixture. Stir to dissolve butter and sugar. Add a few drops of vanilla, if desired, and serve.
A Walk in the Woods
Local mixologist Laura Wade of Misery Loves Co. and photographer Jessica Anderson have created a gorgeous cocktail photoblog called Booze Block, from whence comes this wildly creative drink, which gets its unusual flavor profile from pine needles. "I am thankful that I can clip a few needles from a tree, make a cocktail to sip on, and think of just how lucky we are," writes Wade. To first make pine-needle syrup, steep a bunch of cleaned, dried pine needles in a simple syrup, and let it cool before serving.
1½ ounces good single-malt Scotch
½ ounce pine-needle syrup
½ ounce absinthe
Combine ingredients, pour over ice and serve.