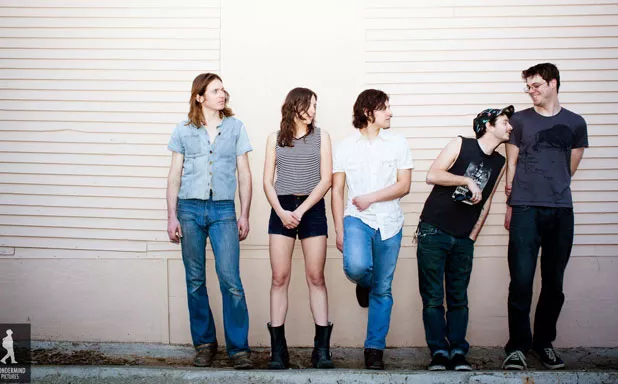 Y'all ready for this? This weekend, more than 50 local bands will gather for the Precipice, a three-day music festival at the Intervale Center in Burlington that might be the largest, most comprehensive and diverse showcase of Vermont-made music the state has ever seen. On four separate stages, the fest will feature some of the best and brightest acts Vermont has to offer.
It all begins this Friday, July 20. Among the headliners are rising R&B phenoms Kat Wright & the Indomitable Soul Band, suspender fusionistas the Vermont Joy Parade, hip-hop heroes the Lynguistic Civilians and sons of Death, Rough Francis. That's in addition to Brett Hughes bringing the Honky Tonk Tuesday crew to the farm for an old-school country hoedown, the head-spinning experimental guitar shenanigans of Bob Wagner and Matt Hagen's Brain scapes, garage rock from the Toes, low-key indie fun from Hello Shark and something called Studio Chicken. No idea what that is, but I'm curious to find out.
Saturday, July 21, brings more than 30 acts. Some choice cuts include Prince-ly goodness from Craig Mitchell & Motor City, "Amerarcana" from Michael Chorney & Dollar General and indie-folk songstress Maryse Smith. The cool kids from Angioplasty Media have a stage to themselves on day two as well, offering some typically fascinating, under-the-radar music from the likes of CRINKLES, alt-country revivalists Shelly Shredder, ghost popsters Parmaga and much more.
Also of note: You may have heard rumors that Heloise Williams has departed from the Savoir Faire. That's true. In a recent email, the disco-rock diva writes that she's "decided to take a break from being a band leader" and work as a solo act. For her Precipice set, she'll have backing from the omnipresent DJ Disco Phantom.
Things calm down on Sunday, July 22. The bulk of the slate is local singer-songwriters and folk-oriented acts including Kat Wright & Brett Hughes, Lowell Thompson, Chris Dorman, the Amida Bourbon Project's Aya Inoue, Francesca Blanchard, and Wren & Mary, among many others. Seems like a nice, relaxing way to soothe away the rock-and-roll hangover from the preceding nights, no?
For tickets, check out brownpapertickets.com, or swing by Radio Bean and grab them in person.
Last Call?
In what might be the most drawn-out "Will they, won't they?" story line since Ross and Rachel — bet you weren't expecting a dated "Friends" reference there, right? — the news out of White River Junction concerning the fate of the Tupelo Music Hall gets more convoluted by the day. Let's sort this out, shall we?
To recap — again — in May, the Valley News reported that, due to financial troubles, the nightclub was facing the possibility of closing. TMH owner Scott Hayward disputed that report in a letter to patrons, saying that while the club was indeed strapped for cash, it had no plans to close. Then, two weeks ago, and as we reported in last week's column, Hayward sent another missive to customers announcing that, regrettably, the club would indeed close its doors in August. Bummer.
Last Friday, July 13, Seven Days received a voice mail from Rebecca Poitras at Lights Alive Productions, essentially saying, "Hold on a sec, the club isn't closing and a group of interested parties were planning a two-day fundraising festival on August 11 and 12 to save Tupelo." We reported that news later the same day in an appearance on WCAX's "The :30." Light on the horizon? Not so fast.
Over the weekend, Hayward confirmed in an email that, while there is a festival planned at the venue in August, it is not a "save Tupelo" event, and that the club will still close as planned. Money raised from the fest will go towards helping worthy causes in WRJ before Tupelo leaves. However, he added that he is currently in negotiations with an independent group interested in using the space to host future concerts, which Tupelo would help promote, though not under the TMH name.
So what does it all mean?
Tupelo Music Hall is closing. Not including the fest, you have five opportunities between now and the Dr. Burma show on Saturday, August 4, to experience the Upper Valley nightclub — including locals Jeanne & the Hi-Tops this Friday, July 20, and songwriter Chris Smither on Saturday, July 21. After that, TMH as we know it will be no more. But there is at least a possibility that the building will continue serving as a music venue in some capacity moving forward, including the aforementioned festival, which is rumored to feature some national headliners. No names have been released as of press time. Stay tuned.
BiteTorrent
In lighter news out of the Upper Valley, Windsor-based musicians cooperative What Doth Life has partnered with Great Falls Community Media — which is the nonprofit parent organization that runs the community radio station WOOL 100.1 FM — to present a summer concert series that kicks off this week. On Saturday, July 21, WDL presents Derek & the Demons, Dudestew, Caleb Thomas and Ryan Hebert. The shows will take place at the GFCM studios in Bellows Falls. For more info, check out whatdothlife.com.
It's really nice to have surf-noir badasses Barbacoa and garage punks Persian Claws back in town for a hot minute or two. I haven't caught up with the Claws yet, but I did briefly reacquaint myself with Barbacoa at last Saturday's Crosswalk fashion show at Main Street Landing. I gotta say, Bill Mullins and company were sounding as surfalicious — and Morricone-ian — as ever. I kinda forgot how much I dig that band. For their part, the Claws have making waves in national underground punk circles, having been featured in a number of cool zine comps recently. You can catch both bands at the Monkey House this Thursday, July 19 — immediately following Sean Bones' early show, BTW. Also on the bill is local punk outfit Black Rabbit, which just released a pretty gnarly, self-titled debut EP.
Speaking of prodigal musicians coming home, guitarist Chris Bell is back in Vermont this week. For the past 10 years, the guitarist has been making a name for himself in Austin, Texas, playing a rootsy fusion of blues, R&B and jazz. You can catch him with his group, the Belltower Trio, this Saturday at Bar Antidote in Vergennes.
Just a heads up, the ongoing monthly listening-room series curated by Zack duPont has switched locations. The series, which continues this Sunday, July 22, with local songwriter Aaron Flinn and Northampton indie folks Darlingside, will now make its home at Signal Kitchen in Burlington after debuting last month at the Black Box Theater.
If you missed James Taylor's son, Ben Taylor, at Tupelo Music Hall last week, you can see him — for free — this Thursday, July 19, at as part of the ongoing Battery Park Free Concert series presented by 104.7 FM the Point. That is all.
Last but not least, word on the street was that comedian Louis CK was in Vermont last week, which led to wild rumors that he might drop by Levity's weekly open mic last Thursday. He didn't — and, really, why would the dude work on vacation? However, another talented NYC-based comedian will definitely make a local appearance this week: Mike Lawrence. Lawrence, who regularly tours with John Oliver, from "The Daily Show" will be at the Monkey House this Saturday, July 21, with fellow New Yorker Scott Chaplain and a pair of locals, Phil Davidson and Kyle Gagnon.
Listening In
Once again, this week's totally self-indulgent column segment, in which I share a random sampling of what was on my iPod, turntable, CD player, eight-track player, etc., this week.
Sean Bones, Buzzards Boy
Frank Ocean, Channel Orange
Dirty Projectors, Swing Lo Magellan
Aesop Rock, Skelethon
Blanche Blanche Blanche, Wink With Both Eyes