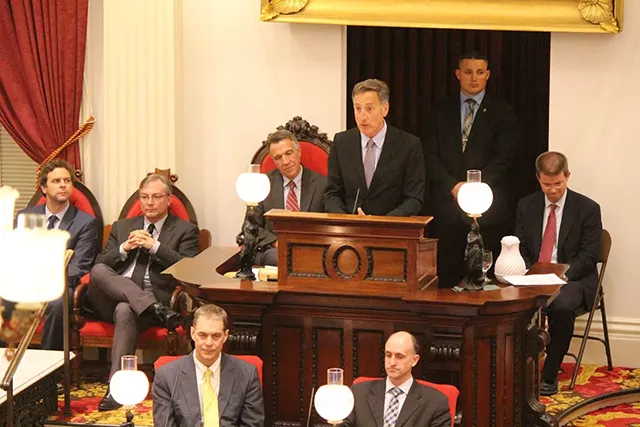 Paul Heintz
Gov. Peter Shumlin addresses a joint assembly of the Vermont House and Senate early Saturday morning.
Late Friday night, after the Vermont House completed its work for the year, members spent the final moments of the legislative session standing, one by one, to wish retiring colleagues a fond farewell. With so many lawmakers leaving, the goodbyes took some time.
"Is anybody coming back next year?" Rep. Sam Young (D-Glover) joked as the clock struck 11:17 p.m.
Some, yes, but not the four men who have run the joint for the past six years — each of whom has served at least 14 years in state office: Gov. Peter Shumlin, Lt. Gov. Phil Scott, House Speaker Shap Smith (D-Morristown) and Senate President Pro Tempore John Campbell (D-Windsor).
As midnight approached, all four delivered farewell addresses that dwelled on the Statehouse's collegial — even familial — nature.
"Like all families, we've had our spats, but we've always come together, in the end, to do what's best for Vermont," Shumlin told a joint assembly of the House and Senate. The governor gamely ticked off a list of the session's accomplishments, but even he seemed to admit that there weren't very many.
"I know this isn't the year for ticker-tape parades for public service and endless thank-you tributes from your constituents," he said before veering off his prepared remarks. "That's why we've gotta give them to ourselves."
Others were more blunt.
"This was probably the roughest session I've been in," said Sen. Dick Sears (D-Bennington), who has served for 24 years. "I think the leadership changes were unprecedented ... That created some vacuums."
Sears' protégé, Sen. Tim Ashe (D/P-Chittenden), pointed to one vacuum in particular: An administration that once ruled the Statehouse with an iron fist had spent the session "kind of closing its books."
"We don't see the face of the administration officials the same way we have in the past," said Ashe, who is vying to succeed Campbell as Senate president pro tem. " I would say they're closing up."
Sen. Claire Ayer (D-Addison), who is also running for the position, expressed a sentiment shared by many in the building: that the legislature has been adrift ever since Shumlin abandoned his plan to enact the nation's first single-payer-style health care system 18 months ago.
"I think we had PTSD — reform fatigue," she said. "After that big lift, I think everyone was a bit burned."
By the end of last week, plenty of lawmakers seemed to be turning their attention to the looming election season. House Republicans demanded roll-call votes Friday night on the budget and tax bills — to put themselves and the Dems on the record for electoral purposes. Scott, who is running for governor, missed his final afternoon of presiding over the Senate so that he could participate in Green Up Day festivities — photos of which were immediately dispatched to his social media accounts.
At the start of his final press conference as speaker Friday afternoon, Smith joked about a hit piece the Republican State Leadership Committee had just mailed to his House district, assailing him for his spendthrift ways. It was scotch-taped to the glass wall of his Statehouse office.
"I'm fired up about this. I think it's awesome. It's, like, one of my best oppo pieces," he joked. "They must be really concerned about a guy not running for office."
Smith, who had previously committed to adjourning by Saturday, told the assembled reporters, "If we pulled an inside straight, we could get out of here tonight — but I don't think that's likely." Even as he savored his final moments in command, Smith seemed ready to go home.
Asked whether he felt the legislature had accomplished much this session, the speaker chuckled.
"I think it's in the eye of the beholder," he said, before growing serious. "I think that we did."
Smith ticked off a list of three victories: a bill guaranteeing paid sick leave and more funding for human service agencies and transportation projects.
"There's not a lot of sexy stuff this year. But, you know, if you look at the biennium," he began, and then listed several of last year's legislative accomplishments.
A few minutes later, Smith seemed to arrive at a better answer.
"You know, here's the thing: I don't think that we should judge the success of a session on the number of bills that we pass," he said. "I think that we ought to look at the long-term arc and say, 'Did we put in place policies that are going to have a long-term effect on the state of Vermont?'"
He's right. It's not about the numbers. And while many of us focused on bills that didn't cross the finish line — marijuana legalization, fossil fuel divestment, redefining independent contractors and ethics reform — the legislature did make incremental progress that will affect people's lives: Youthful offenders will have greater access to the family court system; those with criminal records will have greater protections when applying for jobs; and those addicted to opiates will have greater access to naloxone.
But there is something to be said for ideas that are bigger and more expansive than those — ones that could lift more Vermonters out of poverty, bring more jobs to the state's rural reaches and improve quality of life for everybody. Such big ideas have been missing in recent years.
As Smith finished up his press conference Friday, reporters asked — as they always do — whether he would run for another state office.
"You know, this is a bad time to ask whether I'm running for anything," he said, levity returning to his voice. "Because all I really want to do is run from the building."
He wasn't alone.
The Donald Duck
Since former beauty pageant magnate Donald Trump locked up the GOP presidential nomination last week, party officials throughout the country have been tying themselves in knots explaining whether they'd hand him the nuclear codes.
Same holds true here in bright blue Vermont.
Gathered at the Statehouse last Thursday to endorse Scott's gubernatorial campaign, many of the state's Republicans seemed uninterested in discussing the Donald. Some stood like deer in headlights when a reporter asked for a show of hands of those who would vote Trump. The lieutenant governor quickly intervened.
"I will say that this press conference is about electing me," Scott said. "So I would like to ask everybody that's going to vote for me to raise their hands."
The Republicans hoisted their hands and cheered — and then dodged several more questions about their party's presidential nominee.
In fairness to Scott, he has been nothing if not consistent in his aversion to Trump.
As early as last September, he told Seven Days he found the man "totally offensive." Three months later, when Trump called for a ban on Muslims entering the U.S., the LG tweeted, "Real leaders don't reject American values, incite anger or exploit fear for political gain." And in March, Scott said, "I can't vote for someone who acts the way he does — disparaging women, minorities, mocking people with disabilities."
So it came as no surprise last Thursday when Scott stood firm and vowed to write in a noncandidate's name for president — perhaps former governor Jim Douglas. (By Friday, legislators were already circulating hot-off-the-press "Jim Douglas for President" bumper stickers.)
Other Republican candidates haven't been so clear.
Almost-governor Scott Milne, who says he's "very likely" to challenge U.S. Sen. Patrick Leahy (D-Vt.) this fall, previously endorsed Ohio governor John Kasich. Now that his fave has dropped out, Milne says, "I'm not supporting anybody for president right now."
He has been paying attention to Trump's utterances, though, and says, "A lot of it's disturbing."
Please, go on!
"Claiming that he didn't know who David Duke was, cozying up with the Klan. Everybody says things in the heat of campaigns that probably aren't filtered correctly, but Trump has said some things that I think a lot of Americans are going to have a hard time swallowing when they vote for him," Milne says. "But we'll see. There's a lot of time between now and the election."
Wait a second. "Cozying up with the Klan" isn't a deal-breaker?
"I'm not ruling him out," the Pomfret Republican says. "Hillary Clinton, according to many people who are credible or are viewed as credible, could be indicted by Election Day."
So when will Milne make up his mind?
"I promise you when we get to October 15, I'll tell you who I'm going to vote for, and you can take that to the bank," he says.
Then again, deadlines slip. Just ask Scott's primary opponent, retired Wall Street banker Bruce Lisman. Two months ago, the Kasich supporter said he would make up his mind about Trump if and when the guy locked up the nomination. After Kasich dropped out last Wednesday, Lisman issued a statement pledging to "carefully evaluate" Trump's candidacy "in the coming days."
The "coming days" have since come and gone — and Lisman remains on the fence.
"You know, I don't have a lot of time to watch television these days," he claims. "So I'm just catching up on Mr. Trump."
Like Milne, Lisman says he finds some of Trump's rhetoric "offensive and, in some cases, disturbing." For example: the likely nominee's proposals to deport undocumented immigrants, discriminate against Muslims and punish women seeking abortions.
"And he's said other things that I found concerning, but he's also said things that I think ring true for people and for me," Lisman adds, citing Trump's economic and foreign policy messages. "Therefore, I think it's a good moment to listen to what he says between now and the convention, because he really won the race — and now what?"
The Shelburne Republican isn't leaving himself with many other options. He says he would not cast a ballot for likely Democratic nominee Hillary Clinton, nor would he write in another candidate. So, um, doesn't that mean he's voting Trump?
"No, that isn't what I said," he counters.
Why not consider Clinton?
"I'm in the Republican party," he explains. "I'm from this side."
Maybe now. But as recently as October 2010, Lisman described himself to Vermont Business Magazine as "a lifelong Democrat." Within a few years, he had jettisoned that label in order to run the ostensibly nonpartisan Campaign for Vermont — a sort of gubernatorial campaign-in-waiting funded with more than $1.3 million of his own cash.
"I've said before I was a longtime Democrat. I gave it up along the way," Lisman told Seven Days in an August 2013 interview. "I don't think political parties have been doing the right thing for a while."
That hasn't kept him from donating at least $26,450 to the Vermont Republican Party since 2010.
Prior to his partisan conversion, Lisman contributed to such Democratic luminaries as Sen. Chuck Schumer (D-N.Y.), former governor Howard Dean, and former senators Tom Daschle, Chris Dodd and Jon Corzine. And, get this: He donated $1,000 to Clinton during her 2008 presidential campaign.
"Well, I went to a fundraiser," he says, downplaying the donation. "Someplace in New York ... I think it was somebody's office."
Funny. During that August 2013 interview, Lisman wasn't so embarrassed by his former political beau.
"I liked Hillary a great deal," he gushed at the time.
As for the $500 he gave President Barack Obama later in the 2008 race?
"I remember that one. A colleague asked me for a favor," he now explains. "It was a fundraiser. He asked me to go. A close friend. I said I'd really rather not go. And he said, 'Well, listen.' He was a good friend."
Well. Now that Lisman's journey across the political spectrum has landed him to Scott's right in a Republican primary, there's only one step left for him: endorsing Donald Trump and donning a "Make America Great Again" hat.
So when's he gonna make up his mind?
"I haven't decided," Lisman says. I'll make it up when I make it up."
Disclosure: Tim Ashe is the domestic partner of Seven Days publisher and coeditor Paula Routly.