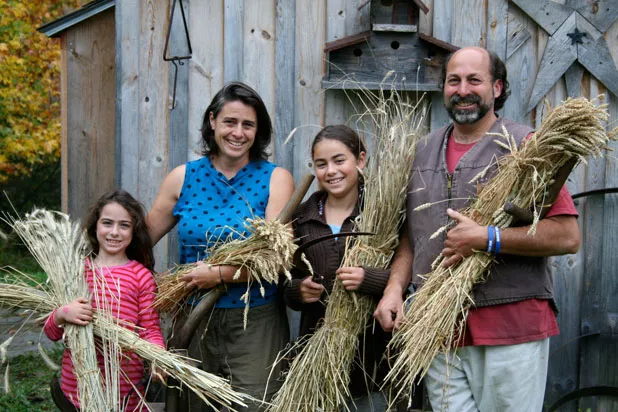 At the 5-year-old Naga Bakehouse in Middletown Springs, making good bread is a family affair. On a typical afternoon, home-schooled Ellis, 7, and Tikko, 10, are mixing up a batch of bread dough while their parents, Doug Freilich, 48, and Julie Sperling, 43, make lunch. The grown-ups adorn rolls of their signature sourdough with toppings gathered from their garden or purchased at a recent farmers' market. When the wood-fired oven is hot enough, the rolls go in. Some are beefed up with kale and feta, others topped with tomatoes and chèvre, and still others bear thin slices of pear and bits of Grafton cheddar. Soon a savory smell fills the room.
These stuffed and decorated breads — along with traditional loaves and flavorful breadsticks — are Naga's signature products. They're sold at the Rutland and Middlebury co-ops, but the bulk of the breads disappear at a handful of area farmers' markets. "This isn't maple syrup that's gonna sit on the shelf. We bake it and we get it to our audience immediately," Freilich explains. "We have the control over how fresh it is."
At those markets, the couple has found a doggedly dedicated — and well-organized — clientele. "They come with coolers and buy the meat and cheese first, and then grains and cut flowers, and then vegetables and breads," says Sperling. "They come out in crappy weather, and they say, 'If you're gonna be there, we're gonna be there.'"
Freilich and Sperling give their products the charming billing of "consistently inconsistent," because the mix of grains and toppings changes with availability. But they always proffer a wide range of flavorful fare, which can include dense, multigrain loaves, potato knish and salt 'n' caraway sticks. Some customers order between six and 12 loaves at a time and freeze what they can't use immediately. Folks who grew up in Europe, Freilich says, are particularly wild for Naga's dense, hearty offerings. The bakers call the process of making these naturally leavened breads "natural grain alchemy" — hence the business' name.
The winter markets popping up around the state are a boon to Freilich and Sperling: They'll be driving all the way to Burlington for the city's first-ever monthly gatherings. And they already peddle enough bread to "support our family almost 100 percent," Freilich says. (The couple supplements its income by teaching baking classes, with the odd house-painting job thrown in.)
As if feeding four mouths on farmers' markets wasn't rare enough, Naga is unusual in another way: This year, the family began growing its own wheat, spelt, rye and flax. They process the berries in their wooden mill, which stands about 4 feet high and encloses a small pair of whetstones, with a spout formed from PVC pipe. Freilich and Sperling ultimately hope to produce enough grain to supply much of their own flour. But it will be awhile before that dream becomes a reality. In one year, Freilich marvels, "We use over 15 tons of flour, plus additional grains. That's 30,000 pounds, for this little bakery!"
For now, the bakery is buying local flours from other sources, such as Gleason Grains. "Because the grain is grown right here and isn't traveling 3000 miles, the inputs are controlled," Freilich says. And by choosing Vermont wheat, he conjectures, "We're getting two new things: quality grain, which we've always had, at a price point that's equal [to] or actually lower than if we were buying the fluffy, overmilled product that most places are using." Sperling describes these advantages as an "almost unintended consequence" of making the choice to buy local for ethical reasons.
Although wheat can be difficult to grow in Vermont (see "No Grain, No Gain"), learning to do so could help insulate the bakery against the wildly fluctuating economy. Earlier this year, wheat prices went sky-high, prompting concerns from restaurateurs, bakery owners and consumers. Last week, amid global fears about the state of the market, those same prices tanked.
******
When Sperling and Freilich first met, they certainly never guessed they would someday take sickles out into the fields to harvest their first sheaves of rye, or that they'd decide to homeschool two precocious daughters. The pair grew up in neighboring New York towns, where 18-year-old Freilich befriended Sperling's older brother when she was just 12. It was nearly a decade before she knew him as anything more than her sibling's pal.
In his twenties, Freilich had a job making "documentary films on environmental issues," he recalls. Sperling and her brother joined his crew on a two-month shoot in Peru, and soon the two were seeing each other as like-minded life partners.
Both were drawn to Vermont. Freilich, who first came here to hike the Long Trail, liked "knowing that [the state] was small, that it was accepting of all types of people. It was exciting," he says. "You could really openly experiment with your goals in life."
As for Sperling, when she was 7, her family began making a regular pilgrimage to Glover for the Bread and Puppet Festival, where she felt the pull of this "back-to-the-land, open-minded, accepting place. I knew that I'd be living here as an adult," she says. Her love of the folk festivals her parents introduced her to spilled over into an affection for farmers' markets, which she still sees as "festive place[s], almost gypsy-like in the sense that you have this moveable community that comes and sets up."
For a while, Freilich and Sperling were nomads themselves, pulled hither and yon by their work as documentary filmmakers. They touched down in Putney while both earned Master's degrees in environmental science at Antioch University's campus in Keene, New Hampshire. Beginning in 1993, Sperling worked as director of the Equinox Preservation Trust in Manchester, a position that allowed Freilich to be a part-time environmental consultant and stay-at-home dad.
But they itched to start something of their own. "We were trying to figure out how to stay warm in Vermont without sitting behind a desk," Sperling recalls. "The idea of working for ourselves made sense." So did "raising a family and being around for that family rather than putting the kids in daycare."
"We see baking as a continuation of the environmental communication and storytelling . . . all these virtues are in a loaf of bread," Freilich explains. In 2003, with the help of family and neighbors, he and Sperling erected the bakery during a two-day "barn raising." "It was pouring rain. It was November. It was hard," she remembers.
But you can't bake bread without an oven. With a "technical assistance" grant from the Vermont Community Loan Fund, Naga's owners hired Alan Scott of Ovencrafters in Petaluma, California, to lead an oven-building workshop. Sixteen people attended, and Freilich and Sperling ended up with their very own wood-fired oven, with a fetching brick arch at the mouth and a set of sensors that provide temperature readings for various zones.
The variability of the brick oven is another reason for the "consistently inconsistent" quality of Naga's loaves. But Sperling and Freilich say that baking without fire is like dancing without music: Convection ovens may turn out perfectly golden loaves, but they lack soul.
"The fire keeps you warm, and when you work hard year- round . . . your spirits remain pretty strong, even when it's gray and quiet," Freilich says. "We're always burning the midnight oil, so we're really aware of when the sun comes and goes. At first it's a little exhausting, but it becomes part of your normal routine, and you realize that most people don't have time for that."
In a world of tired 9-to-5 commuters and over-scheduled kids, the Naga family has rediscovered an older way of life that keeps them busy around the clock. Says Freilich, "We're awake in the interstitial moments that most people never see." But when they show up at a farmers' market on Saturday or Sunday morning, their loyal customers are sure to keep the date.