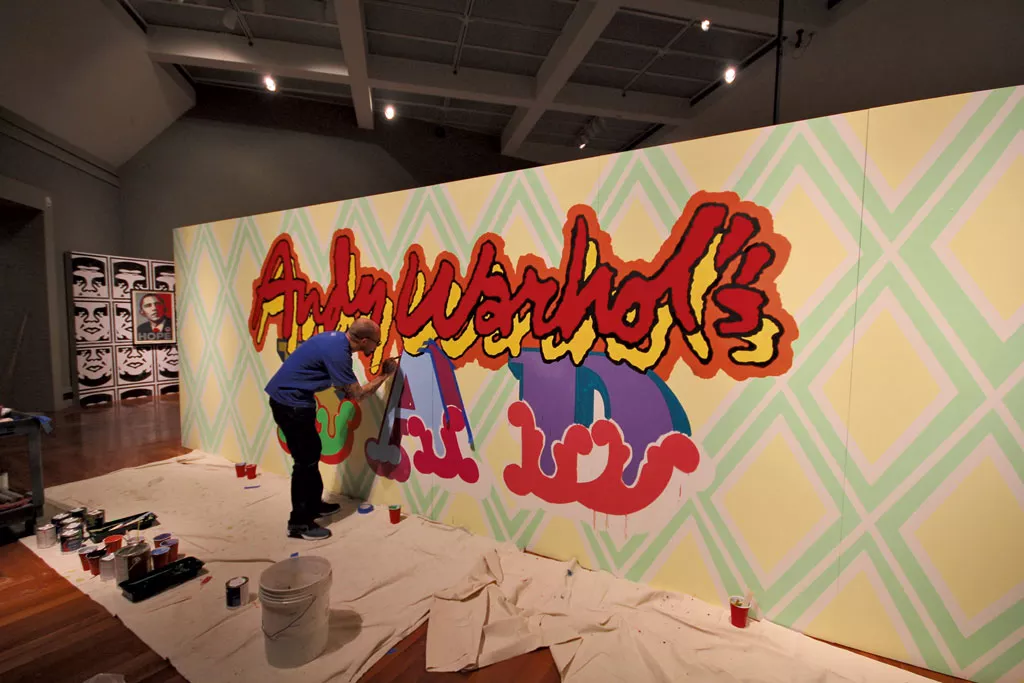 Courtesy of Middlebury College
Ben Eine painting the installation "Andy Warhol's BAD"
On a subfreezing afternoon in early February, Ben Eine stepped down from a tall ladder inside Middlebury College's Mahaney Center for the Arts, where he'd been painting the indoor entrance to the school's art museum with his signature colorful typography. A UK native who currently resides in San Francisco, Eine is "one of the street art movement's most established names," as a critic for the Guardian put it last year.
Eine got his start as a graffiti artist more than 20 years ago, "tagging things and generally being a little vandal," he said. But, along with a handful of other international street artists, he has launched a career that's brought him all the way to the walls of contemporary art galleries and museums.
"The stuff I produce now is far more thoughtful and far less selfish," Eine reflected. "Graffiti takes something away, for the most part, and street art and the stuff that I do adds something, I feel."
Watch the video:
Eine regularly circles the globe painting walls on commission, and he makes sculptural objets d'art and prints. He catapulted to international fame when British Prime Minister David Cameron gave one of his paintings to the Obamas during a visit in 2010. Eine also spent five years working with the better-known and more subversive English street artist Banksy.
The occasion for Eine's stop in Middlebury was the museum's major spring exhibition "Outside In: Art of the Street," cocurated by chief curator Emmie Donadio and museum preparator Chris Murray. The exhibit runs through April 19 and features works by 16 internationally recognized street artists or artist teams, including Banksy, JR, Bäst, Blu, Faile, Shepard Fairey, Swoon and Judith Supine, along with documentary photographs by Henry Chalfant. Most of the works are on loan from private collectors, but a few pieces have been acquired for the museum's permanent collection.
"They've just torn down all of the parameters of what it means to be an artist," said Donadio of the participants, as she gave Seven Days a sneak preview of the show. "That's why I think it's fascinating."
Why exhibit street art in a New England college museum? "We thought it was important to do a show about a contemporary development [in the art world]," Donadio said. "And many of the artists shown have the same social ethos as our students. They want to stop global warming. They see themselves as against the system, but it's a very interesting phenomenon, because they've been completely absorbed by the system. And that's just the complexity of the art world."
"Right now, the street art movement is one of the biggest movements in the world of art," Murray added. "There are so many artists out there. A lot of people walk around with blinders on, but whether or not you realize it, you see it. Even in Middlebury, you can walk down the street and, if you look, you'll see stickers on signs. People don't realize it, but they're walking by a work of art."
The journey of street art from the "outside in" is, Murray noted, currently a hot topic. In this context, "in" means a position on gallery and museum walls, and the broader achievement of art-world legitimacy. And the artists themselves, Donadio pointed out, "all have a different take on it."
"Some of them have really been appropriated, and some enjoy that," she said. "Some of them use their fame, perhaps, to advance the causes they believe in. There's a gamut of authenticity involved."
The exhibit includes prints and paintings. There's also an actual wall covered in wheatpaste posters rescued from Brooklyn, which Murray transported himself from the studios of Faile and Swoon; and the indoor wall that Eine painted specifically for this exhibit, titled "Andy Warhol's BAD."
This was Eine's first trip to Vermont. Normally, he's commissioned to do work in urban centers, he said. The day after he completed his wall at Middlebury, he would head home to San Francisco for a brief rest, then to Dubai. Then London. Then Chicago. Then London again. Eine said he wasn't quite sure where Vermont was before he arrived at the height of a midwinter blizzard, but he claimed to be "happy to be here."
"Luckily, we're here at a really cold time," he deadpanned. "We get to see extremes, which is good. If we came and it was just another winter somewhere, it'd just be like..." he trailed off with a shrug. "But if we get here and it's like, Fuck! It's the coldest place I've been to! it all makes it better. Oh, and I've got a cold! I've got the complete Vermont experience."
The indoor wall Eine was commissioned to paint presented other challenges. His first thoughts on seeing it, he admitted with a laugh, were, Those windows are big, and can we get rid of that television?
Eine had originally planned to do a pixelated Andy Warhol portrait. But after encountering the wall, he reverted to his signature typography.
"One of the things that street artists and graffiti artists do very well is, we think on our feet, and kind of work out what's best for the situation and the wall and the people that are going to look at it," he said.
What should the colorful wall convey to Vermonters?
"A little bit of happiness, a little burst of color, a ray of sunshine," Eine said.