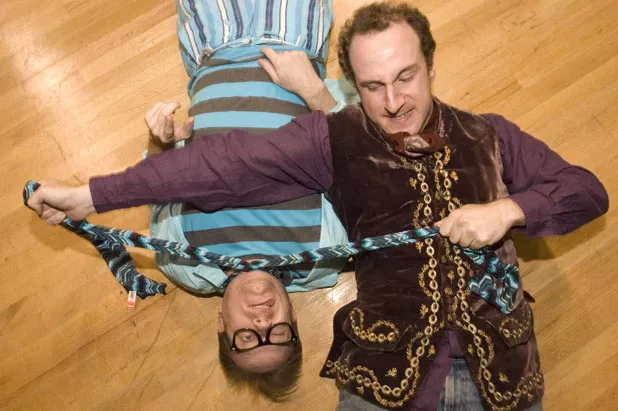 Outdoor performances of Shakespeare are a favorite summer ritual for both actors and audiences. But why would New York City-based thespians trek north to put on plays in the Champlain Islands? For Jena Necrason and John Nagle, founders of the Vermont Shakespeare Company, the productions are not an excuse for warm-weather lakeside idylls. Rather, they serve as a beachhead for an eventual relocation to the Green Mountains and plans to bring the Bard to Vermonters, especially schoolchildren, in a more comprehensive way.
This weekend, the married couple's merry band stages The Comedy of Errors, a pun-filled farce about mistaken identity, at Knight Point State Park in North Hero. Six cast members are traveling with them from New York. Three Vermonters join the ensemble: local stage veterans Mark Roberts, Ruth Wallman and Bob Nuner. Nagle directs, and Necrason - who has acted in previous VSC shows - handles movement direction: choreographing the performers' physical action.
As co-producers, both Nagle and Necrason also manage a bevy of other tasks, assisted by a crew of local volunteers, including the nitty-gritty of prepping the performance site. Weed-whacking? The 4-year-old VSC is "a do-it-all-yourself organization," Necrason jokes. But it has received impressive local support in its brief history, from Grand Isle County organizations (Island Arts and the Lake Champlain Chamber of Commerce) as well as the Vermont Arts Council and the State Department of Parks and Recreation.
Knight Point's Islands Center is a spacious, grassy area backed by a semicircle of trees, with bleacher seating. In previous years the VSC mounted A Midsummer Night's Dream and Twelfth Night. Both productions made inventive use of the plein air venue.
Necrason and Nagle see several advantages to staging Shakespeare outdoors. "Shakespeare has very big ideas in his works. In some ways, it's hard for a theater to contain that," Nagle reflects. In the playwright's own time, "His work was done in open air . . . to audiences that were crying and screaming and yelling . . . It wasn't the quiet theater we have today."
The condensed time frame of The Comedy of Errors also makes being outside a plus, in Necrason's view. "All of that big comic action has more space to play out. The energy of that can really be thrust forward and up and out. And because we've got the woods, we are able to really use the sense of a long entrance, which you might not be able to see in a theater. You can see an actor coming on from 20 feet in the woods, and that's really neat."
Nagle's direction incorporates a lot of direct address to the audience, as there was in Shakespeare's time. "I think it really allows the audience, right off the bat, to be a part of the action, and to feel 'I'm included in this world,'" he explains. This approach is especially effective in engaging the children who attend. VSC doesn't charge admission for kids under 12, and previous productions have seen families with 5-year-olds in tow. Kids also like the physicality of VSC's style, Necrason says.
Drawing in youngsters is a major part of the troupe's mission. "To look out at the audience and see a 6-year-old engaged by Shakespeare, it's really powerful," Necrason explains. "That could be the beginning of something really special for them." In her work teaching theater, "I run into teenagers that really have an aversion to Shakespeare. And it breaks my heart, because I think, 'This is so beautiful and gorgeous, and someone needs to do this right for you.'"
The couple did Shakespeare workshops with Grand Isle County schoolchildren in 2006, and with experienced Vermont actors in 2007. A projected business model that would allow them to resettle in Vermont - near Necrason's Alburgh family - includes running educational programs, as well as an expanded summer festival. Both currently teach at New York's Stella Adler Studio of Acting. One idea they are pursuing: bringing some of Adler's inner-city outreach students up to the Islands for a theater program with Grand Isle County kids.
Whatever the future holds, Shakespeare is central to the couple who met in a production of Richard III. "We both have a passion for it. It's literally what brought us together," Necrason says with a smile.