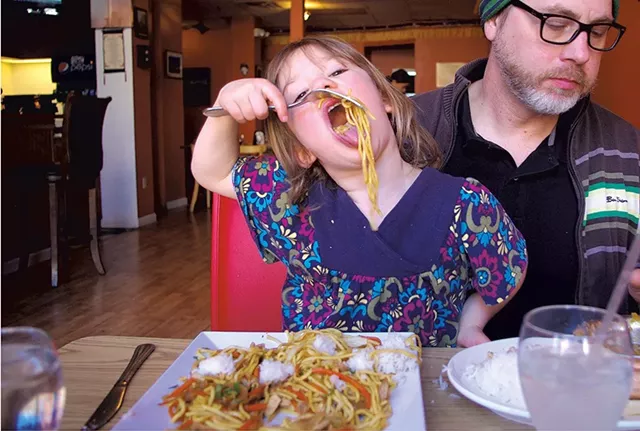 Courtesy of Meredith Coeyman
Mila enjoying chow mein
My kids are fairly easy to please when my family dines out. Still, when I told them we were trying Nepalese food on a recent Friday night, they didn't know what to expect. "Think noodles, curries and rice, similar to Indian food," I said, explaining how the Himalayas span many countries in an arc between India and China, and Nepalese food reflects that diversity.
We pulled into a space across the street from Sherpa Kitchen, its storefront a blur of tiny white lights. I was intrigued but nervous: Was the dimly lit, tranquil restaurant a wise place to bring famished kids on a weekend night? It was minus 8 degrees outside, and I was desperate for warmth, so it was worth the risk for a delicious curry.
Warm air and turmeric-orange walls enveloped us as we entered to face a gently gurgling fountain featuring a Buddha, one hand cupping a lotus flower. Tranquil, indeed. Our host greeted all of us with a smile, putting my nerves at ease as we slid into a bright red booth.
While Sherpa is not particularly equipped for children (no kids' cups, crayons or a kids' menu), we felt welcome. There were other families there, some utilizing the high chairs on offer. The waitstaff was kind and never made us feel like we had invaded a prime date-night spot with our rambunctious offspring.
Next came the fun part: the food. To start we ordered veggie samosas, beet salad and ti momo, or Sherpa bread, which is steamed and sliced into a fun flower shape. Color photographs of the Himalayan region and people, and small stuffed-animal yaks, provided fodder for games of I-spy while the adults sipped Switchbacks on tap. In the short time it took for our apps to come, the restaurant had filled up, yet the atmosphere remained calm.
For entrées, we settled on the egg curry with green peas special and the chicken tikka masala for the adults, and chicken momos, or dumplings, and chicken chow mein for the kids. My 6-year-old son, Leo, gobbled up everything, while my 5-year-old daughter, Mila, nibbled reluctantly until the chow mein arrived. She then devoured the slightly oily noodles flecked with tender chicken and carrot slivers while Leo usurped my egg curry. He especially liked the slightly crisped, halved hard-boiled eggs in a light curry sauce.
Between the steaming food and glowing candlelight, Sherpa Kitchen delivered the warmth, though gusts of frigid air wafted through the room every time the door opened. Despite the chilling blasts, we couldn't pass up the kulfi for desert. "We're having Nepali ice cream!" announced sweet-toothed Mila. We shared the dish of milk-flavored frozen chunks pressed with pistachio crumbles and drizzled in mango puree. It was a bit hard to scoop up, but the creamy-nutty tang made for a flavorful treat, and Mila licked the bowl clean.
As I paid the bill ($64 excluding tax, tip and beer) and my kids began to unravel, the staff remained patient. With full bellies, we wrangled our kids into jackets and ventured out into the cold. My husband, Dave, and I agreed that Sherpa Kitchen belongs on our list of family-friendly restaurants. Next time, though, we'll order it spicy and leave the kids at home.
Fast Facts
Hits: Patient waitstaff and cozy, kid-friendly atmosphere. Tasty food with generous portions that yield plenty of leftovers.
Misses: No vestibule means patrons endure bursts of cold air on busy winter nights. No crayons, so bring your own.
Sherpa Kitchen, 119 College Street, Burlington, 881-0550