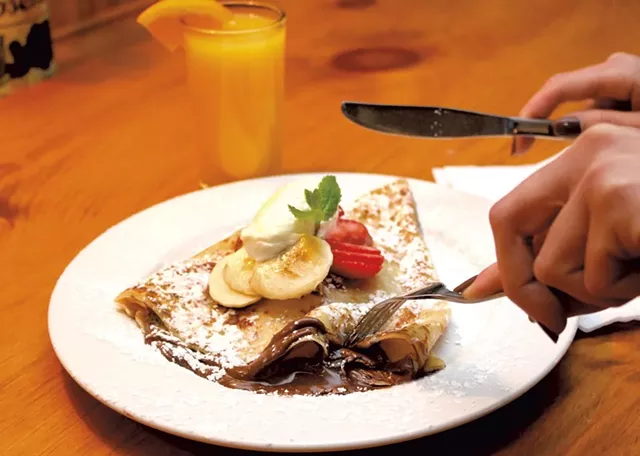 courtesy of rustic roots
Nutella banana crêpe
Brunch options are few and far between in southern Chittenden County. So most weekends, I'm the one running from my Charlotte home to the nearby Mobil station in Ferrisburgh when we're out of eggs or maple syrup. But recently, I wanted to treat my wife and two kids to a tasty midday brunch at Shelburne's Rustic Roots, which never disappoints.
The restaurant's popularity means that diners should be prepared to wait if they don't have a reservation — thankfully, we did.
Rustic Roots is the consummate Vermont breakfast spot, located in a cozy converted house with a covered porch. The dining room is small, with just seven tables set up on the day we ate there. There's additional seating at the bar, but the backless stools make it less than ideal for younger kids.
Once we scored our table, the friendly staff dropped off crayons and the kids' menus, which included a restaurant-themed Mad Lib and food word search. Thankfully, the wait for our meals was short and sweet.
Virtually all the food is locally sourced and made from scratch — and its quality shows. Everything we ordered was delicious, fresh and served in ample portions. That was true even for items ordered from the kids' menu. All five kids' options, priced at $6 apiece, came with a choice of milk or juice. However, the beverages arrived in short juice glasses sans covers. Bring your own sippy cups if your little ones are prone to spilling.
My son and daughter ordered the Nutella banana crêpe and caramel apple crêpe; we cut them in half and let the kids sample each. Both were light, airy, packed with filling and topped with homemade whipped cream. Manya, my 6-year-old daughter, gave hers a one-word review: "Sweet!" We went home with an extra half — there would have been two had I not devoured one for dessert.
My wife, Stacy, ordered the wilted kale and bacon salad ($5 for a small) and a maple-bourbon turkey sandwich, topped with a scrumptious red onion jam ($12). My pastrami on rye ($13) was simply exquisite — as a native New Yorker, I feel qualified to be very judgmental. I was especially pleased that every ingredient in it, including the whole-grain mustard and pickles, was homemade. The staff totally nailed my iced mango chai tea, too, and I went home thoroughly impressed with every component of my meal.
A few minor cautions for families with young children: The dining room is small, and the waiting area even smaller, so if you don't have a reservation, be sure to have activities on hand. Also, Rustic Roots is located on a somewhat busy road, and there's not much room outside for running around while you wait. Thankfully, there's a public park directly across the street. A new veterans memorial there honors Vermonters who died in every conflict from World War I to Iraq and Afghanistan, so be prepared to explain its significance to inquiring minds.
Hits
Accepts reservations for parties of four or more
Reasonably priced and tasty, generous kids' portions
Fresh, locally sourced food "made from scratch"
Kids' menu includes fun activities
Close to Shelburne Farmers Market on Saturday mornings, where Rustic Roots has a stand that serves made-to-order sweet and savory crêpes
Kid-friendly staff
Misses
Single, unisex bathroom with no changing table
Small waiting area
Limited parking
Rustic Roots, 195 Falls Road, Shelburne, 985-9511