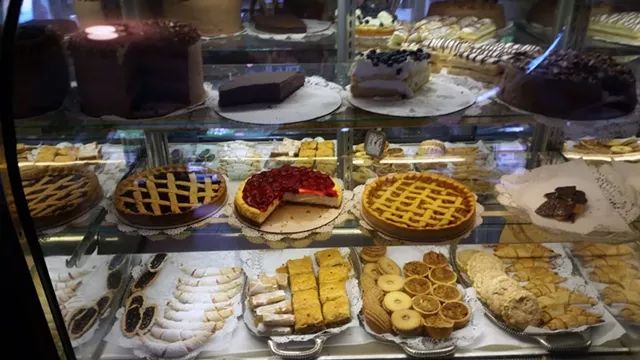 Sarah Yahm
Dessert case at Rainbow Sweets
My 9-year-old niece, Rayna, has a sweet tooth that, in her opinion, is insufficiently indulged by the adults in her life. Occasionally, I like to be the cool aunt and take her out for a healthy dose of (mother-approved) sugar. In central Vermont terms, Rainbow Sweets is her neighborhood bakery — it's 20 minutes from her home outside of Plainfield. The hours vary at this seasonal spot, which is open Wednesday through Monday, mid-May through late February.
From the exterior, the 41-year-old café doesn't look like much, but it's been written up in the New York Times and was a hot spot for literary luminaries who taught up the road at Goddard College in the '80s. One step inside revealed the place is still hopping.
On a drizzly Sunday morning in August, the restaurant's six tables were filled with a combination of locals and tourists. William Tecosky — the co-owner, baker, waiter and entertainer — initiates all newcomers with the same shtick, explaining that, "Everything here is baked," so nothing is "greasy or disgusting." Then he lists the four daily lunch options: spanakopita, Moroccan b'stilla, stuffed brioche and Spanish empanadas. You can get any dish "naked" or with a large Greek salad.
We opted for the spanakopita with the salad ($11) and the "naked" b'stilla ($7.95) and empanada ($6.95). The b'stilla — delicately spiced chicken baked between layers of phyllo dough and topped with slivered almonds and powdered sugar — was without a doubt the breakaway hit. It was just the right combination of sweet and savory, exciting but not too exotic. Rayna deemed it "superb" but noted that she has adventurous tastes for her age so might not be the best judge of kid-friendly meals. That said, she had a fairly predictable kid response to the spanakopita (thumbs down), which was a little too spinach-y for my liking, as well.
Sarah Yahm
Rayna contemplating the Johnny Depp on a plate
The beef empanada, studded with raisins and olives, was warm and delicious, though its heavy cumin seasoning meant it was a bit too spicy even for Rayna. The brioche might be the safest option for sensitive taste buds, since the fluffy pastry is filled with a simple combination of cheddar cheese, walnuts and a tiny bit of spinach. If none of those options appeal, you can get a simple cheese plate ($10), which has slices of Cabot and fruit and comes with fresh-baked Italian bread.
The desserts were the real showstoppers. The display case is laden with fancy treats: cakes layered with custard and whipped cream, elegant Linzer tortes, rich chocolate delights, baklava and a variety of German pastries. After much deliberation, we settled on the baklava, a jam-filled cookie with a complicated German name and the celebrated Johnny Depp on a Plate. The latter consists of profiteroles, or custard-filled cream puffs, coated with caramel and covered with a few generous dollops of whipped cream. The dish was too rich for me to eat more than a bite, but Rayna happily consumed the majority of it — although she confessed to a slight stomachache on the way home. My favorite was the baklava, which had the perfect balance of honey and walnuts and managed to be just sweet enough.
A word of caution: The delicacies at Rainbow Sweets look so delicious that they can generate a serious case of "dessert lust" for most kids. I'd suggest setting some clear limits about the number of sweets permitted if you want to avoid a power struggle in front of the display case.
Hits
Perhaps the only place in Vermont that serve Moroccan b'stilla
Elegant French and German desserts
Great place to stop before launching into the heart of the Northeast Kingdom
Items available for takeout
Misses
The proprietor is entertaining but can be a bit brusque when the café is busy; he snapped at my niece when she asked for an extra mug. (He did, however, offer her a free cookie when we left.) I'd encourage adults to do the ordering.
Small space with no room for young kiddos to run around. The service is fast, though, so there's not much downtime in between ordering and eating.
Rainbow Sweets, 1689 Route 2, Marshfield, 426-3531