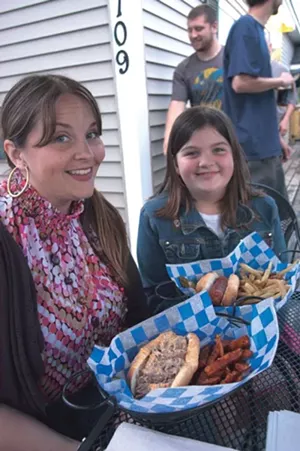 I am a dedicated homemade-family-dinner-around-the-table kind of mom; we rarely eat out on weeknights. But Little League has thrown our family dinners for a loop. At least twice a week, the dinner hour finds us on the sidelines of Shelburne's town field. Fresh out of creative Crock-Pot meals, I decided the other night that our family dinner table could move half a mile north to Archie's Grill on Route 7.
We discovered Archie's last year while house hunting. The exterior of the place isn't much to look at, like a prefab mobile home adorned with cheery awnings. We might have driven right past had it not been for the signs in the window advertising locally raised beef and turkey. Our collective interest piqued, we decided to give it a try.
I was surprised to find an interior with warm wood floors, bead-board booths and designer lighting — much nicer than typical burger-joint décor. Shelburne doesn't have a lot of family-friendly restaurants, and Archie's is one of the most popular places in town for people with kids. But even on the busiest nights, we always land a table between the time we order at the counter and when the food is ready. Archie's seats 40, with additional seasonal seating on the patio.
Archie's motto is "A fresh approach to fast food," and the food is certainly fast — we have never waited more than 10 minutes, which makes it perfect for post-baseball school nights. As for the freshness, owner Dick Hess makes his burger buns daily; French fries, potato chips and sweet-potato fries are all cut on site; salads are green and leafy. All the beef hails from LaPlatte River Angus, right in Shelburne; the turkey is from down the road at New Haven's Misty Knoll Farms.
I wish I could say I have tried and loved everything on the menu, from the pulled-pork sandwich to the portobello burger. But I can't; our first meal at Archie's was so good, none of us has ever felt compelled to try anything different from what we ate that first night. My husband and daughter always get Village Burgers: He gets a small side salad; she opts for fries. My son never veers from a burger with bleu cheese and bacon, with homemade potato chips on the side.
I am devoted to the turkey burger, a magical mixture of Misty Knoll turkey, feta cheese, red onion, basil and organic carrots topped with roasted red peppers and chipotle aioli. That crazy-sounding concoction is a juicy, savory revelation. I get a small salad — to feel virtuous — but can't resist ordering a small basket of sweet- potato fries on the side.
The price of fresh local ingredients, recycled paper products and compostable cups is reflected in the final bill, but I am happy to pay, because a fresh burger and fries in a local joint with great values and friendly employees is, well, priceless. Archie's is our family's go-to place in town. My husband and I often head there alone, too, on date night. It doesn't hurt that they serve beer and creemees.