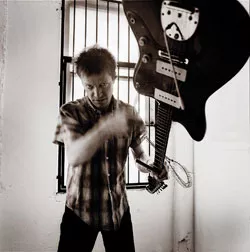 Long before he was fixture in Wilco or Rolling Stone named him one of the 100 greatest guitarists of all time (and Spin among the top 50), Nels Cline worked in relative obscurity. But since joining Wilco in 2004, his talents have become known to audiences beyond just avant-garde jazz aficionados and serious guitar geeks. That increased visibility has shed light on Cline's numerous other projects, from his improvisational jazz trio, the Nels Cline Singers, to myriad collaborations with the likes of Tim Berne, Charlie Haden, Yoko Ono and Thurston Moore, among many others. His latest endeavor is an improvisational project with 24-year-old guitar phenom Julian Lage. Unlike much of Cline's work, which often includes all manner of loops and effects-pedal wizardry, he and Lage are playing it straight, so to speak, exploring the limits of free improvisation with nothing more than a pair of hollow-bodied guitars and a touch of reverb.
In advance of his performance with Lage at Club Metronome on Wednesday, December 19, Seven Days spoke with Cline by phone from Baltimore, following his gig with free-jazz composer Ben Goldberg.
SEVEN DAYS: You only recently met Julian, correct?
NELS CLINE: That's true. I met him a few months ago through [jazz guitarist] Jim Hall, who is one of my favorite guitarists. I didn't know anything about Julian, mostly just overhearing people talking about him: "Oh, he's marvelous. He's only 24!" So I YouTubed him, and that was pretty mind-blowing. But then I met him, and he's such a lovely guy. His playing is jaw-dropping, but I realized he has an interest in playing improvised music as well as his ability to play all kinds of organized music. So we started playing together.
SD: I imagine that means you guys are feeling each other out in the moment, onstage. How is that musical relationship evolving?
NC: Well, we've actually only played three gigs, all in New York. And this tour doesn't start for another week. So it will be interesting to see what happens after multiple exposures. There is a lot of improvising. But I have to say, without sounding overly hyperbolic … actually, that's redundant, isn't it?
SD: A little.
NC: Anyway, the symbiosis was so immediate that it feels like we've been playing together for a long time. But we are still feeling out a body of work to use as part of our improvised world. Julian, who writes music every day, is starting to bring in what I call "squibs," short pieces that are open-ended enough to be bridges to different kinds of improvising or, in some cases, to stand alone as compositions. It's growing rapidly, but it's still in an early phase.
SD: You're well known for using a crazy amount of effects and pedals. But this is just a guitar plugged into an amp, with no effects. Why strip down so much?
NC: Without getting overly autobiographical, when I met Julian I was at an aesthetic burnout with myself. I was really not digging my own playing. I was tired. So there was something rejuvenating about what Julian and I have been doing. For one, he kicked my ass. I don't know if you're aware of how he plays, but he's quite a virtuoso. He's kind of frightening in terms of what he is able to play, but also how musical it is. So I wanted to go more toward his world rather than the other way around. I wanted to be very direct and just about the notes.
We're playing electric guitars, but we'll still mic the guitars, because we're playing arch-top, hollow-bodied electrics. Without my wiggle on the whammy bar, or the distortion and loops or whatever, we get to this kind of chamber-music sound. It's very intimate, and there are a lot of notes being played. I think it should be tamber-ly pleasing.
SD: Does that approach limit the choices you can make?
NC: There are fewer choices, as far as timbre and texture and volume, but then you can get right to certain things about the actual notes. It's refreshing. Now I'm out of my malaise. It's pleasing to my ear. Like many duos, in its own way it's about some kind of shared world.
SD: Do think that world will expand after this tour, maybe into more effects-laden composition?
NC: I think it's very likely that Julian and I will do some other type of technologically marvelous thing with the guitar. But at this point I think we really just want it to be sort of classic, like Joe Pass and Herb Ellis. It's kind of a classic thing to do with so-called jazz. So we're doing a slightly jazz-tinged chamber-music aesthetic. It has elements of free improvisation that you hear from people like Jimmy Dufree … it's organized in a sense that we kind of play compositionally.
SD: You spent the first 20-plus years of your career in relative obscurity, outside of maybe hard-core guitarheads. But then Wilco raised your profile almost overnight. Was that a strange experience?
NC: No. It's pretty cool, actually. I wasn't trying to become super well known, but I wasn't trying to live in obscurity, either. But other than the fact that I'm not broke anymore, I live my life the same way as I did. I don't get up in the morning and check the internet to see how many millions of people think I'm really cool this week. I have the same aspirations I've always had.
It's cool because it allows me to walk in these different worlds, which is always what I was trying to do before. Just playing a whole bunch of music with people I like. And that's still what I do, only now one of those projects happens to be a band that a lot of people care about and follow.
The other thing about Wilco is that we're just normal dudes, and we're friends. We're kind of nerds. It's not like I jumped into some lavish rock-and-roll lifestyle. It's like-minded individuals finding each other. And that's like a lot of things I've gotten to do musically, and continue to do, like playing with Julian or meeting the woman who turned out to be my wife but who I played music with, Yuka Honda. Or all the people I play with in New York or my friends in California … It's all kind of just more. So the improvising life has sort of ramped up, like the rock-and-roll life.
The fact that people know more about me hopefully makes it possible to draw a few extra people to these improvised-music gigs, like playing with Ben Goldberg last night. Maybe a few Wilco fans came out and maybe didn't even like it. But at least they gave it a shot, because they probably wouldn't know about that band otherwise. So that makes me happy … But it's not like it's super packed, because there's fancy boy on the guitar over there.
Nels Cline and Julian Lage play Club Metronome in Burlington on Wednesday, December 19, 8 p.m. $15/20. Bob Wagner opens.