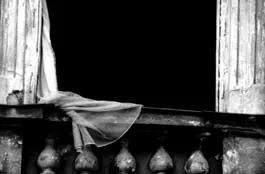 Hoping to trace ghostly footsteps through the ashes of time, Dr. Jeff Gusky began a six-year odyssey in a terrain that dwarfs Texas, the state he calls home. The 48-year-old emergency-room physician explored the endless geography of genocide, looking for evidence of the more than three million Polish Jews annihilated in the Holocaust.
"The Landscape of Loss," currently exhibited at the Fleming Museum in Burlington, comprises 80 black-and-white photographs Gusky shot during four trips to Eastern Europe from 1995 to 2001. On those journeys Gusky always seemed to encounter inclement weather. Most of his pictures depict snow-swept places wrapped in a forlorn, hibernal mist.
"I wanted to go in the dead of winter to get as close as possible to understanding the suffering people endured," Gusky explains during a recent visit to Vermont for the opening of his show. "There's something about winter and fog that helps me see."
What he saw was devastating: A sidewalk in Pinczow paved with Jewish gravestones. A desecrated Dzialoszyce synagogue, now a dumping ground for trash and feces. The peephole into a torture chamber at the Auschwitz concentration camp. In Lublin, an oven where victims were incinerated and the "extermination ditches" where they were buried.
Some shots that appear less horrific are actually quite deceptive. The aptly named "Idyllic Illusion" is a lovely image of a quaint old train station in Izbica Lubelska. A transit camp was situated just across the tracks from it, according to a tour booklet Gusky has made available to museum-goers. He quotes Oxford historian Sir Martin Gilbert, who describes the waves of people once forced to wait there for transport to the Belzac death camp: "Starved, stinking, gesticulating, insane human beings in constant, agitated motion… Hunger, thirst, fear and exhaustion had driven them all insane."
These monstrous legacies were not what Gusky had imagined when he first decided to "get a sense of my roots," as he puts it. "I'm not very religious, but I am proud of being Jewish. I was wondering if it meant enough to me to marry someone who is Jewish."
The Pittsburgh native didn't have any particular bride in mind, just a notion that some day he might want to wed a woman of similar stock. Gusky's grandparents never cared to discuss the lives they had led before fleeing Russia, and his parents were inclined to shrug off their ties to the Old World. But their son, the doctor, was curious about the larger implications of Judaism.
In 1995 Gusky was planning to travel to Israel when he heard a radio interview with Ruth Ellen Gruber, a United Press Inter-national correspondent who had been one of the first outside journalists to visit former communist countries after the Berlin Wall came down. He was stunned by what she had witnessed in Poland, once the ancestral homeland of 3.3 million Jewish people, and where the Nazis established six "killing centers" to make them all disappear. "There were no Jews left," Gusky says. "They're all gone."
A few thousand still live in major Polish cities, he acknowledges, but none in the more remote areas where shtetls — segregated Jewish villages — had thrived for almost 1000 years. "These places had been hidden from Western eyes," Gusky explains. "They're so hard to get to that they remained more or less as they were at the end of World War II. All of this history was just sitting there untouched."
He wanted some means of visual storytelling to document the contemporary reality that Gruber had uncovered in words. "I had no formal training as a photographer, no family ties there, no real reason for doing this," Gusky says. "I bought a Canon 35mm camera with a professional-quality lens and read the instructions on the plane. I was such a neophyte, it never even occurred to me to get a camera bag or a tripod."
Although Gusky is a newcomer to photography, Fleming curator and assistant director Janie Cohen was impressed by the strength of Gusky's vision. "We have shown self-taught artists before," she says. "I feel training and professional circumstances are less important than the capacity of their work to communicate. He has a sense of place, and all the emotions that go along with it."
Gusky always intended to become a doctor, a career he remembers dreaming about as early as age 6. While a senior at the University of Washington medical school in Seattle in the early 1980s, he wrote a book, A Medical Student's Ward Survival Manual. That's as close as his scientific mind ever got to the arts, Gusky points out.
He spent a month in Bur-lington for a 1981 clerkship, which he describes as "a clinical rotation in a particular specialty of medicine during the latter half of medical school. I had the pleasure of working with Dr. John Bland, a well-known academic rheumatologist at the University of Vermont."
That was also a chance for Gusky to spend more time with his younger sister, Hollie Shaner of Essex Junction. A teacher at UVM's nursing school and visiting scholar at Harvard University, she has lived in the area since the early 1970s.
In order for Gusky to live in the same region as his then-girlfriend, he selected an internship in the Lone Star State, and never really left. "What's kept me there is that it's beautiful," notes Gusky, who now has a townhouse in Dallas and a ranch 120 miles away in Big Sandy — which is hardly a desert. "East Texas looks like Vermont. My place is on a lake, on a hillside, in dense forest surrounded by 80-foot-high trees. It's verdant."
Early on, Gusky realized that the ER was an optimal assignment for a guy who wanted enough free time for other pursuits — like flying. The ranch has a private runway to accommodate his interest in aviation. He's "between planes" at the moment, so a shopping expedition for another aircraft is probably imminent.
After initially working shifts at a hospital 20 miles away, Gusky switched to the even more liberated lifestyle of a freelancer. "I was a trouble-shooter for a large health-care contractor," he says. "When they had a scheduling problem, I'd fly in to help. There'd be some sheriff waiting for me on the runway. It was a very meaningful job and I could stay out of hospital politics."
Given his heaven-on-Earth existence, it might seem strange that Gusky would head for a bloodied land with wounds that are unlikely to ever heal. "My training as an emergency physician is relevant to my ability to do this," he says of the Polish sojourn. "In the torture chambers of Auschwitz, there was a feeling of trauma that reminded me of my internship at Parkland Hospital in Dallas. I'm able to maintain empathy and objectivity."
Gusky arrived in Cracow in 1995 with no relevant language skills or any idea where to begin. "My hotel concierge recommended a guide named Renata Zwodzjisjz. She has a Ph.D. in plant genetics, but it's more lucrative to be a guide these days. We went on a walking tour in the ghetto where Schindler's List took place."
Several photos in the Gusky exhibit capture the Oscar-winning film's ambiance: "Schindler's Factory Today" allows a glimpse of what is now an electronics company; "Rear Balcony of Commandant Amon Goeth's Residence — Plazow Concentration Camp" shows where the sadistic Nazi shot Jews with a high-powered rifle for the fun of it; "Last Remaining Segment of Wall Around the Wartime Jewish Ghetto" reminds a viewer of the barrier constructed by slave laborers.
Gusky spent almost a week in Poland during his first trip, returning later for increasingly longer periods of time. He was unable to make the journey in 1997, 1998 or 2000, due to financial constraints and the demands of doctoring. All his transcontinental efforts, resulting in an estimated 12,000 negatives, were self-financed.
Just before embarking on his second voyage in 1996, some friends suggested Gusky think about turning his grim yet eye-opening adventures into a book. As yet untitled, it is scheduled for publication next year by Overlook Press, an imprint of Penguin/Viking, in the fall.
On Superbowl Sunday, there was standing room only at Gusky's talk during the opening of his Fleming exhibit. Before showing slides of 33 photos not on display at the museum, he reminded the audience that "it didn't take thousands of years to drain these landscapes of their inhabitants. It took three — three short years."
In his attempt to track down "vestiges of a vibrant, centuries-old civilization" that had been there for a millennium, Gusky unearthed what he calls "the presence of absence. I had a 'there's-something-in-the-air' feeling."
He also discovered a wall spray-painted with a swastika on Izaaka Street, in what had been Cracow's bustling Jewish Quarter. Although such graffiti might suggest that intolerance is still rampant in Poland — where Christians in some towns gleefully turned on their Jewish neighbors during the German occupation — Gusky isn't so sure.
"Even though there were paroxysms of anti-Semitism, before the war Jews had ownership of land, political power, things forbidden in other countries," he says. "The Poles I met are all intrinsically decent, with an attitude of live-and-let-live. I even found old people with a longing and nostalgia for the old times."
That analysis is puzzling to Laura Fishman, an associate professor in the UVM sociology department who took in Gusky's exhibit and attended his lecture. "I wish he had showed us the faces of those Polish people who talked about missing the Jews," she suggests. "What really hit me about the pictures was that there are no faces at all. I wish he'd taken it a step further, so we could see the strength, the courage of people who survived in spite of the Nazis and the Poles. But he was there as an amateur," she reasons, "not to unravel all of the strands or to present a multi-dimensional view."
Fishman is teaching a corrections course this semester that includes a session on concentration camps. "We look at the Holocaust, at slavery, at all sorts of institutions with unpredictable suffering and death," she says. "I've had a lifelong interest in how people live on the edge of the unmentionable."
Despite the lack of countenances in Gusky's work, Fishman had a visceral reaction to each photograph. "It is heart-wrenching. There is tremendous power that comes from looking at three tombstones helter-skelter in a graveyard," she attests. "The pictures are haunting, and they whispered to me."
Something was whispering to Renata Zwodzjisjz last year, when she accompanied Gusky to an eerie, desecrated cemetery in Krzepice that is depicted in the collection at the Fleming. "She was literally scared out of her wits," he recalls. "Renata told me she saw hundreds of people screaming, 'Get out of here. Leave us alone. Go away.' I saw nothing, heard no one, but she wouldn't stay. I continued photographing. Her experience remains an enigma to me."
The enormity of the Holocaust is also beyond comprehension. "There's clearly a mystical quality in what I saw that connects us with an unseen world," Gusky says, before pinpointing an important lesson: "What I've learned is that civil society is fragile, and history can turn on a dime."
Nevertheless, he professes no desire to pursue a similar undertaking in the future, and has rarely used his cameras outside Poland. "Doing this is an emotional drain. It's not a casual thing to immerse yourself in murder and tyranny," Gusky explains. "I almost want to shut it off sometimes. Part of me is relieved to be done. Maybe if there was something really compelling, I'd be open to it. But I didn't anticipate this project, so who knows?"
Gusky came away from the experience with renewed admiration for his heritage. "This wasn't only about the Holocaust; it was about what Judaism means to me," he says. "It's given me a sense of what unites us, how we feel about our bubbies or our matzoh balls or whatever. A community survived ingeniously against great odds. We stuck together. Our love of learning, our philanthropy, our hard work, our families — those are my values, too. I'm very proud to be a descendant of that."
The quest to reaffirm his cultural identity was successful in another way. "Well, I'm attached to a woman now," is all Gusky will say about his current long-distance romance with someone who also works in the medical field. "Do I want to raise a Jewish family? Yes."