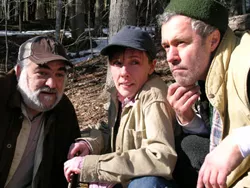 Vermont's stunning landscapes and tempestuous seasons provide poets with an opulent feast of imagery — as monumental as sweeping valleys ablaze with foliage, as delicate as the crystalline geometry of a single snowflake. Those who grow up surrounded by such beauty sometimes take it for granted; outsiders tend to appreciate it more.
When David Budbill moved from Cleveland, Ohio, to Wolcott, Vermont, in 1969, he found lyrical inspiration on a human scale — more in the resilient people than the rugged land. He wrote an extended collection of poems, from which he also crafted a play. Both are called Judevine, the name of a fictional hardscrabble town in northern Vermont, "where there is incredible physical beauty, great hardship, and people who have a tenacious will to survive," Budbill writes. The theatrical version premiered in 1984 and went on to great success and critical acclaim across the country, with 58 productions in 21 states.
Judevine has been absent from local stages since 1991, but Montpelier's Lost Nation Theater has opened its 30th season by reviving the play in its spiritual and geographic home: the heart of the Green Mountains. LNT founder and sixth-generation Vermonter Kim Bent directed the lean ensemble of four men and two women. Moments of incandescence and delight outweighed the flaws in this ambitious and moving production of Budbill's theatrical treasure.
Judevine gives voice to the voiceless — plain rural folk whose daily struggles go unrecorded. In Budbill's "note from the playwright" in the LNT program, he cites his working-class background as one catalyst for writing about northern Vermont's "invisible people." Budbill's great achievement is populating his imaginary town with vividly real characters. Individuals never become clichés.
A character named David — a flatlander poet who has moved to Judevine — observes and narrates much of the play's action. He interacts with many of the townspeople as well, especially the earthy French-Canadian logger Antoine. (In a mid-1980s production, Rusty DeWees played Antoine, who inspired his alter-ego "The Logger.") Scenes unfold, in town and in the woods, among two dozen characters. Occupations and locations reflect a jumble of small-town essentials: town clerk, postmaster, welder, truck driver and farmer. Jerry's garage doubles as a corner store and restaurant. Alice's junk shop serves as Judevine's quirky Home Depot.
The townspeople tolerate a considerable range of human failings, from juvenile mitten stealing and adult trout-limit cheating to judgmental gossiping and unreconstructed racism. And they manifest a remarkable degree of compassion for those who cling to life's margins: the exhausted single mother, crazed widow, embittered old man and haunted Vietnam vet. Difficult circumstances forge an unspoken bond among Judevine's residents. Individuals sometimes judge their own faults harshly, but they forgive and support one another as best they can.
Some characters have storylines that evolve over the course of the play, but others appear in only one or two vignettes. Themes trump plot as characters search for meaning in their own lives and, above all, connection with each other. Antoine sounds like a bawdy, backwoods Noah when he preaches about love, but he articulates the essence of many Judevine journeys: "We were meant to go two by two." And to go on together, as a town, season after season.
Conjuring the world of Judevine on stage presents multiple challenges. In many passages, Budbill's language retains the rhythms and repetitions of poetry. The ensemble often shares these lines, solos alternating with unison readings. This means that momentum relies on actors' "playing" the words almost musically, as a string quartet trades passages of melody and counterpoint. Minor fumbles and pauses, which might pass insignificantly in another play, can feel as glaring as a dropped bow or broken string.
Using the bare minimum of six actors, as Lost Nation did, upped the ensemble's intimacy but also gave each person more words to master, not just memorize. In general, the actors performed best in the more traditional scenes: playing characters that interact. Bent's direction here was economical, with deft flourishes such as making a maze of actors' bodies to represent jammed junk-store aisles. These scenes moved swiftly, while others with more narration than action sometimes dragged.
On opening night, however, extended ensemble passages of poetry suffered on two fronts. With some actors' lines as yet unperfected, the pacing sputtered. And the director's staging was, well, stagey. It didn't help that actors had "warmed up" on set, in full view of the audience. The five-minute theater-games prelude felt a little pretentious, and made it harder to transition into the characters' world once the play actually began.
The evening's most compelling performance came from Abby Paige. Her complex portrait of single mom Grace — ballsy, defiant, scared — was riveting. She inhabited her characters from the inside out: the widow Lucy, catatonic with grief; butch businesswoman Alice, confident and uniquely sexy; and über-prude Edith, hilariously self-righteous. Words and gestures grew from each character's internalized thoughts and beliefs. Lucy rubbed one palm repetitively against her belly because it soothed her. It didn't feel like an affectation from the Actor's Bag o' Tricks.
Ben Ash contributed abundant comedic energy to the ensemble. He had a particular gift for creating sound effects — all actor-generated, as the script dictates — such as Guy's truck pulling into the welding shop. For the major role of Antoine, Ash affectionately blended swagger and sincerity into an enthusiastic portrayal. Unfortunately, his exaggerated accent was often dialed up distractingly high — past faux to froggy Frenchman from Steve Martin's Wild-and-Crazy-Guy era. Director Bent should have reined this in, because it detracted from our sense of the funny woodsman's deep underlying humanity.
As David, Scott Renzoni gave an uneven performance. His scenes with characters such as Grace and Alice worked well, but Antoine's energy overshadowed David in their scenes together. In David's passages of pure narration, Renzoni needed to create a more distinct persona and forge a stronger connection with the audience. As Tommy, the troubled Vietnam vet, however, he painted a convincing portrait of the struggle between hope and anguish.
LNT regular Mark Roberts was pitch-perfect in all his roles, as usual. He captured Doug's astonishing transformation particularly well, from hearty and good-humored to hen-pecked and harboring dark hatred. Vermont theater veteran Robert Nuner charmingly created sundry village elders. The most poignant was the filthy, angular Arnie, with his pinched face and sour demeanor. Whether by accident or design, Karen Lefkoe's characters were the quietest and most unassuming, and her work stood out least from the ensemble.
As with the sound effects, the actors created their own physical surroundings for each scene by moving around simple stools, chairs and tables. Bent's spare scenic design contained only two major fixed elements. Sunk into the center of the stage was a large metal sculpture created by Roberts that looked like a welder's forge. Behind the stage hung a stunning black-and-white backdrop depicting a scraggly pine clinging to a steep mountainside — a lone sentinel over the distant valley below. The image came from a photo Bent took in the 1970s from the "Lost Nation" ledges, overlooking his childhood home in Braintree, Vermont.
The stark backdrop evoked Judevine's feel of isolation and remoteness. But it also loomed as a reminder of Vermont's inescapable beauty, which is breathtaking from gold towns and grungy burgs alike. At the end of Act I, it forces even Judevine's most miserable character, Arnie, to look up and say, "That's why I live here." Something to keep in mind on days when we're feeling less than poetic: Just look out the window and be thankful we're not in Kansas.