"Holiday" by Julie Blackmon
It's said that Vermont has more artists per capita than any other state. We don't know if that's true, but this is: Original artwork is on display nearly everywhere, indoors and out. We can't take in every single exhibit, much less review them all — so the following selections are based on what we did review. Collectively, we admired many other individual artists and well-curated group shows, but here are our subjective faves from 2017.
James Secor: '#nomophobia'
Studio Place Arts, Barre, March 14 to April 15, studioplacearts.com
Image from "Selfie Series" by James Secor
The fear of being out of cellphone contact is a real condition called nomophobia. The phenomenon can be witnessed everywhere in industrialized nations, and earlier this year it was artfully present at Studio Place Arts. James Secor made dozens of pencil drawings, mostly self-portraits, in the shape of a cellphone, using his own reflective phone screen as a mirror. Many depict the phone's on/off button, the tiny speaker at the top, the back button, etc. Secor's understated humor is part of the tiny works' appeal. The drawings on paper feature thick, dark lines — sometimes loose, sometimes precise — that create shadows under his self-portraits' eyes, beside the nose and below the mouth. Secor used the terminology of digital culture to examine, without judgment, the 21st-century reflex of looking down at phones. While documenting a cultural fixation, he was both participant and observer.
— M.B.
'Ready. Fire! Aim.'
Hall Art Foundation, May 6 to November 26, hallartfoundation.org
"Absolutely No Donations" (installation) by Lara Favaretto
Former Burlington City Arts curator DJ Hellerman's disturbing show at the Reading museum was a stark reminder that art's power reaches beyond aesthetics. Though he began curating the exhibit before the 2016 election, Hellerman's exploration of a thought process that puts impulse ("fire!") before strategy ("aim") inevitably took on political implications after the election. (He also curated a companion show of commissioned responses at BCA Center.) In this context, works depicting cyclical violence from other decades — Keith Haring's "Boxers" punching each other in the face and gut, Bruce Nauman's "Double Poke in the Eye II" — seemed new. The show was not without humor: Joseph Beuys' "Silver Broom and Broom Without Bristles" sat beside Lara Favaretto's "Absolutely No Donations," three pressed cubes of black confetti that deteriorated slowly on-site. Along with shock value, "Fuck'd," Tony Matelli's life-size chimp sculpture impaled on all sides by weapons, offered a grain of black humor. What better way to sum up the current state of our country?
— A.L.
'Wild Spaces, Open Seasons: Hunting and Fishing in American Art'
Shelburne Museum, June 3 to August 27, shelburnemuseum.org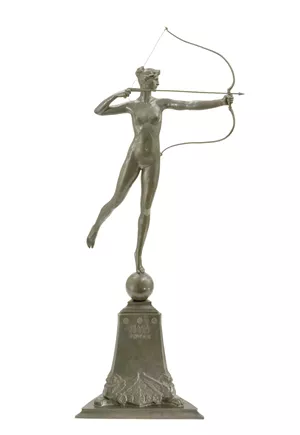 "Diana of the Tower" (c. 1899) by Augustus Saint-Gaudens
Sporting activities and the great outdoors are important to the ethos of American life and history, so it was a surprise to learn that this richly curated exhibit was the first to focus on the visual representations of those themes. Featuring 73 paintings and sculptures dating from the early 19th century through post-World War II, the show was expansive in art-historical styles, as well as in the scope of the cultural shifts the artworks reflected. The most germane such transition was widespread urbanization and industrialization, which led to Americans' separation from the natural world. Many of the artworks spoke to a sense of nostalgia for, as head curator Kory Rogers put it, "rugged and risky excursions in the wild." Just as we now have action movies and fast-paced video games, in an earlier era, a painting of, say, man versus grizzly served the human desire to experience peril ... vicariously.
— P.P.
'Julie Blackmon: The Everyday Fantastic'
Hood Downtown, Hanover, N.H., June 9 to August 27, hoodmuseum.dartmouth.edu
Julie Blackmon's large-scale color photographs balance freedom and responsibility, chaos and order, while providing a glimpse into her personal universe of children and memory. The phrase "everyday fantastic" in the show's title referred to the extraordinary things that can hide in the details of day-to-day life. Children populate Blackmon's photographs, with occasional glimpses of parents or other adults. The screened-in porches, dark-paneled stairways and blacktop driveways are more like characters playing roles than simply locations. In Blackmon's photographs, children live, play, grow bored, make up stories, act them out and play some more, as if unaware of the camera. Her willingness to relinquish control and allow for serendipity makes her work truthful and wonderful. Like many of Edward Hopper's paintings, Blackmon's images are open-ended. Viewers become part voyeur, part participant, building their own stories from her mise-en-scène.
— M.B.
'Interpose'
New City Galerie, Burlington, August 4 to October 24, newcitygalerie.org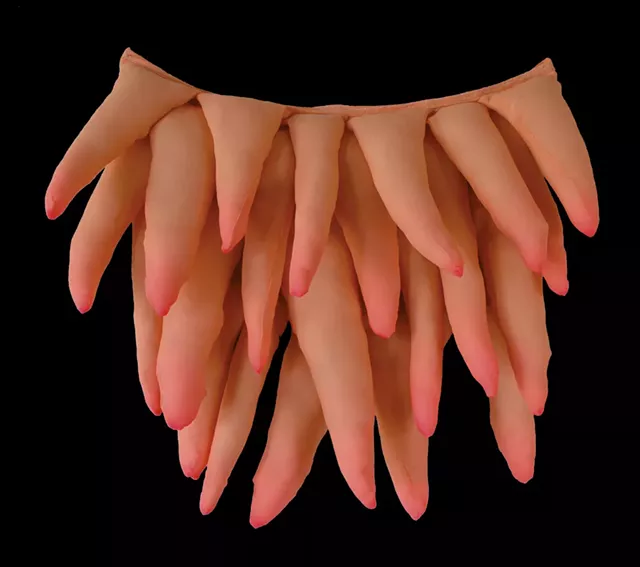 "Finger Necklace" by Molly A. Greene
In so many ways, 2017 has been a year for women — and women's rage. With exciting acuity, "Interpose" curator Susan Smereka transcended dry or reductionist takes on gender politics, instead locating her show's inquiry firmly in the messy, complicated business of what it means to have, and to define, any body at all. This show was gooey and alive, with fresh sculptural works, drawings and video by Kate Donnelly, Wylie Sofia Garcia, Molly Greene, Lucy Leith and Estefania Puerta. Many of these works centered on garments and secondary skins, such as Leith's haunting "Trilobite Jacket," Garcia's earthy "Origin of the World" dress and Donnelly's spectacular green umbrella costume, worn in her video "Engagement."
— R.E.J.
'Art of the Selfie'
Helen Day Art Center, Stowe, September 22 to November 16, helenday.com
"Untitled (from the 'Kitchen Table Series')" by Carrie Mae Weems
I was really prepared not to be enamored of this show. The selfie is a thing, it's wrapped up in identity and the history of portraiture — we get it already. But this exhibition, curated by Sarah McCutcheon Greiche of Montréal, was clean and sharp and hit some unexpected notes. The icons — Marina Abramovi, Cindy Sherman, Andy Warhol, Carrie Mae Weems — were there, but so were younger and emerging artists, including Sarana Mehra of Los Angeles. Mehra used organic forms and earthy colors to render "The Divine Stain," a grid of simultaneously cute and grotesque Venus-like figures derived from online "sexy" selfies.
— R.E.J.
'Spirited Things: Sacred Arts of the Black Atlantic'
Fleming Museum of Art, University of Vermont, Burlington, September 26 to December 15, uvm.edu/~fleming
"Pakèt Kongo for Ogou"by Marie Maude Evans
It's not often that a museum exhibition offers you an explicit invitation to meet living gods. Though perhaps a bit overwhelming in scope, this radical show introduced a stunning array of religious objects in one of the contexts for which they were originally intended: activated altars. Some of the works on view were on loan from the personal collection of Duke University professor J. Lorand Matory, whose scholarly pursuits underpinned the show. At the center of his inquiry is a complete overhaul of the racist Western construction of the "fetish." To that point, Matory has a book forthcoming in 2018, The "Fetish" Revisited: Marx, Freud, and the Gods Black People Make.
— R.E.J.