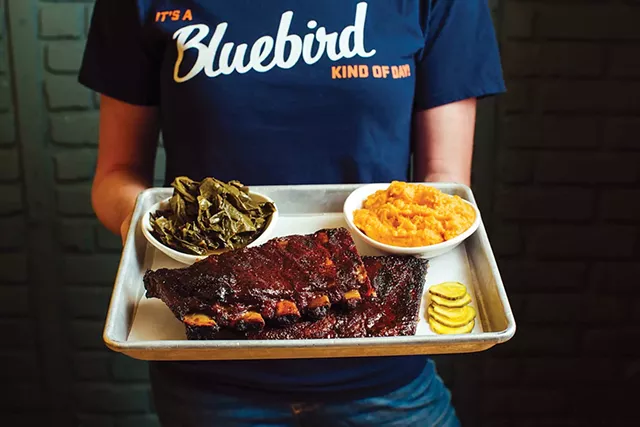 Courtesy of Bluebird Barbecue
Bluebird Barbecue
Bluebird Barbecue
317 Riverside Ave., Burlington, bluebirdbbq.com
The wood-fired smokers run 24-7 outside Burlington's only dedicated barbecue joint. For years, the place was open only for dinner, but in 2019 owner Sue Bette pulled the trigger on lunch. Now, visitors can mix and match brisket and ribs with beans and mac all the live-long day. And assuming it's cold outside — which it is for a good eight months of the year — bowls of Pitmaster Ramen will warm the most frigid of days.
August First Bakery & Café
Laptops and tablets are off-limits at this community-focused café near Lake Champlain. Strike up a conversation with a neighbor over the fresh croissants, soups, garden salads and sandwiches.
East West Café
In a sunny corner storefront, chef-owner Samran Kaewkoet whips up affordable Isan cuisine to eat in or take out. Like it spicy? Go for the green papaya salad.
Eco Bean + Greens
The clean eats and drinks at this all-organic café — named one of America's 10 best juice bars by Condé Nast Traveler — include hefty kale Caesars, superfood smoothies and organic creemees.
El Cortijo Taqueria
189 Bank St., Burlington; 5 E. Allen St., Winooski, cortijovt.com
Spice up your midday routine with tacos, burritos or enchiladas. The tortillas are made from heirloom corn and filled with local meats, cheeses and produce. Go loco for the killer margaritas.
Poco
What started as the Dolce VT food truck is now a permanent café near the waterfront. Chef-owner Stefano Cicirello's fragrant truffle fries and crispy fried chicken sandwiches remain menu favorites.
Sherpa Kitchen
Inexpensive lunch specials mean you can sample multiple plates on the cheap. Slide into a booth and choose from classic Himalayan momos, curries, thali platters and stews, best enjoyed with a mango lassi.