Kirsten Cheney
Brunch at Bleu Northeast Seafood
Bleu Northeast Seafood
25 Cherry St., Burlington, bleuvt.com
Seafood is in the name, and meals at Bleu do feel a bit like diving into the deep blue sea. (The chic restaurant's west-facing windows, which frame Lake Champlain, certainly don't hurt this simile.) At daily breakfast and Sunday brunch, diners drop anchor for buttermilk pancakes, lobster frittatas and nine different kinds of eggs Benedict — from fried oysters to cured salmon to smoked bluefish. Make it a Sunday Funday with a boozy beverage or three.
Handy's Lunch
74 Maple St., Burlington, 864-5963
Don't be fooled: Lunch isn't the only meal served here. Behind the counter, Earl Handy flips eggs and bacon, too, just as his daddy and granddaddy did before him. Whatever you get, get it with tots!
Mirabelles Café & Bakery
198 Main St., Burlington, mirabellescafe.com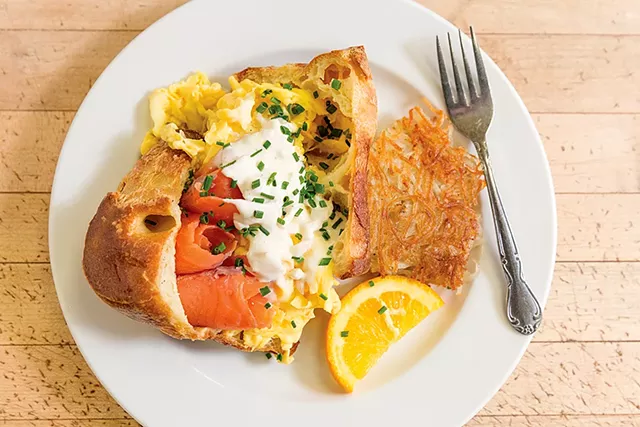 Oliver Parini
Eggs and Lox at Mirabelles Café & Bakery
Crowds line up by the glass display cases for award-winning sweets. For a sit-down affair, don't miss the popover breakfast with scrambled eggs, smoked salmon and lemon-shallot crème fraîche.
Parkway Diner
1696 Williston Rd., South Burlington, 652-1155
Find breakfast all day — think corned-beef hash and cinnamon French toast — in a vintage Worcester Lunch Car that's been parked on Williston Road since the 1950s.
Penny Cluse Café
169 Cherry St., Burlington, pennycluse.com
Long lines signal food that's worth the wait — and celebs such as Elijah Wood and Joe Biden have joined the café's devoted following. Try the southwestern Zydeco Breakfast.
Sneakers Bistro
28 Main St., Winooski, sneakersbistro.com
Weekend brunch at this retro café is the stuff of legend, and the daily specials are always eclectic. The classic eggs Benedict is a home run.
The Swingin' Pinwheel Café and Bakery
11 Center St., Burlington, theswinginpinwheel.com
Grab a stuffed popover or a wafflini — that's a waffle sandwich — at this Western-themed bakery. The cowboy coffee is strong enough to bring you back to life.