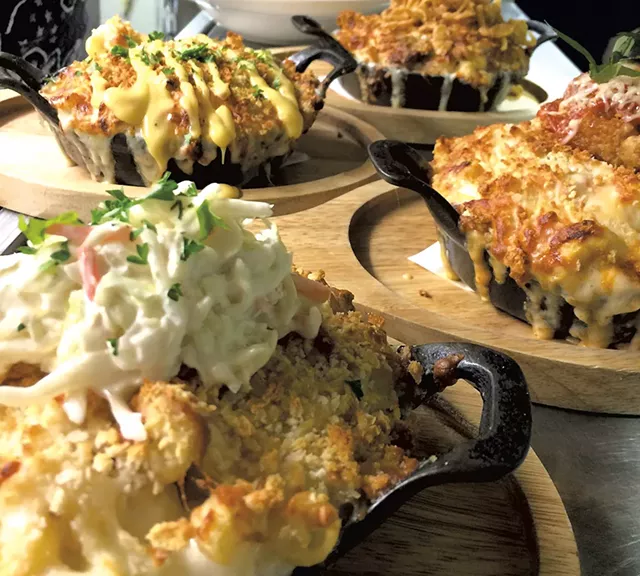 Macaroni and cheese at Our House Bistro
At Our House Bistro in Winooski, the menu features 27 different kinds of macaroni and cheese, including Sugar Shack Mac with maple bacon, fried onion and maple bourbon; Polynesian Mac topped with coconut shrimp; and Peanut Butter & Jelly (Thai-Style) Mac. In addition to the noodles, Matthew Pearsall and Maggie Barch — who also own Spice of Life Catering — serve up other "twisted comfort food," as they bill it, including fried pickles, a variety of tacos and gooey chocolate desserts.
Now, the couple is gearing up to debut a second Our House, in Plattsburgh, N.Y. They chose the city after considering Hanover, N.H., and Boston, Mass. Pearsall and Barch hope to open by the end of April and expect that the Lake City will be a great place to do business. "[The city of Plattsburgh] is looking to revitalize the whole downtown," Pearsall explained. "There's gonna be a lot of growth here."
In Plattsburgh, the menu will feature the same tried-and-true offerings, plus food and drink specials that reflect the local flavor. "We're not going to reinvent the wheel," he said.
Pearsall believes that the success of Our House was a result of listening to what community members wanted and giving it to them. And they've found a winning recipe: "We didn't have mac and cheese on our menu when we opened, and now we have 30," he noted. "It's all about what's going to keep the bills paid and the doors open."
If the pair have their way, New York State will be just the beginning of their expansion. As they get older, they hope to take on fewer catering gigs and continue to replicate their popular concept. Why does it work? "It's playful, not dumbed down or pompous," said Pearsall. "People spend money where they're comfortable."