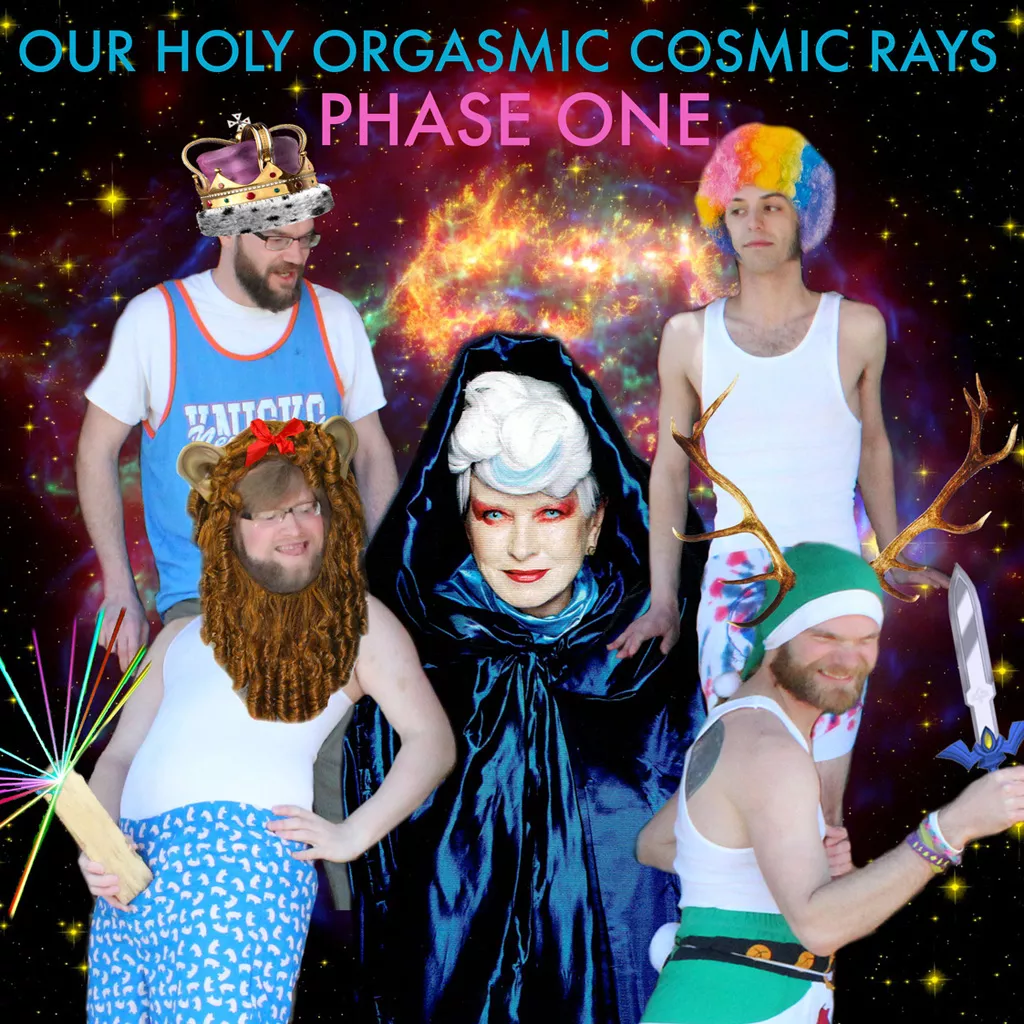 (Drone Witch, digital download)
Some weird shit is going on across the lake in Plattsburgh. This, of course, ain't exactly breaking news — at least as it relates to music. Thanks to the often indefinable and unhinged ramblings of Christopher Rigsbee and his band/alter-ego/collective/we're-still-not-sure-what-it-is, Adrian Aardvark, local audiences have been peripherally aware of the strange sounds emanating from the North Country for a few years now. But Rigsbee's latest project, the provocatively named Our Holy Orgasmic Cosmic Rays, could well be his weirdest yet. Interestingly, the band's debut album, ominously titled Phase One, might also be his most accessible recording to date.
The Cosmic Rays are a supergroup of sorts, featuring members of well-known upstate New York bands Lucid, Trinity Park Radio, Long Cat and others. But save for the hoary, lo-fi freak rock of Adrian Aardvark, it doesn't appear that any of those acts inform the music found on this record.
Over 12 manic and disjointed cuts, the band borrows elements of punk and experimental noise, adds a healthy (or unhealthy?) dash of juvenile dick humor, and dumps it all in an old blender. At times the disfigured results are borderline unlistenable, which one imagines is partially the point. But at others, OHOCR stumble upon a queerly alluring, if vaguely unsettling, formula.
The album's second cut, "Celestial Creeper," is one such instance. Over a tinny synth drumbeat and a scuzzy guitar line that sounds like a mangled Black Keys riff, a disembodied chorus of Rigsbees — credited here as Christopher "Tex Rex" Ribzbee — howls and growls and groans with growing mania. Ultimately, the chorus advises, "Don't fuck with the Devil in his Sunday best." Imagine 1990s novelty punks Green Jelly taking a cue from the Halloween classic "Monster Mash" with a production assist from Dr. Demento, and you're in the neighborhood. It's creepy but almost inexplicably fun.
If nothing else, Rigsbee seems to have lightened up. Many of his previous works were defined by a pervasive, profound gloom. This was made all the more disquieting by his yawning vocal bent, which at times resembled Buffalo Bill from the film The Silence of the Lambs. ("It puts the lotion in the basket.") But here, his unique timbre is put to cheeky, if still mildly deranged, effect.
On cuts such as "Revolver Dick" and "Coming in My Boxers" OHOCR recall the punky arrested development of early James Kochalka. "Stupid Llamas" is a blistering, bizarre romp. "I Was Framed" is actually fairly straightforward, which, given the surrounding lunacy, makes it even weirder.
Yet through it all, a playful quality softens Phase One and makes it a strangely entertaining listen for those bold enough to brave the recording's frenzied tangle of sounds. That lightheartedness also makes us a little less nervous about what Our Holy Orgasmic Cosmic Rays may have in store for phase two.
Phase One by the Our Holy Orgasmic Cosmic Rays is available at ourholyorgasmiccosmicrays.bandcamp.com.