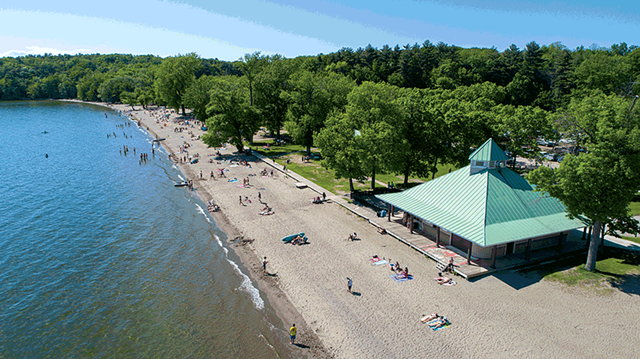 James Buck
North Beach, Burlington
North Beach
As soon as the mercury creeps past 50, people begin flocking to this lakeside hot spot. It's Burlington's largest and liveliest beach — not to mention the only one staffed by lifeguards. Grab a bite at the concession stand or rent a canoe, kayak or paddleboard at the vendors kiosk.
Battery Park
This is the best place in town to watch the sun set over the Adirondacks. In warm weather, grab a Michigan hot dog from Beansie's Bus — perhaps while enjoying the Burlington Concert Band's Sunday evening show.
Oakledge Park
Carolyn Fox
The treehouse at Oakledge Park
Tennis, volleyball and bocce courts — and the occasional hipster kickball league — are draws at this beautiful South End park. The sandy beaches, spacious lawns and hidden, wheelchair-accessible tree house are nice, too.
Red Rocks Park
This woodsy oasis is popular with dog walkers, whose pooches often roam its miles of trails in gleeful defiance of posted leash laws. The scenic overlooks from the cliffs above Shelburne Bay are stunning — but cliff jumping is strictly verboten.
Shelburne Farms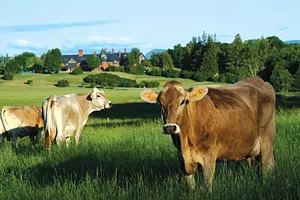 Courtesy of Marshall Webb
Shelburne Farms
The landscape architect behind New York City's Central Park designed the rolling acres of this working farm, once the agricultural estate of wealthy Vanderbilt descendants. Hike the lakeside trails or brunch like you're a 19th-century millionaire at the manor home, now an inn.
Waterfront Park
The crown jewel of Burlington's shoreline is Waterfront Park, a sprawling, grassy destination for sunbathers and Frisbee enthusiasts. Major bands headline tented concerts here from spring to fall.
Winooski River Walk
Downtown Winooski
A scenic walkway winds along the Winooski River for views of the falls and the Champlain Mill. There's also a canoe launch nearby for paddling downstream to the lake.