Courtesy Of Helen Day Art Center
Detail of "Portrait (Monster Beauty)" by Kathleen Schneider
Vermont has no shortage of artists or art exhibits — in fact, it's only slight hyperbole to say that original work is on display wherever there are walls throughout the state. Granted, we can't see every exhibit. But collectively, the arts writers of Seven Days bear witness to a great deal of creative output over a year. While we admired many others, here are our subjective favorites from 2016's crop.
'Intimacy + Materiality'
Courtesy Of Helen Day Art Center
Detail of "Grief" by Liz Collins
Helen Day Art Center, Stowe, January 22 to April 10; helenday.com
Curator Rachel Moore has presented quite a few notable exhibitions this year — the bold, athletic works of Pat Steir come to mind. But the group exhibit "Intimacy + Materiality," a meditation on textiles and associated concepts of femininity and labor, was particularly visually and intellectually compelling. From the suggestively plump, pink trapunto wall sculpture "It's Not That Simple," by Burlington-based Wylie Sofia Garcia to the biomass-like-crochet sculpture "Pelt," by Brooklyn artist Emily Barletta, the works employed traditionally female textile techniques to create strong visual narratives. As Rachel Elizabeth Jones wrote in her review, Moore deftly used the mediums "to express deeper connections — in this case, between fiber and physicality."
—S.W.
'Dysfunction'
BCA Center, Burlington, January 22 to April 9; burlingtoncityarts.com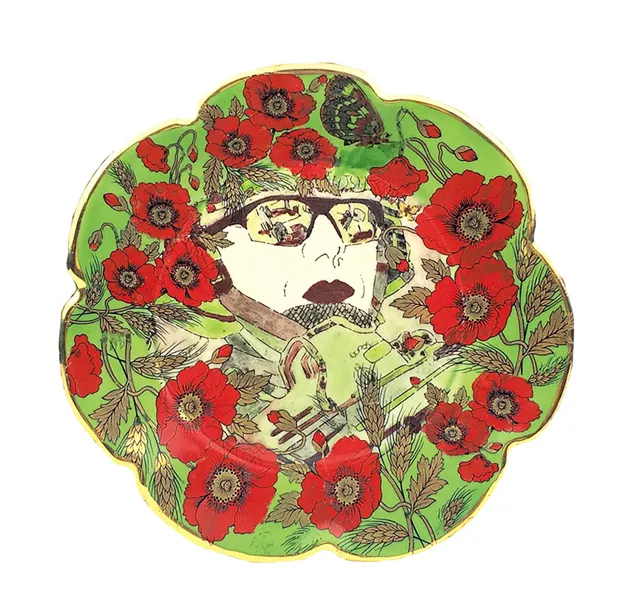 Courtesy Of Bca Center
"Things Best Forgotten"by Jessica Putnam Phillips
This exhibition of contemporary ceramic works pushed against definitions of fine art and craft, and even challenged "restrictive habits of categorization in a larger sense," Rachel Elizabeth Jones wrote in her review. In addition, each of the 10 artists put forth individual agendas in their work. The most overtly political pieces were by Roberto Lugo and Jessica Putnam Phillips. Philadelphia-born Lugo teaches ceramics at Marlboro College and describes himself as a rapper, poet, activist and educator. Nearly all of those roles came through in his astonishing works, such as "Black Centuries Vase," featuring black and white historical figures. Putnam Phillips' wall-hung ceramic plates, meanwhile, explored the intersection of gender and modern warfare. These and other remarkable works found a balance between playfulness and gravity and, without dismissing the legitimacy of artisanal pottery, gave us a broader experience of the age-old medium.
—P.P.
'32 Degrees: The Art of Winter'
Shelburne Museum, January 23 to May 30; shelburnemuseum.org
Photos Courtesy Of Shelburne Museum
Wilson "Snowflake" Bentley's glass-plate lantern slides
Photos Courtesy Of Shelburne Museum
"Traveler" by Walter Martinand Paloma Muñoz
The works amassed by curator Carolyn Bauer could hardly have been more diverse, or more engaging — a Monet impressionist haystack and a video game, tiny black-and-white etchings and oversize color photographs, 3D works and film, and much more. All addressed, of course, the subject of winter, particularly the manifestations of water: frozen, liquid, gaseous. The moods shifted, too: Within one exhibit, viewers could variously feel amused, contemplative, awestruck, fascinated and alarmed. A video of melting ice and a soundscape of glaciers calving provided an ominous overlay. Plenty of beauty was on display, as well, not least in the always-wondrous photographs of Wilson "Snowflake" Bentley. Those who sought a representation of winter's psychological darkness could find it in, of all things, surprisingly sinister snow globes.
—P.P.
'Director's Choice'
BigTown Gallery, Rochester, February 24 to July 9; bigtowngallery.com
courtesy of bigTown gallery
Untitled watercolor by Helen Matteson
With a sharp eye, gallery owner and curator Anni Mackay assembles quality shows again and again, with little fanfare. This exhibition brought together works by seven mature artists with or without strong Vermont ties: Varujan Boghosian, Pat dipaula Klein, Helen Matteson, Ira Matteson, Nicholas Santoro, Hugh Townley and John Udvardy. Mackay told Seven Days that the show grew from her efforts to archive the oeuvre of late Thetford artist Helen Matteson. With more than 60 works, she crafted a light and airy display that moved gracefully between wood and stone, intricacy and starkness, motion and meditation.
—R.E.J.
'Samuel Bak: Survival and Memory'
Fleming Museum of Art, University of Vermont, Burlington, February 10 to May 22; flemingmuseum.org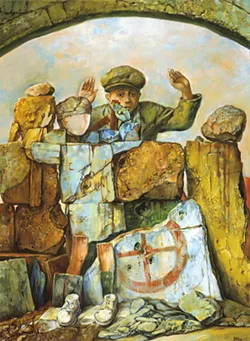 Courtesy of fleming museum of art
"Targeted"
While the concurrent and thoroughly enjoyable exhibit "Pop Art Prints" filled the museum's large East Gallery, Samuel Bak's smaller show in the modest Wolcott Gallery was a powerful art-history excursion of a different order. Born in 1933, Bak is a Polish-Jewish Holocaust survivor who now lives in Massachusetts. This abbreviated retrospective spanned his childhood in the Vilna Ghetto and contemporary times. Aside from several early, darkly expressionist works, the exhibit was dominated by paintings. Bak's stunning works combine exquisite, fine-brush technique and a palette of contrasting ochre and turquoise accented with rich jewel tones. While the subject matter — buildings reduced to rubble, smokestacks, Jewish symbols — represents destruction and sorrow, Bak's works are also beautiful: unfathomable devastation bathed in golden light. The exhibit did more than memorialize a gruesome chapter in human history; it was "as fresh as today's news of another terror attack," I wrote at the time. To which we might now add: as fresh as Aleppo.
—P.P.
'Grandma Moses: American Modern'
Shelburne Museum, June 18 to October 30; shelburnemuseum.org
Courtesy of shelburne museum/bennington museum
"Bennington, 1945" by Anna Mary Robertson "Grandma" Moses
Challenging the line historically drawn between modern and "folk" art, this academically rigorous exhibition reexamined the legacy of Anna Mary Robertson Moses, aka Grandma Moses. The show made use of the Bennington Museum's Moses public collection — the world's largest — to place the Vermont painter's signature rural landscapes alongside works by such artists as Joseph Cornell, Helen Frankenthaler, Miriam Schapiro and Andy Warhol. "Our goal from the beginning," Bennington curator Jamie Franklin told Seven Days in July, "was to make people understand that Moses wasn't this random phenomenon." In his catalog essay, Shelburne executive director Tom Denenberg posits the postwar fascination with an idyllic rural America as a major factor in shaping the reputation of the beloved American popular artist.
—R.E.J.
'Modes of Conduction'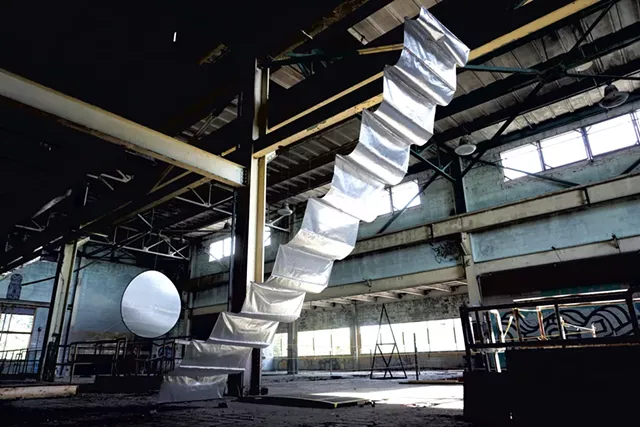 Courtesy Of Vesko Goesel
"LFS 333 silver" and "LFS silver stairs"by Vesko Goesel
At just about a year old, the curatorial initiative Overnight Projects, headed by Abbey Meaker and Sarah O Donnell, achieved a major coup. It enlivened Burlington's decrepit coal plant with works by three Germany-based artists: Vesko Goesel, Peter Miller and Viktoria Strecker. After just nine days of working on-site, the artists debuted their conceptually sophisticated works to the public. Together, the installations — which changed over the course of the exhibition — brought the plant alive while reflecting on its ghostly obsolescence. The artists achieved this goal in part through the use of ephemeral materials, from Goesel's delicate silver fabric to Strecker's detritus-like Plexiglas to Miller's re-enchantment of a schoolroom overhead projector.
—R.E.J.
'Laetitia Soulier: The Fractal Architectures'
Hood Downtown, Hanover, N.H., September 16 to December 11; hoodmuseum.dartmouth.edu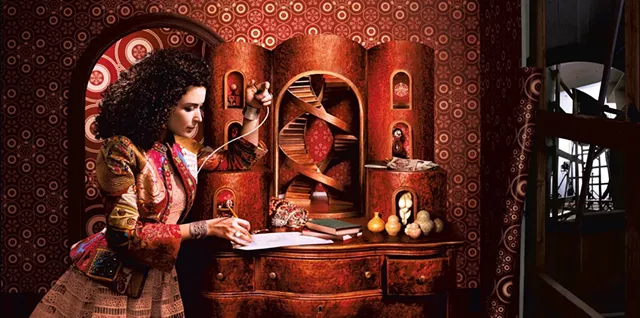 Courtesy Of Hood Downtown Gallery
"Self-Portrait" by Laetitia Soulier
The New York-based French photographer's surreal images made up the first of 10 shows scheduled for the Dartmouth College Hood Museum of Art's temporary gallery while the campus institution undergoes renovations. Soulier's work — examinations of childhood and imagination, inspired by Russian nesting dolls and algorithms of pattern — places elaborately dressed children in equally elaborate, fantastical miniature sets. In addition to shooting the tableaux, Soulier made each element in her scenes by hand. By playing with scale, "Soulier challenges our eyes, our brains and even our sense of what is real," Meg Brazill wrote in her review. "The persistence of that questioning — what is true, what is false? — grips us long after we exit through the gallery's glass doors and back into the real world."
—S.W.
'White Noise Now Presents: Salt'
Vermont Railway salt shed, Burlington, October 2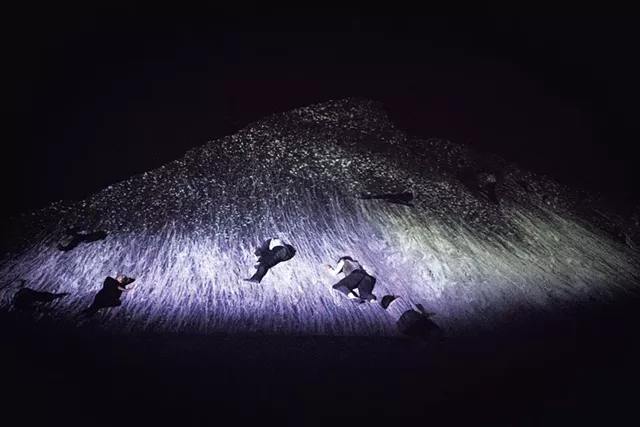 Courtesy Of Amira Silverman
Performance in the salt shed
This unique multimedia performance was a collaboration of movement artist Erika Senft Miller, light artist Craig Winslow and sound designer Miles Dean. The group, collectively called White Noise Now, created a riveting production in an unconventional industrial location: the salt shed owned by Vermont Railway at the southern end of Battery Street. Winslow projected threads of light into the belly of the building, focusing the audience's gaze on the performers who swirled and contorted among them. Dean's sonic landscape created a mesmerizing dream world. Senft Miller tied it all together with choreography that used the entire space, including the massive salt pile that fills half the building. In short, it was a rapturous affair, leaving the witnesses eager to see more from this trio.
—S.W.
'Awaken'
Julian Scott Memorial Gallery, Johnson State College, November 14 to 20; jsc.edu
Courtesy of ian walker
"Mourning Cloth" by Sabrina Leonard
Created before November's presidential election, this collaborative exhibition organized by Underhill artist Sabrina Leonard was a strong, focused rebuke to racial injustice and white apathy in America. The show's central element was the "Mourning Cloth," a massive shroud sewn together by community volunteers, who disassembled donated pillow covers, dyed them black and reassembled them. Both the exhibition's title and the use of ordinary linens arose from Leonard's engagement with African American writer Ta-Nehisi Coates' Between the World and Me. The book uses metaphors of sleeping and waking — related to the idiom "being woke" — to grapple with the sometimes violent policing of black and brown individuals. In addressing racialized violence through the simple, meaningful process of creating a memorial, Leonard broke free from the tendency of political art shows to traffic in vagueness.
—R.E.J.
Honorable Mentions
'Navigating Memory: Exploring Place'
BCA Center, Burlington, January 22 to April 9; burlingtoncityarts.org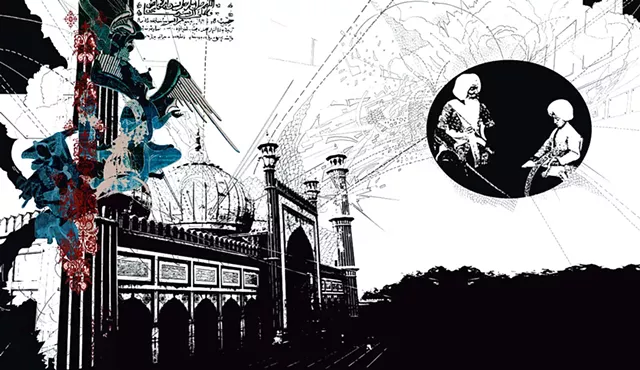 Courtesy Of Bca
"The Black Star (10)" by Seher Shah
Three artists — Nurjahan Akhlaq, Seher Shah and Aqsa Shakil — have lived in multiple cities around the globe, including in the U.S. As their names suggest, each originates in South Asia. While that region of the world is fraught with geopolitical significance, the ruminations of this trio of women were personal. Mixed-media paintings, collage and a dreamy short film awash in tragedy overlaid foreign elements with the universal poignancy of memory and loss.
'To China and Back'
River Arts, Morrisville, March 3 to May 2; riverartsvt.org
In "To China and Back," Middlesex artist Galen Cheney presented works created during and following an artist residency in Shenzen. A fierce and ever-evolving painter, Cheney explored collage and work on and with paper. The latter manifested in riotous assemblages of torn and cut-up bits that practically leapt off their two-dimensional surfaces. Cheney strove for and achieved a dynamic coalescence of materiality and unfettered technique.
'Cal Lane: Traditional Culprits'
BCA Center, Burlington, April 15 to June 25; burlingtoncityarts.org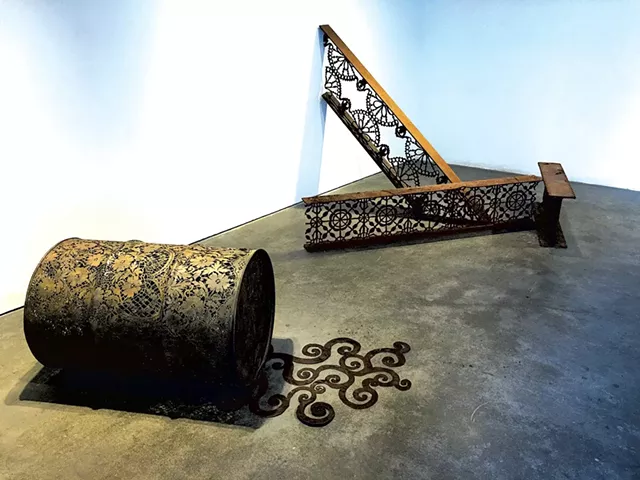 Pamela Polston
"Sweet Spill" (left) and "Fabricate" by Cal Lane
In her exhibit "Traditional Culprits," sculptor Cal Lane bridged a number of dichotomies — masculine and feminine, heavy and light, industry and fine art. Siting just four works in plasma-cut steel in the front gallery and a room-filling, powdery installation in the back, curator DJ Hellerman gave this exhibit room to breathe and gave viewers plenty of space to interact with the nexus of hard edges and unexpected delicacy.
'Portraiture Reimagined'
Champlain College Art Gallery, Burlington, June 23 to September 3; champlain.edu
In "Portraiture Reimagined," Burlington photographer Todd R. Lockwood indulged his long-held love for large-scale, exacting black-and-white head shots. But this exhibition had one crucial difference from past ones: The subjects, while gazing intently at the camera, also moved. On an 80-inch video monitor, Lockwood looped short films of 10 subjects — he dubbed them "cinema portraits" — in which each listened and reacted to his or her own recorded voice. The process was high-tech; the effect, for viewers, intensely intimate.
'Fully Involved: Bunny Harvey Paintings'
White River Gallery at BALE, South Royalton, June 25 to September 11; balevt.org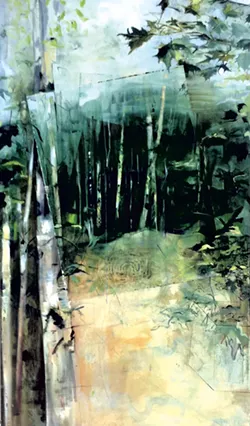 Courtesy of Dian Parker
"Verges" by Bunny Harvey
The "thrum of a Vermont summer" was omnipresent in Bunny Harvey's newest and "most fearless" works. Even this tiny gallery space could not limit the multiple sensations that her paintings — particularly five large-scale ones — seemed to emit. Reviewer Meg Brazill cited "the whir and buzz of insects, the hum of farm machinery, the smell of freshly mown hay and manure, and the feel of wind blowing across skin." The Tunbridge artist's semiabstract paintings took us on an intoxicating journey.
'Fixed/Fluxed'
Vermont Metro Gallery, Burlington, July 1 to October 1; burlingtoncityarts.org
Layered, dynamic desert photographs by Tunbridge artist Sage Lewis appeared as part of the BCA Center exhibition "Fixed/Fluxed." The works evidenced strong but not overbearing engagement with contemporary landscapes, both actual and technological.
'Sargent to Basquiat: University of Vermont Ulumni Collections'
Fleming Museum of Art, University of Vermont, Burlington, September 22 to December 16; flemingmuseum.org
A unique, ambitious exhibit featuring 64 artworks by 45 artists, "Sargent to Basquiat" had one unifying thread: All its pieces were loaned from the private collections of UVM alumni. What might have been a sprawling and disjointed exhibition benefited greatly from the curatorial vision of museum director Janie Cohen. Her placement of individual works suggested — and invited viewers to discover — commonalities between them. It was an engaging romp through 20th-century art.