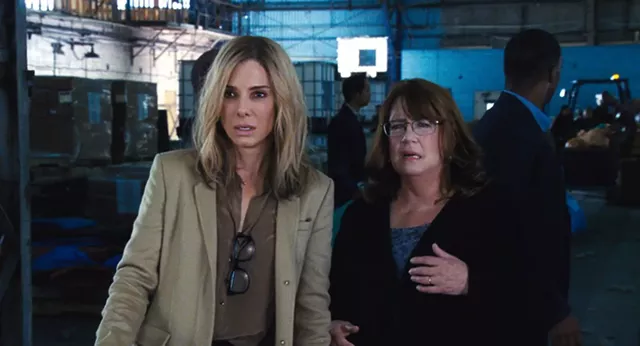 Lost Cause: No one manages to put a convincing spin on this would-be comedy that stars Bullock as a political strategist.
An optimist might go to Our Brand Is Crisis expecting a "Veep" or Primary Colors starring Sandra Bullock — a clever, pitch-dark adult comedy about the machinations of political spin doctors. That optimist would be disappointed to find a tepid movie, short on comedy of any kind, that isn't sure whether it wants to be a statement or a flattering star vehicle.
The expectation has some basis, given that Crisis shares its title and premise with a documentary that followed American strategists-for-hire — including James Carville — as they used every trick in the book to persuade Bolivian voters to elect a presidential candidate who was trailing in the polls. That 2006 film painted an unpretty picture of the political process, inspiring critic Nathan Rabin to describe Jeremy Rosner, its central figure, "a borderline sociopath with ice water running through his veins."
Now that's the kind of character who might have stretched Bullock's range and earned her another Oscar. But screenwriter Peter Straughan and director David Gordon Green have chosen a less bold route, one that allows the actress to smoke, cuss and talk tough while ultimately preserving her likability.
Bullock plays Jane Bodine, a composite character "suggested by" the documentary (according to the credits), whose brilliant career as a political strategist ended in disgrace and rehab. In a sequence that plays like an inadvertent parody of every sports comeback saga, Ann Dowd and Anthony Mackie trek to her desolate mountain retreat to beg her to shepherd the ailing campaign of Pedro Castillo (Joaquim de Almeida). Jane couldn't care less who wins the Bolivian presidency, but when she sees that her old nemesis (Billy Bob Thornton) is guiding the opposition, she wants in.
The script goes out of its way to show us that Castillo is not a worthy underdog but merely an arrogant power seeker. Running against a candidate with convincing populist cred, he can triumph only through the fear tactics of a manufactured "crisis" — so Jane manufactures one.
So far, so good, because Jane is our anti-hero, right? Or is she a battered, past-her-prime athlete going back for a rematch? The movie can't seem to decide whether it's encouraging us to root for her or not. The script uses the sliminess of Thornton's character to make Jane look better by comparison, then guiltily reminds us that the people of Bolivia might have more pressing concerns than these two slicksters and their personal vendetta.
We might forgive Crisis its mixed messages — and Green's undistinguished direction, which comes to life only in a brief party montage — if only Straughan's script were smarter, crackling with the verbal rhythms of professionals at the top of their game. But Aaron Sorkin or Armando Iannucci he is not, and Bullock lacks for worthy conversation partners. Fine actors like Dowd and Mackie go to waste, their characters barely sketched, while long scenes focus on the Passion of Jane.
Bullock does fine at conveying the character's self-hatred and strung-out ambivalence. The problem is that, by the time Jane's clumsily scripted comeback arc reaches its conclusion, we don't care — in large part because there are bigger things at stake — like, oh, maybe the fate of a country. For all its overt liberal messaging, Crisis ends up feeling oddly condescending: Its structure suggests that the real purpose of the Bolivian election was to help one white American lift herself out of the political mire and live a more fulfilling life.
That suggestion may be the unintended consequence of transforming a concept best suited to ensemble drama into a star vehicle. But Crisis leaves an unpleasant taste — not unlike that of a campaign commercial that surrounds a candidate with real-world ugliness, then bathes her alone in beatific light.