From "How We See Water" by Robin Starbuck
What do filmmakers Steve James, Peter Davis, Barbara Kopple, David Wasco and Sandy Reynolds-Wasco have in common? Besides having received seven Academy Award nominations and five wins among them, they'll all be in Addison County this weekend for the fourth annual Middlebury New Filmmakers Festival.
Nearly 60 filmmakers will attend this year's festival, according to MNFF producer Lloyd Komesar. While the fest's marquee speakers are industry veterans, most of the guests are first- or second-time filmmakers.
That group includes director Juliane Dressner, whose feature debut Personal Statement will serve as the opening-night film on Thursday, August 23. The documentary tracks students at three Brooklyn high schools who become peer advisers because their schools lack the resources to fund college guidance counselors. Besides Dressner, the post-screening Q&A will feature producer and 1991 Middlebury College graduate Beth Levison, as well as three students featured in the film.
"We anticipate opening night will be turbocharged when they take the stage along with the director and the producer," Komesar says.
Wasco and Reynolds-Wasco, the married production designers who have worked extensively with A-list directors Quentin Tarantino and Wes Anderson, earned their first Oscar in 2017 for Damien Chazelle's elegantly stylized musical La La Land. In 1993 — a year before shaping the visual look of Tarantino's Pulp Fiction — the couple headed the art department of the Northeast Kingdom period piece Where the Rivers Flow North, directed by Jay Craven, who later became MNFF's artistic director.
"People sometimes sell short the importance of production design in a film," Craven says. "But in Where the Rivers Flow North, between 10 p.m. Saturday night and 6 a.m. Sunday morning, [the Wascos] transformed St. Johnsbury's Main Street from a contemporary setting to a 1927 townscape, with dirt on the streets and period street lamps that they found in a basement in Montpelier."
Wasco, who grew up in the Bennington area, will return with his wife to the Green Mountain State on Saturday, August 25, for a presentation featuring hundreds of behind-the-scenes slides from the making of La La Land.
"It's unbelievable the amount of depth they've captured with these photographs," Komesar says.
Davis won an Oscar for his 1974 documentary Hearts and Minds, a searing and controversial survey of America's involvement in the Vietnam War. The film will be screened on Saturday, followed by a Q&A with the director.
The Vietnam era will also be examined during a Friday, August 24, matinee screening of Dateline: Saigon, a profile of five Pulitzer Prize-winning journalists — including Malcolm Browne, famed for his 1963 photo of the self-immolation of Buddhist monk Thich Quang Duc. First-time director Tom Herman will be joined onstage by Thetford resident Le Lieu Browne — the widow of Malcolm Browne — and Marine Corps veteran Thomas Vallely, who served as a senior adviser on Ken Burns' PBS series "The Vietnam War."
James, perhaps best known for his groundbreaking 1994 documentary Hoop Dreams, will answer questions Friday morning following the screening of the first two episodes of his upcoming Starz series "America to Me," about a progressive Chicago-area public high school. Later that evening, he'll discuss his Oscar-nominated doc Abacus: Small Enough to Jail, the story of a family-owned Chinese American bank that became the only financial institution indicted during the 2008 financial crisis.
Kopple, a two-time Oscar winner, is making her third consecutive appearance at MNFF. On Friday she'll present her documentary A Murder in Mansfield, in which a grown man returns to his hometown to confront a childhood tragedy.
Another returnee is Robin Starbuck, whose short film "The Stag's Mirror" won the Vermont Symphony Orchestra award for Best Integration of Music into Film at the 2017 fest. On Sunday, August 26, Starbuck will present a modified version of her in-progress film "How We See Water," an experimental doc that explores the struggle for marginalized women in Chiapas, Mexico, to educate themselves. In lieu of an audio track, the screening will be accompanied by a live VSO performance of a score by 2002 Middlebury College grad Matt LaRocca.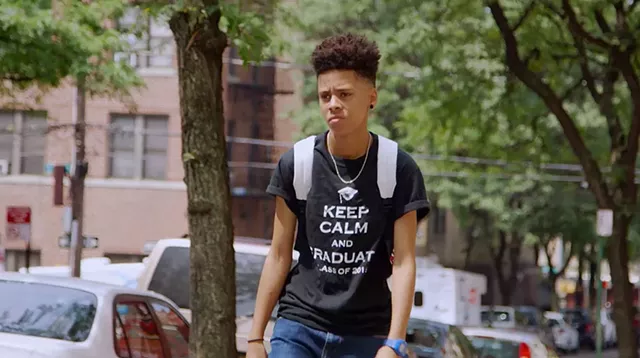 Images Courtesy Of Middlebury College
From Personal Statement by Juliane Dressner
Craven notes that collaborations like the VSO award are "really key to the festival and its ability to advance." He also cites the Jacob Burns Film Center Creative Culture Award — the recipient of which earns a monthlong residency at the Pleasantville, N.Y.-based arts incubator — as a symbiotic partnership that raises the festival profile while promoting the work of burgeoning filmmakers.
"Our view is that through partnership everyone gets stronger," Craven says, "and that there's no sense, either among nonprofits or among film festivals, frankly, to really see themselves in a competitive relationship."
A new award this year is the Gaia Prize for Environmental Filmmaking, chosen by environmental activist and author Bill McKibben from an MNFF short list. The inaugural awardee of the $1,000 cash prize is freshman director Ryan Patrick Killackey's Yasuni Man, about the encroachment of fossil-fuel interests on native species and the indigenous Waorani tribe of the Ecuadorian Amazon. Killackey, a former wildlife conservationist, will attend the film's Vermont premiere on Friday.
In total, the festival will show 51 features and 55 shorts, split evenly between fiction films and documentaries. Roughly 20 percent of the films were curated by festival staff; the other titles were selected from a record 475 submissions by filmmakers.
The only regret the MNFF team has about the packed lineup is that it's impossible for attendees to experience every movie and filmmaker discussion.
"You could choose any one day, any screening, any time, and you could find something interesting," says associate producer Phoebe Lewis. "It's going to be a balancing act to see everything that you want."