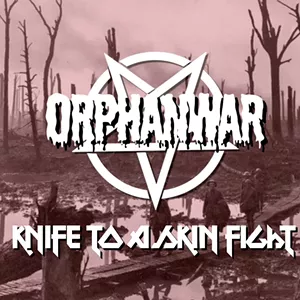 Courtesy
OrphanWar, Knife to a Skin Fight
(Woodsman Music Group, digital)
OrphanWar is the death-metal side project of prolific "doom folk" artist Bishop LaVey — real name Kane Sweeney. Hailing from central Vermont and closely associated with the Montpelier scene, Sweeney is normally reflective, stridently political and mostly acoustic. OrphanWar's debut LP Knife to a Skin Fight is a million miles from all that, though it's still pretty heavy on the "doom."
Knife to a Skin Fight is intended as an ode to a very specific breed of '90s death metal. As a weirdo who grew up on Entombed and Bolt Thrower, I can certainly hear the resemblance. At the same time, it's not like the genre has really changed all that much since those halcyon days, you know?
Saying that OrphanWar stays true to genre convention, then, is both a compliment and an indictment. It's too fast to headbang to without falling over within 10 seconds, too brutal to be taken seriously, and almost completely incomprehensible. So Sweeney nailed it, for sure. From the pornographic super violence of Cannibal Corpse to the ornate song titles of bands such as Carcass and Suffocation, this particular brand of metal has always verged on, well, comedy.
Which brings us to "Botched Lobotomy." The opening track here, it sets the tone perfectly, leading off with sludge riffs and the distant roar of chain saws. Throughout these eight tracks, Sweeney makes it pretty damn clear his comedy is intentional: Nobody would name a song "Diabetic Shock and Awe" with a straight face. (Or "Samurais With Parkinson's," for that matter.)
So, for all the gut-blasting atrocity on display here, OrphanWar is having fun and wants you to have fun, too. Sweeney's songwriting is limber, full of whiplash breaks, tempo changes and tonal experimentation. As a vocalist, he confidently delivers all three core flavors: the guttural scream-bark, the high banshee demon harmony and the creepy goblin croak.
Nearly every track on Knife to a Skin Fight hovers in the three-minute range, favoring a drive-by-shooting approach with tightly executed songs. While there is no standout single in the mix, that's hardly a criticism, because this is a tastefully consistent batch of distorted destruction. It's not that these songs all blend into each other but that every track sustains your attention.
OrphanWar is a "one-man band" affair, which boils down to Sweeney deploying live strings over programmed drums. It coheres nicely, with the seams only audible on occasions when the guitars wander off tempo while the drums chug mercilessly onward.
The album is packed with bang-on studio touches and great takes, but overall it has a thin, demo-tape feel on both speakers and headphones. To be fair, that's faithful to '90s death metal, too; it was always more brutal live, always pushing past the limits of nascent digital recording technology.
Uncompromisingly niche, Knife to a Skin Fight is a pretty strange way to spend a quarantine vacation — but I respect it. This cult project may yet find itself a cult following.
Knife to a Skin Fight by OrphanWar is available at orphanwar.bandcamp.com.