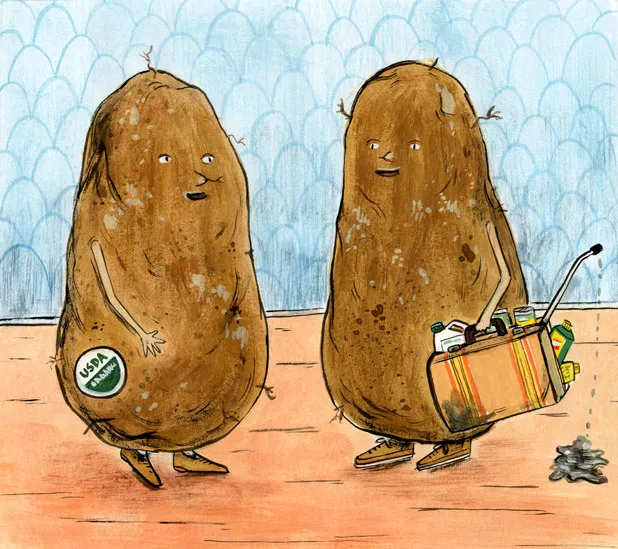 In the produce section of the Shaw's on Shelburne Road, a five-pound bag of organic potatoes costs $5.99; nearby, an equal-weight bag of conventional potatoes goes for $3.49. Am I daft to shell out extra money for the organic tubers? According to the now-infamous Stanford University study on organic versus conventional food, it's a definite maybe.
Two weeks ago, the California researchers published a study titled "Are Organic Foods Safer or Healthier Than Conventional Alternatives?" in the Annals of Internal Medicine.
Within hours, the story had blown up. Though the lay public could only read an abstract — rather than the full study — online the gist of the findings was clear from a slew of headlines, including "Stanford Scientists Cast Doubt on Advantages of Organic Meat and Produce" (New York Times); "Why Organic Food May Not Be Healthier for You" ("The Salt," food blog of National Public Radio); "Study finds organic food is no better on vitamins, nutrients" (Associated Press); and "Organic food is as dangerous as factory farmed food, study shows" (examiner.com).
Well, duh. I don't buy organic beets because I think they have more magnesium or vitamin C than a beet grown on a conventional farm. But these researchers assumed that many people do, and aggregated 17 human and 223 food studies to find that "when it comes to certain nutrients, there is not much difference between organic and conventionally grown food" (Albany Times Union); and that E. coli was present in roughly equal amounts in both kinds of food, perhaps even more so in organic poultry.
However, readers who made it past the first few paragraphs of the study learned that 38 percent of conventional produce contained "detectable pesticide residues," versus only 7 percent of organic food. Organic meat had fewer antibiotic-resistant bacteria than conventional meat, and organic milk was denser with fatty acids than conventional milk.
It was a dizzying jumble of information, and the study lacked any discussion of the potential carcinogenic effects of the herbicides, pesticides and fungicides that linger on conventionally grown grapes, apples, spinach and potatoes.
Over subsequent days, a flurry of stories continued in the same confusing vein. On NPR, science correspondent Shankar Vedantam cited a study claiming that "emotional values" influence our decisions to buy organic. Those of us who do so tend to value altruism, benevolence and spirituality. "Organic food has gotten wrapped up in all of these values that don't necessarily have to do with the specific things that science studies," Vedantam said.
I may be altruistic, but I don't think I pay extra for organic food because I love my neighbor; I buy organic potatoes because I don't want to ingest a cocktail of chlorpropham, o-phenylphenol and dieldrin each time I eat one. (Organic potatoes taste better, too.)
I tried but failed to reach the head Stanford researcher to ask her some questions. "Dr. [Crystal] Smith-Spangler and her co-authors have been inundated with calls and emails; unfortunately, we can't accommodate your interview request," was the response I received.
(The Gray Lady got through, though.) Dena M. Bravata, one of the paper's senior authors, told the New York Times, "When we began this project, we thought that there would likely be some findings that would support the superiority of organics over conventional food. I think we were definitely surprised."
Surely a surprise result bolstered the study's cred?
With no researchers to corner, I phoned the University of Vermont Department of Nutrition and Food Sciences and heard back from Jane Kolodinsky, chair of community development and applied economics ("not a nutritionist," she emphasized), who used to head the school's food-systems spire. Kolodinsky, who has studied obesity, school-lunch programs and local foods, said her students had had a spirited discussion about the controversial study earlier that day. After reading the entire study herself (a perk of academic online access), she asserted that the data had been skewed both by the press and by the study's title.
"If you look at what [the researchers] really analyze, they really look at the safety issue," Kolodinsky said. "I don't believe that's where the organic movement has come from."
She also suggested that the organic label may be losing ground to consumers' interest in local foods, at least if Vermont is a barometer.
"Empirically, if you were to ask Vermonters, they are very interested in organic and local. But if they were given a choice, they would choose the locally produced, conventional alternative" over something produced organically farther away, Kolodinsky said. "[Organic] used to mean something more than fewer pesticides and antibiotics," she added. "I think organic has been losing its meaning as larger and larger corporations are getting into the game."
One Vermont company that has benefited from the ongoing growth of organic foods — an industry that exploded from sales of $3.6 billion in 1997 to $26.7 billion in 2010 — is Johnson's Deep Root Organic Co-op. The 26-year-old cooperative gathers and sells organic produce from 19 farms across the state. Deep Root's sales were up 40 percent in the first part of this year, according to sales manager Anthony Mirisciotta, and 85 percent of those sales were outside Vermont.
Mirisciotta believes the Stanford study "really isn't earth-shattering news for the organic world." For consumers who shell out for organic food, "It usually comes down to a lot more than the nutritional aspect," he said. There's still enough growth in organic food that Deep Root is seeing increased competition from "industrial farms coming onto the organic scene and beating us out of the markets," Mirisciotta noted. "We really can't compete with their pricing."
Of the farmers he works with, he said, "I really don't know anyone who was into it, at least from the farming side, for the nutritional aspect."
One of Deep Root's farmers is Jonah Bourne of Cabot's Provender Farm, which received its organic certification from the Northeast Organic Farming Association (NOFA) this past year. When I reached him, he had been so busy tending 7000 Brussels sprout plants that he hadn't heard about the Stanford study.
Bourne said that he and his colleagues, Lindsay Scott and Dawn Andrews, went through the organic certification process not only for market reasons, but because of their commitment to soil preservation. "For me, it's not about nutrition," said Bourne. "It's about preserving the fertility of the soils."
Bourne is unperturbed by the new study and remains passionate about keeping farms up to standard. "Organic standards are slipping. As it is, there's more and more stuff you can use," he said. "Eventually, we'll need a tighter standard."
That same day, Rachel Nevitt of Hinesburg's Full Moon Farm greeted her CSA customers as they arrived to pick up boxes of onions, leeks, cucumbers, green peppers, broccoli, tomatoes, kale, chard, GMO-free soybeans and, yes, potatoes.
Nevitt said she'd heard some buzz about the study, but noted, "Enough people who are good, critical thinkers know that the real question is not really health benefits of the food, per se. It's the health of the planet that is at stake."
Nevitt and her husband, David Zuckerman, wonder about the health aspect of carbon emissions from the transport of industrial-scale food. Why didn't the researchers take this into account? And her own critical mind questioned the Stanford project's funding: "Was it Monsanto or some other large agribusiness that would benefit from the more negative coverage of organic farms?"
As it happened, the Cornucopia Institute, a Wisconsin advocacy group, sent out a press release later that day that addressed the funding of the research center where the organics study was conducted, Stanford's Freeman Spogli Institute for International Studies. One of its two major corporate sponsors was agribusiness giant Cargill. (The other was the Bill & Melinda Gates Foundation.)
That revelation didn't seem to surprise Vermonter Barry Estabrook, author of 2011's Tomatoland: How Modern Industrial Agriculture Destroyed Our Most Alluring Fruit. He said in an email that researchers at Stanford "frequently produce studies with conclusions favorable to Big Ag.
"Remember," Estabrook added, "the Stanford group did no actual nutritional analysis of their own. Rather, they based their conclusions on the results of previously published scientific papers, and they simply omitted many papers with results that ran contrary to the notion that organic and nonorganic foods were the same nutritionally."
All of this is heady, and confusing, stuff to consider for anyone facing a decision at the produce counter. With the spoils of a multibillion-dollar organics industry at stake, the battle is sure to continue — at least in the media. Personally, however, I will never fancy dichlorodiphenyldichloroethylene in my gratin.