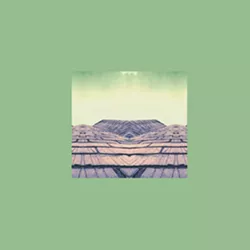 (Self-released, digital download)
Julian Rumney DeFelice's solo project Orange Julians is exploratory pop with grandiose aspirations. His latest release, Option, contains 12 tracks with musical influences spanning hip-hop, disco and southern rock. The album follows his 2016 release, Object, which was laden with '80s synth samples and romantic themes.
With Option, DeFelice is a long distance from the introspective folk songs of his early demos. The album chases a theatrical, radio-play sound in the vein of Kanye West's My Beautiful Dark Twisted Fantasy and Justin Timberlake's Justified. The drama of Option makes sense, considering that DeFelice holds a degree in acting and directing from Castleton University.
DeFelice utilizes DJ techniques without restraint in his production. Opening track "All Night" immediately acquaints the listener with his love of beat repeat. A disco strings sample is chopped with rapid percussion and guitar that melts into the background. In deviation from pop production formula, the lyrics and vocals are too low in the mix to balance the song's high energy, dampening the song's impact.
"Mr. Freeze" relies on a relentless, instantly recognizable sample of the Italo disco classic "Faces" by Clio. Again, the vocals get lost in the mix, a confusing creative decision to any listener familiar with the original Clio song. A guitar bit enters at the end of the track. Its presence earlier would have helped to create a unique interpretation of the widely used sample.
The album begins to sound more refined on "Jesus." The Yeezus-era Kanye West influence is apparent on this club-worthy dance track. Vocals are styled in a Black Keys-esque, southern-rock fashion. Unlike the sample usage in "Mr. Freeze," "Jesus" flips the thumping bass rhythm of Robert Owens' house anthem "Bring Down the Walls" with finesse. Coupled with warped vocals from Petria's "I Miss Your Love," the track becomes a dark pop song with lyrics lingering on the fear of death.
DeFelice reverts to his singer-songwriter tendencies on "Shift." The track's clear vocals and pretty, melodic guitar are a welcome interlude amid the album's aggressive, looped sample exploration. Mournful background vocal harmonies transition and taper off into a distorted guitar solo recalling psych-rock reminiscent of Pink Floyd.
The genre-traversing pop of Orange Julians demonstrates innate talent for composition and a deep well of creativity. Vermont isn't a region where pop surfaces often, so listeners craving the genre will likely be enthusiastic about the local recording. However, Option would have benefited from restraint with sampling and effects. The album has dynamic potential but feels cluttered with clashing influences.
Option by Orange Julians is available at cdbaby.com. Orange Julians plays at Lucky Cloud in Winooski on Friday, May 5, as part of Waking Windows.