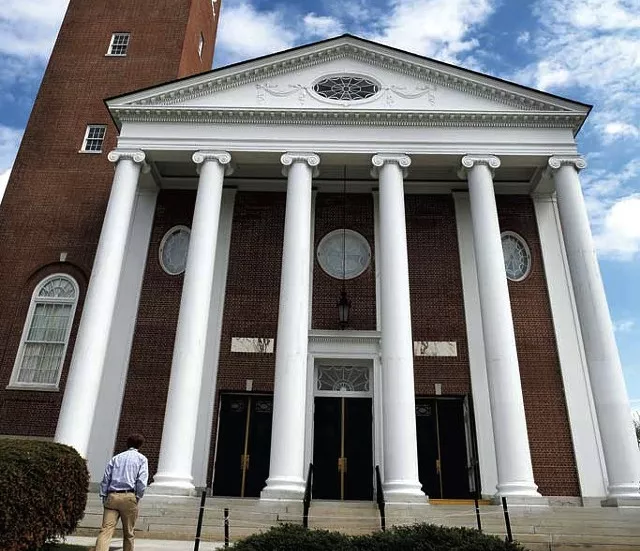 File: Ashley Conti
Ira Allen Chapel, UVM campus
This opinion piece was written by
Seven Days'
former Poli Psy columnist.
University of Vermont president Tom Sullivan offered
solace to students
and faculty who might be feeling "isolated and concerned for personal w
elfare." His email to students and staff followed the election of a racist, xenophobic, sexist psychopath, his evil VP and a one-party government set upon destroying a century's worth of progress in women's rights, racial justice, environmental protection, progressive taxation and health care — among thousands of other things, including, no doubt, higher education.
In response to the coming apocalypse, the campus's New Age health center, Living Well (isn't that a cooking magazine?), and the Interfaith Center held get-togethers including "reflections, meditations and a discussion." Sullivan suggested that if people were feeling blue, they call the counseling center.
Yes, Tom, this is about "personal welfare," particularly if you are queer, of color, Muslim, an immigrant, poor, incarcerated, unintentionally pregnant, disabled or even an investor in the stock market.
But this is not a personal problem. We're facing an existential threat to the U.S. republic and the world.
The antidote for feeling isolated is not to isolate yourself further in a counselor's office. If people are anxious, they should be. The answer is to use it.
Get into the streets, like thousands did Thursday night, all across the world. Shout your heart out. Discuss, yes — but do it seriously and continuously. Learn history. Study politics. Memorize the Constitution. Join a union. Defend choice. March with Black Lives Matter. Resist the right-wing government and the Trumpian fascists every day.
Don't just meditate, agitate. Don't psychologize, organize.