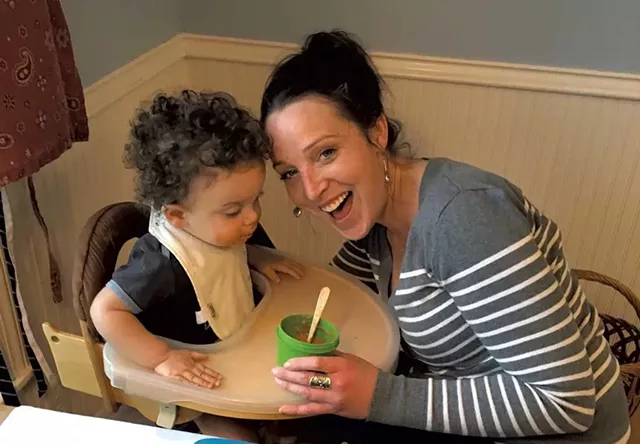 Courtesy Of Maura O'neill
Madelyn Linsenmeir with her son, Ayden
The donations came in from New Zealand, Denmark, England, Spain — not exactly fundraising hotbeds for the Turning Point Center of Chittenden County, a small addiction-recovery center in downtown Burlington. Eight dollars here, $20 there. Many came with personal notes. The donors wrote about brothers who had died of an overdose, sisters who lost custody of their children because they couldn't shake their addictions.
On a typical week, two or three donors give to Turning Point, executive director Gary De Carolis said. If an obituary published in a local paper suggests readers send the center money, 10 or so contributions arrive.
Last week, the center received more than 315 donations. The gifts totaled more than $15,000.
De Carolis attributed the onslaught to what he calls "Maddie's army." While few, if any, of the donors knew Madelyn Linsenmeir, they gave because they read about her death and felt moved to do something.
"They just want to be a part of this thing," De Carolis said.
The 30-year-old Burlington native died on October 7, after years of struggling with drug addiction. Her obituary, written by her sister Kate O'Neill, skipped the traditional platitudes and euphemisms and instead laid out her struggle in eloquent, brutal detail.
"To some, Maddie was just a junkie — when they saw her addiction, they stopped seeing her," it read. "And what a loss for them. Because Maddie was hilarious, and warm, and fearless, and resilient. She could and would talk to anyone, and when you were in her company you wanted to stay."
Celebrities, national journalists and even Ivanka Trump shared the obituary on social media. As of press time, it had garnered more than 4.1 million page views on sevendaysvt.com, where readers have left nearly 1,000 written comments. Many of them gave deeply personal accounts of their own losses to drug addiction.
The circumstances of Linsenmeir's death have not been fully explained. She had disappeared from the Burlington area toward the end of summer, as she had been known to do in the past. Her family got a call in early October that she was unconscious in a hospital in Springfield, Mass., after being taken into police custody. O'Neill said they still don't know the cause of her death.
But she believes that Linsenmeir's addiction, as they had long feared, likely led to her death. And she hopes the obituary serves not just as a memorial but as a call to action.
The family wants more treatment services and would like politicians and many of the workers in the criminal justice and health communities to change their attitudes about people with addictions, O'Neill said.
"Punitive measures are not the answer," O'Neill said. "They're going to make it worse."
Her family members said that Linsenmeir made "dozens" of attempts to get clean but could never make it stick, even after giving birth to her son, Ayden, in 2014.
Many of those attempts occurred while she was under the supervision of Burlington's Rapid Intervention Community Court, a program that takes addicts out of the criminal justice system and gets them treatment. Like many addicted people, Linsenmeir had been arrested on drug-related charges.
Though she never succeeded in the program for long, Linsenmeir found her way into the heart of its former coordinator, Emmet Helrich. Unlike just about everyone in her life, Helrich didn't call her "Maddie." He insisted on "Madelyn." He thought it was more elegant, befitting a young woman with a smile as radiant as hers.
But as he read the tributes to Linsenmeir last week, he said, he thought about dozens of other drug-addicted people he had known whose deaths never received this kind of attention.
"It's great that it was written and that it has gone viral like this, but let's see if it does something instead of being just political talk, because she's definitely not alone," Helrich said. "There are so many addicts on the verge of doing the same thing. And they're all Madelyns. Every one of them is a Madelyn."