Molly Walsh
Dr. Ed Haak
Dr. Ed Haak gripped his surgical instruments and pushed four tiny rods into the flesh of his "patient" — a hunk of raw pork.
The tenderloin substituted for a human arm at a training last Friday in Burlington, where the physician and three other doctors learned to implant Probuphine, a new tool in the battle against heroin and prescription-drug addiction.
When inserted into the upper arm of a patient, the implant is designed to quell heroin cravings for a full six months. The rods dispense continuous doses of the opiate-addiction recovery drug buprenorphine into the body and can be replaced with new implants after six months.
Implanted patients obviously can't sell or trade oral doses of buprenorphine — a practice called "diverting" drugs, which officials say is a major problem.
Nor can they leave buprenorphine pills or dissolvable strips in places where children might find them. Some children have become seriously ill, and in rare cases died, after ingesting buprenorphine. That risk convinced the U.S. Food and Drug Administration to fast-track a review of Probuphine. It approved the drug in May.
Probuphine is the first implant version of buprenorphine, one of the most common addiction-treatment drugs, which currently generates more than $1 billion in sales annually under the brand name Suboxone.
At the Hilton hotel, the doctors hunched over their tenderloins and carefully inserted the matchstick-size rods with an applicator. Braeburn Pharmaceuticals, which sells Probuphine, brought in Pennsylvania physician Marc Landsberg to lead the training. He guided the docs through the steps — injecting a local anesthetic, covering the skin with a sterile drape, and inserting and removing the rods. "Great hands!" Landsberg told one physician, as the man sutured an incision in the pork.
With practice, implanting or removing the rods can be done in 15 to 30 minutes in an office setting. The minor procedure is comparable to implanting contraceptives.
Haak attended the training, which is required for physicians to prescribe Probuphine, in order to stay current with emerging treatments. But he isn't sure how successful the new delivery system will be. "We'll see," said Haak, who works at Northern Tier Center for Health in St. Albans. "This is part of the toolbox."
Few, if any, local physicians have prescribed Probuphine yet. Blue Cross Blue Shield covers the drug in Vermont, but the implant has not been approved in the state for Medicaid reimbursement. For now, Probuphine is not offered at the state's network of opioid treatment centers, which currently dispense methadone or buprenorphine to 3,100 mostly low-income people.
Barbara Cimaglio, Vermont deputy commissioner of health, said Probuphine might be available at the state's clinics down the road. But at a cost of about $5,000 for a six-month implant, it's significantly more expensive than other options. A six-month course of buprenorphine in pill or dissolvable-strip form runs $1,800. Methadone, for addicts with heavier opiate habits trying to manage withdrawal symptoms, is actually cheaper than "bupe." But the state clinic price for six months — $2,970 — includes the cost of counseling and physician care.
If the rollout of Probuphine goes smoothly, "I think it would be a game-changer, because people would be able to get help and be stable without having to spend days upon days going to clinics," Cimaglio said. "They could get on with their life."
But there's a downside to that independence. Cimaglio cautioned that successful recovery usually comes only when counseling and social supports accompany medically assisted treatment. "We don't want people to think that this is just a magic answer. Most of the folks that are coming into the publicly funded treatment system have pretty complex lives. We want to make sure that we're not giving people false security that this is something that, all by itself, is going to be a miracle."
Vermont has expanded funding to double its capacity to treat addicts, but more than 200 people are currently on the waiting list — in Chittenden County alone. Opioid overdose deaths aren't abating, either. Annual fatalities increased from 41 to 76 between 2010 and 2015, according to the Vermont Health Department. Twenty-four people died in the first three months of this year.
Patients of all ages show up daily at the Howard Center Chittenden Clinic on San Remo Drive in South Burlington to manage their addictions. On a recent drizzly Monday morning, a young mom arrived in a rusting SUV and walked into the clinic, carrying a baby in one arm and holding her little girl's hand in the other. A gaunt young man emerged from the doors and offered a friend a cigarette to share. An older woman headed inside leaning on a cane. Some of the clients looked worn and haggard; others were neatly dressed.
Several patients said they had heard about the implant and were cautiously interested. Others, including Todd Wells, a dishwasher who lives in North Hero, said they would hesitate to try it. He was at the clinic for buprenorphine, which he has taken for five years to combat a Percocet addiction. He said the idea of an implant makes him uncomfortable, and he worries about losing the flexibility of adjusting his dose.
"I'd have to talk to somebody that's done it," Wells said. "I would be like, 'How does it feel?'"
Ideally, he'd like to taper off buprenorphine altogether but said he needs the regular doses to feel good. After taking it, he said, "I'm not tired. I'm not depressed."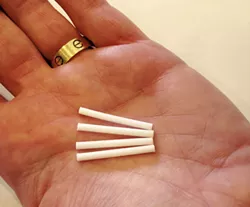 Molly Walsh
Probuphine implants
It's inconvenient to go to the clinic, but Wells said he'd soon be receiving his buprenorphine via a take-home prescription from his primary-care doctor. He used to get it that way, but the doctor ordered him back to the supervised setting because he admitted to drinking alcohol, which can be dangerous when mixed with opiates.
With Probuphine, treatment providers see the potential to curb the abuse of treatment drugs. "Addicts will always find a way to alter whatever it is they have to get high," said Dr. Patricia Fisher, the medical director for case management at the University of Vermont Medical Center in Burlington. "With the implant," she noted, "you can't do that unless you're going to take it out of your arm somehow."
Corrections data show that in fiscal year 2016, contraband opiates were found at least 347 times in Vermont prisons, well ahead of other types of drugs. Many of the opiate cases involved buprenorphine, said Vermont Department of Corrections Commissioner Lisa Menard.
"It's clearly an opioid that seems to be fairly available for people to divert," she said.
Why? It's easy to hide: Dissolvable oral strips can be tucked behind a postage stamp, sewn into a pants hem or hidden in a stack of legal papers.
Many inmates who battle persistent addiction are looking for something — anything — to help.
On the outside, the Turning Point Center in Burlington draws people for 12-step meetings, restorative yoga, meditation and even acupuncture to aid recovery. Last Wednesday afternoon, a dozen were hanging out at the second-floor space on Bank Street, playing cards, sharing snacks and talking.
At the front desk, volunteer John Nolan greeted visitors. The beefy, friendly 50-year-old Burlington resident struggled with a drug problem for years and said he went in and out of treatment, and once jail, for possessing heroin and dealing. The former sheet metal worker and day laborer said he lives on disability due to a back accident. Percocet prescriptions for his back pain led to his heroin addiction, he said.
Addiction made his life a mess, but things are looking up: Nolan said he has been heroin-free for 19 months, thanks to another go at treatment, this time with assistance from the Chittenden Clinic's Burlington site on South Prospect Street, and methadone.
Nolan tried buprenorphine on previous quit attempts — but wasn't ready to give up heroin, so he sold much of his bupe on the street. Nolan said he's not ready to taper off the methadone. "I'm in hopes that I wouldn't have to be on it forever, but if I am, I am," he said. "It's still better than just hitting the streets."
He isn't interested in Probuphine — buprenorphine did not ease his back pain, but methadone does, he said. Still, Nolan said he's glad to see more approaches being developed to help people with addiction. Heroin withdrawal is like the flu — times 10, he said: "You feel like you have been run over by a Mack truck, being dope sick."
For 17 months, Nolan went to the Chittenden Clinic daily to get his methadone dose. Because of his compliance with the program, Nolan was allowed two weeks ago to switch to a monthly methadone pill prescription.
"If you stay clean and sober, you can have somewhat of a life," Nolan said.
Others at the Turning Point Center, including executive director Gary De Carolis, are watching the Probuphine rollout with interest. Vermont has a long way to go to beat the opioid problem, according to De Carolis. "It seems as brutal as it was a couple of years ago," he said. "We lose a lot of people."
Probuphine could be helpful, he said, though taking addiction-recovery drugs indefinitely inhibits self-awareness. They can have a dulling effect that prevents people from doing the introspective work necessary to understand why they veered into addiction in the first place, De Carolis said.
"If you don't face that, it's like the boulder in the middle of the road," he said. "You're not going to get very far."