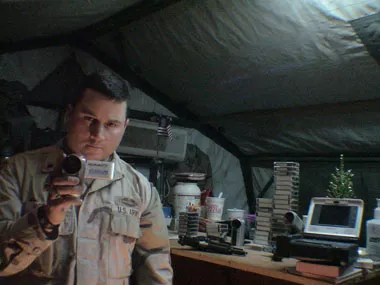 Spc. Michael Moriarty with video camera
"Today was the first time I shook a man's hand that wasn't attached to his arm." Those chilling words, spoken matter-of-factly by Sergeant Stephen Pink of the New Hampshire National Guard, tell viewers right away that The War Tapes isn't their grandfather's Saturday afternoon war movie -- or, for that matter, Platoon or Full Metal Jacket.
Pink, 24, is a member of Charlie Company, 3rd Battalion of the 172nd Infantry (Mountain) Regiment, and one of the 64,000 National Guard soldiers who've been sent to Iraq. Just before his unit shipped out in February 2004, New Hampshire film director Deborah Scranton and Vermont executive producer Chuck Lacy traveled to Fort Dix, New Jersey, 10 movie cameras in hand, looking for soldiers who were willing to film their entire one-year deployment.
The result of that effort was The War Tapes, a 97-minute, award-winning documentary about the U.S. occupation of Iraq as seen through the eyes of Pink, Specialist Michael Moriarty and Sergeant Zack Bazzi. Compiled from 800 hours of footage shot in and around Baghdad, as well as another 300 hours of stateside interviews, The War Tapes is the first-ever war movie filmed by the soldiers themselves in a combat zone. Raw, unflinching and almost entirely uncensored, the film offers viewers unprecedented access to the daily lives of U.S. soldiers who are stationed in Iraq's deadly Sunni Triangle -- and their family members back home who anxiously await their return. The War Tapes, which opens this Friday at the Roxy Theatre in Burlington, not only fuses the citizen-soldier with citizen-journalist; for many people it also transforms the war from a distant political abstraction into an intimate, first-person reality.
The three soldiers featured in the film weren't handpicked by a Hollywood casting agent. When they accepted their Sony Mini DV cameras, tripods, microphones, batteries and stacks of blank tapes, they were largely oblivious to how much work the project would entail, unsure of how their words and images would be used -- uncertain even if the movie would be produced at all. As Pink tells Seven Days, "All I knew was that I was getting a free camera."
The filmmakers didn't know whether their considerable investments of time, money and effort would bear fruit, either. "When we started, we had no idea whether the soldiers would actually film, whether we'd get the tapes back or whether it would even work," says Lacy from his home in Jericho -- which, coincidentally, is where the Mountain Infantry Battalion is headquartered. "And, it was a constant concern that someone in the Pentagon would pull the plug on us."
Fortuitously, someone in the New Hampshire National Guard had seen a television documentary Scranton had made about World War II veterans, and invited her to embed with their unit. She declined, but instead came up with the idea of giving the soldiers cameras and letting them do the filming. From then on, the project had the unflagging support of the New Hampshire National Guard.
"From the beginning, I promised them that we would tell the story, their story, wherever it took us, no matter what," Scranton says. "And I promised them we wouldn't twist their words."
Over the next 12 months, the cameras and microphones became just more pieces of equipment in the soldiers' Humvees, along with their radios, air-conditioners, GPS units and .50-caliber machine guns. They were mounted on helmets, dashboards, gun turrets and night-vision goggles, and they survived more than 1200 combat operations and 250 direct enemy engagements. In the process, the cameras captured the brutally honest remarks and observations of soldiers at their most visceral and vulnerable.
*******
Though all three soldiers belonged to the same unit, they come from diverse backgrounds, enlisted for different reasons, and held divergent views on the reasons and justifications for the Iraq war. As the men's stories unfold, it's clear none of them can be easily typecast or pigeonholed.
Michael Moriarty, 35, is a forklift driver from Windsor, New Hampshire, with a wife, a 4-year-old son and a 1-year-old daughter. Describing himself in the film as "substantially patriotic," he rejoined the National Guard after the 9/11 attacks and told his recruiter that he'd only reenlist if he were assigned to a unit headed for Iraq. Moriarty had no prior experience with journalism or electronic media; he tells Seven Days that he was particularly skeptical the movie might come off as antiwar, anti-Bush or "Michael Moore-ish." But he proved to be the most prolific of the three cameramen, generating 225 80-minute tapes.
Stephen Pink, born and raised in Kingston, Massachusetts, is a carpenter and self-described ski bum who spends most winter weekends pounding the slopes of Jay Peak. An aspiring writer, he joined the military to help pay for college. In the film, Pink shows no sympathy or remorse for the insurgents he's killed -- in fact, his graphic images and accompanying commentary after a particularly nasty firefight were the only footage censored by military commanders.
But Pink's journal entries featured in The War Tapes are almost poetic in their depiction of the carnage. For instance, in one entry he compares the aforementioned severed limb that hangs from a soldier's exposed bone to "a child's safety-clipped mitten dangling from their winter coat."
Zack Bazzi is a college student studying international affairs and psychology at the University of New Hampshire. A Lebanese-born American who escaped Lebanon's civil war with his family when he was 8 years old, Bazzi is the only one of the three soldiers who speaks fluent Arabic. An avid outdoorsman and history buff who reads The Nation, he bemoans Bush's reelection and rails against a war that's being fought, he suggests, so that some "redneck fuck" can drive his half-ton pickup. "Fuck the oil," he tells a fellow soldier while they're waiting in a Humvee on the outskirts of Fallujah. "I'll walk everywhere in the U.S."
But Bazzi also arrived in Iraq as a seasoned combat veteran for whom being a soldier is "a fundamental part of my identity." He joined the Army in 1997 and was deployed to Bosnia and Kosovo for military operations that he strongly believes were morally justified. "Philosophically and personally, I have no issues with war," he tells Seven Days. "I've been doing this job my entire adult life since I was 18. But as this movie shows, I have issues with this one."
The War Tapes not only blows away all previous coverage of this conflict, it also explodes the myth that American soldiers are automatons with monolithic, hard-right Republican politics and a simplistic understanding of the reasons they were sent into battle.
"The mistake we made in Vietnam was that we blamed the war on the soldiers," says Lacy. "In this film, it's clear that we have three soldiers with three different points of view on the war, and that the points of view of the soldiers who are serving are more representative of the public as a whole than you'd think."
Lacy, who is married to Vermont Speaker of the House Gaye Symington, is an accomplished entrepreneur with diverse business interests; he's a former president of Ben & Jerry's and co-founder, with Ben Cohen, of the venture capital nonprofit Barred Rock Fund. Lacy and Deborah Scranton met while the two were taking a graduate writing class at Dartmouth College. They decided to collaborate on The War Tapes and co-founded Scranton/Lacy Films.
The War Tapes was edited and produced by Steve James, the Academy Award-winning director, producer and co-editor of Hoop Dreams; it's also produced by Robert May, who was the executive producer of the Academy Award-winning The Fog of War: Eleven Lessons from the Life of Robert S. McNamara. Since its release, The War Tapes has been awarded the prize for best documentary at the Tribeca Film Festival in New York.
But unlike other films of its genre, The War Tapes is not an overtly political movie, at least not in any traditional sense. Though each of the soldiers struggles with his own internal contradictions about why he's there and what the U.S. presence will mean for the future of Iraq, The War Tapes is not pro- or antiwar. Neither does it try to justify or condemn the merits of Operation Iraqi Freedom. That is not to suggest the movie doesn't include harsh criticisms of how the war is being waged, or strong condemnations of the corporations that profiteer off the blood of Americans, Iraqis and "TCNs," or third-country nationals.
"I can support the war, I can support the president and I can support the intentions for us being there," Moriarty says. "I can also admit that KBR [Kellogg, Brown & Root, a Halliburton subsidiary] is raping the American taxpayer and nobody's questioning these things."
In fact, one of the film's strengths is its ability to portray the surreal nature of 21st-century warfare, in which each day soldiers are sent on deadly missions to protect convoys of consumer goods such as cheesecake and videogames that, ironically, are meant to boost soldiers' morale and make them feel more at home.
In one scene, Bazzi is sent "outside the wire," that is, beyond the heavily fortified base at LSA Anaconda, to defend a convoy of tanker trucks disposing of the camp's septic waste. As the truck pumps out its foul contents along a roadside, Bazzi remarks, "Every time some kid sees a commercial saying, 'Join the Army and fight bad guys,' they need to include this -- streams of poop water."
*******
Besides the obvious difficulty of winnowing 1100 hours of raw footage into a cohesive 97-minute narrative, the filmmakers had to overcome a host of other logistical complications in putting together The War Tapes. Foremost among them was having the film's director 6000 miles away from the action.
"The thing that really made it happen was Deborah [Scranton] being in constant email and instant messaging with the soldiers in Iraq," Lacy explains. At the beginning of their deployment, he says, the soldiers were primarily interested in capturing combat footage -- firefights, roadside bombs, demolished vehicles and the like. It was Scranton who encouraged them to talk about themselves and tell their own stories. And it wasn't until halfway through their deployment, Lacy adds, that the soldiers began to truly appreciate the significance of the stories they were telling.
The soldiers all say their first concern was that the filming not get in the way of them performing their missions. According to Bazzi, it was Pink who first devised a method for mounting the cameras on the Humvee dashboards and gun turrets. From then on, whenever the soldiers left their base, they could just hit the "play" button and let the camera run, changing tapes and batteries only at secure locations.
In all, 17 soldiers shot footage for The War Tapes, though only three are featured in the movie. As Lacy explains, when it became clear who the main characters were, the filmmakers began interviewing their family members -- notably Moriarty's wife, Pink's girlfriend and Bazzi's mother -- and provided them with cameras as well.
Needless to say, the process wasn't always easy or smooth, especially during the soldiers' long and stressful workdays. Moriarty, a gunner, says he had so many other daily duties to perform -- such as cleaning, loading and maintaining the weapons -- that on 16-hour days, maintaining the film equipment was just one more unwelcome chore.
"There were times when I wanted to throw that camera in the river, just smash it," he says. "It was aggravating, it was frustrating, it was a lot of work. And there were times when I told Deborah, 'That's it. I'm done!' And she'd pep-talk me to keep filming."
Like the other two soldier-filmmakers, Moriarty admits he's glad she did. "If I can answer questions for people who have a husband in Iraq or a soldier headed to Iraq, that's such a great feeling," he adds. "It makes me proud to educate people in that way."
Pink agrees. "To be honest with you, it really helped me understand better what Linds was going through," he says, referring to his girlfriend Lindsay Coletti. "That's the heart of this movie. What this can do for people is give them a glimpse of what it's like to be a soldier in Iraq, and also show what it's like for the families back home."
Executive producer Lacy believes the film also seems to have a therapeutic value for many of its viewers: It gives other soldiers a framework for starting to tell their own stories.
"My very favorite comment about the film was from a recently returned soldier from Iraq who said, 'Now I can talk about it. When I see this film, I can smell Iraq,'" he says. "'If I can show my family this film, then I don't have to start at the beginning.'"
Not surprisingly, the film is garnering rave reviews, especially in towns with active military bases. "The War Tapes is the closest you can get to Iraq without actually enlisting," says Paul Rieckhoff, executive director of Iraq and Afghanistan Veterans of America, and author of the book Chasing Ghosts. "Nobody else has had this footage, nobody else has had this access -- not CNN, not Fox, and none of the other documentaries I've seen. And to be honest, I don't think anyone else will have this access going forward."
Rieckhoff, who spent a year in Iraq himself, says that one of the most powerful aspects of this film is its ability to help civilians better understand the nature and complexity of this war and the "world of gray" in which U.S. soldiers operate.
"When I was in Iraq, my guys would say, 'The only way you can tell the difference between the good guys and the bad guys is, the bad guys shoot at you."
Rieckhoff also believes that The War Tapes is helping to reframe the debate about military misconduct. By no means does it rationalize or justify abuses such as those that occurred at Abu Ghraib and Haditha. However, Rieckhoff says it may help civilians better appreciate the pressures and anxieties that can drive soldiers to such extremes -- and how top-level policies trickle down and affect "the boots on the ground."
*******
All three soldiers tell Seven Days they're glad they made this movie, not only for what it's meant for them personally -- Pink landed a book deal with Crown Publishing to compile his journal entries; Bazzi got an internship with Iraq and Afghanistan Veterans of America -- but also because of the opportunity it has given them to tell their own stories and those of their families.
"I was a little nervous and anxious, of course, to see the movie for the first time, and a little shocked at how candid I was," Pink admits. "There were some things in the movie that I was surprised I said to the camera."
Moriarty says he was generally satisfied with how the picture turned out, though he expresses some minor disappointment that a few scenes couldn't be included. For example, an event that occurred on Veterans Day, when a dining facility he was in was hit by a mortar round right after he'd exited it. He narrated the entire experience on camera afterwards, his uniform still covered with blood, but unfortunately the camera hadn't been running at the time of the blast.
Another scene, which did survive the final edit, still makes Moriarty cringe. In it he's heard saying, "I don't care if we have to nuke this fucking place." What the film doesn't show, he points out, is the context of that comment. Within the previous few minutes, his convoy had been hit by three roadside bombs, eight rocket-propelled grenades and a whole lot of small-arms fire. "I was at the end of my rope," he confesses. "But obviously, you can't include everything."
Bazzi says he stands behind everything he said and did in The War Tapes, and he believes the film is already having an effect on discussions about the war. "I'd say it's made a difference," he says. "Civilians who know nothing about this war, regardless of how many yellow ribbons they have on their SUV, have gained an understanding of what this war is."
That said, Bazzi does have one minor gripe. "The only thing I wish they didn't have in there was when my mother said my name means 'blooming flower,'" he admits with a chuckle. "But what are you gonna do? Mothers are there to embarrass their kids."
Wanted: A Few Good Journalists?
The soldiers who shot footage for The War Tapes made the filming fit around their real jobs, but the Vermont Army National Guard is now looking for recruits who want to make documenting Guard life a full-time gig. The VTARNG placed an employment ad in last week's Seven Days seeking "journalists, photographers and videographers" interested in joining the Guard's Public Affairs unit, based at Camp Johnson in Colchester.
Staff Sergeant Charles Elder explains that the VTARNG has several openings for enlisted personnel with or without previous experience. "That's a bonus," he offers, "not a requirement."
Elder says he's received "a flood of calls" about the ad, though many of them came from writers who mistakenly thought the journalist job was a civilian position. It's not. "You will be required to go to basic training," Elder explains. From there, he says, recruits will be sent not to journalism school, but to the Defense Information School at Fort Meade in Maryland, where they will complete their job training.
According to Elder, soldiers in the Public Affairs unit can expect to write stories and shoot photos for the VTARNG magazine. Videographers will shoot footage to be used in advertisements and training videos. "You would think for us it would be an easy job to fill," he reflects, "but we just don't get a lot of people who want to come in and do that stuff."
It's not necessarily because of the occupational hazard -- Elder says it's not likely these soldiers would be deploying to Iraq. "They're not a combat unit," he says. "They don't do that type of mobilization."
They do get to travel, though. This month, the Public Affairs crew is headed to South Korea, where they'll document a VTARNG training exercise. Of course, if hostilities break out with North Korea, these soldier correspondents will be first on the scene. They could potentially cover a conflict for the Department of Defense.
But don't expect these reporters to pose questions about strategy -- Elder says that critiquing the military is not part of their job description. "They don't really criticize," he says. "They don't write an opinion column or anything like that. They write more of a generic piece and they let you draw your own conclusions."
Don't look for them to break any sensational stories, either. "There are a little more stringent rules than a traditional newspaper has," notes Elder. "They don't want to write anything that's going to compromise a unit. You can have The New York Times out there releasing classified information, but this publication is scrutinized for that."
In other words, Woodward and Bernstein wannabes need not apply.