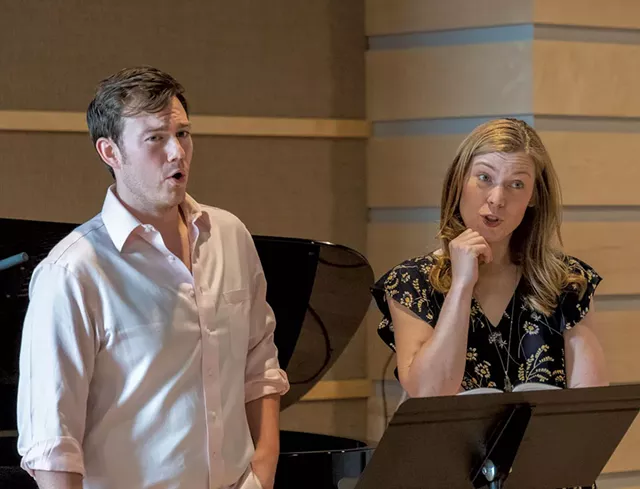 Courtesy of Max Kraus
John Riesen and Lindsay Ohse
At a recent live radio preview of the Opera Company of Middlebury's upcoming production, held at the Vermont Public Radio performance studio, soprano Lindsay Ohse and tenor John Riesen sang an impassioned duet from Jules Massenet's Cendrillon (Cinderella). The two not only looked their parts as Cendrillon and Le Prince Charmant, they are also serious singers. Ohse will make her Metropolitan Opera debut next season, and Riesen has sung in productions all over the country.
Then, as classical host Walter Parker's calm voice took over, the pair abandoned seriousness and broke into silent ad hoc victory dances. The studio audience, equally mindful of the airwaves, suppressed giggles and enthusiastically waved noiseless jazz hands.
Ohse, Riesen and soprano Cree Carrico, who previewed some of her show-stopping arias as La Fée (the Fairy Godmother) that day, are the stars of the production and three excellent reasons to see Cendrillon this weekend and next. Fully staged and one of OCM's most lavish productions to date, the opera's strength lies in its music, according to artistic director Doug Anderson.
"The first reason you do Massenet is that the music is gorgeous," he told Seven Days before the preview began.
Photo by Mike Kellogg
Heather Jones as Dorothée (left) and Abigail Paschke as Noémie
Costumes by Debbie Anderson
Principal guest conductor Michael Sakir, who will lead an orchestra of 22, described the music as detailed in orchestration and wide ranging in style. When the lead couple sings, the music evokes the slow, lush lyricism of Richard Wagner. The parts sung by stepmother Madame de la Haltière and stepdaughters Noémie and Dorothée bring to mind the comic patter of Gioachino Rossini. La Fée's music, he added, is "something in between."
OCM, now in its 16th season, has previously produced the composer's Thaïs (1898); Anderson admitted he fell in love with that score, too. Massenet, by far the most popular composer in late-19th-century France, is better known these days for Manon (1884) and Werther (1892) than Cendrillon, which premiered in Paris in 1899.
The overly familiar and somewhat dated story of Cinderella may be partly to blame. Massenet's librettist, Henri Cain, based his four-act creation on the 1698 version written by Charles Perrault, a brief, moralistic tale of a beautiful and gracious young woman despised by her stepmother and stepsisters. In Perrault's version, Cinderella's father, Pandolfe, is not dead but simply unable to confront his second wife.
Massenet and Cain also emphasized the fairy-tale aspect of their opera, suggesting at every turn that Cinderella — whose real name is Lucette in the opera — may have dreamed the whole encounter with the Prince. One scene has the two meeting up in a wood under the wand of La Fée and her multiple fairy helpers. (OCM's production has six.) Cinderella is subsequently found asleep by the stream.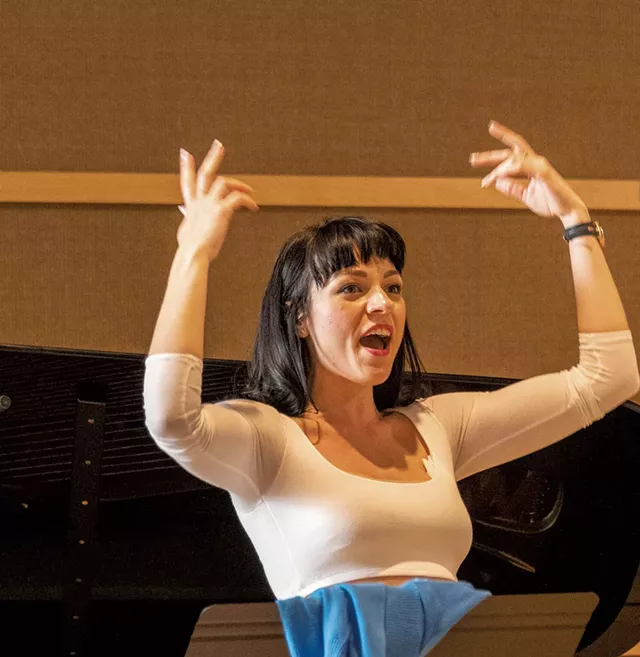 Courtesy of Max Kraus
Cree Carrico
Anderson is aware that, as he put it, "'Someday my prince will come' is not necessarily a motto that speaks to women — or men — today." His production fleshes out the two lead characters, making them not just beautiful or charming but "interesting." Both read books onstage. Le Prince plays a ukulele. (Ohse, who posts herself playing ukulele covers of opera arias on Instagram, said she taught Riesen to play the instrument in one day.) Cinderella, a free spirit, shops in thrift stores. OCM's promotional image shows her dressed in a white ball gown lacing up black high-top sneakers.
Costumes by Anderson's wife, Debby, will be comedic and colorful. Carrico described hers as "punk Lisa Frank," referring to the businesswoman who produces kid-friendly school supplies in rainbow hues. Carrico sang Stella in OCM's production of A Streetcar Named Desire by André Previn last year. That's a very different role from La Fée, whom she sums up as "Cyndi Lauper meets Frenchie from the Pink Ladies in Grease meets Tinker Bell."
Anderson hints that sets will evoke "bad-taste midcentury modern with a little bit of Las Vegas." And the English supertitles — which can completely shape an audience's understanding of the French opera — will subtly update the libretto's humor. Anderson writes his own translations of every opera he directs.
As the radio preview drew to a close, the singers, whose voices had practically blown the roof off, indulged in more silent clowning around. Riesen, a former baseball player, mimed a he-man roar while Ohse and Carrico made faces or signaled for water bottles. If their talent and energy are any indication of the show to come, Cendrillon is not to be missed.