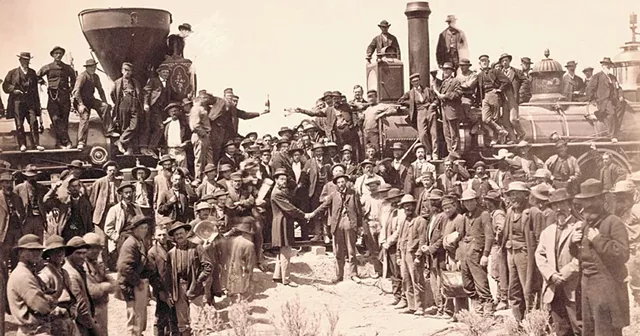 Courtesy Of Opera Company Of Middlebury
"East and West Shaking Hands at Laying of Last Rail" by Andrew J. Russell, 1869
Like all music organizations these days, Opera Company of Middlebury has entirely remade its current season. But this small opera company's new plan doesn't just observe the pandemic-era moratorium on singers projecting aerosolized droplets toward older audiences. It also contributes to the country's conversation about, and increasing awareness of, systemic racism.
OCM has postponed its planned 17th-season production of Leonard Bernstein's Candide — based on a French satirical novel from 1759 — to take on contemporary composer Michael Ching's "Completing the Picture." A video of the company's production of the work will stream for free on its website starting in November.
The 10-minute opera, sung by a quartet with piano accompaniment, takes as its subject the nearly 20,000 Chinese workers who built the western end of the Transcontinental Railroad.
Between 1863 and 1869, these industrious workers tunneled and chopped their way through mountains and desert using only hand tools to lay hundreds of miles of track — and for significantly less pay than their white counterparts earned.
When the eastern and western ends of the railroad met on May 10, 1869, the Chinese workers were excluded from the photos that recorded the historic Golden Spike Ceremony that day. Of a hundred people who fill the frame of the most famous of these images — Andrew J. Russell's "East and West Shaking Hands at Laying of Last Rail" — not a single one is Chinese.
Ching composed his micro-opera, commissioned last year by Utah Opera for the 150th anniversary of the railroad's completion, around Russell's photograph. "Completing the Picture," which premiered in June 2019, is written for schoolchildren and includes spoken dialogue between the songs and a rap at the end.
OCM artistic director and set designer Doug Anderson is devising an adult-friendly adaptation of the work that gets rid of all that "overly explanatory" material, as he put it. The video, professionally produced with the help of videographer Tim Joy, will instead be "90 percent" historical photographs and footage, Anderson said. He has secured a multiracial cast of singers who have all sung with the company previously: Japanese American soprano Emily Michiko Jensen, Cuban American mezzo-soprano Olga Perez Flora, white American tenor James Flora and African American baritone Leroy Davis.
"I'm really turning it into a Ken Burns documentary," Anderson said, adding, "I talked to Michael Ching and he is so excited."
For the production, OCM conductor Michael Sakir made a video of himself conducting the piece silently while hearing it in his head. He sent that to East Montpelier-based pianist Mary Jane Austin, who is learning the score and will record herself playing the accompaniment while watching Sakir's conducting. Her recording will then go out to the four singers, who will record themselves at home singing to the accompaniment. OCM's production team, headed by Mary Longey, will do the mixing.
Austin said she has marked her score with clues from Sakir's silent conducting video regarding tempi and singers' cutoffs.
"Normally, as a pianist, you want to be able to react to what a singer is doing, like when they take a slightly longer breath," she noted. "That can't happen [in this case]. However, this piece lends itself better than others would to this kind of project: It's very straightforward rhythmically, aside from a couple of slight slowdowns." She added, "I wouldn't want to do Puccini this way."
Austin knows the four singers from their previous performances with OCM, so she is also accommodating their voices in her mental notes.
"I'm trying to provide the most preemptively sensitive accompaniment I can. It's kind of crazy," she said.
She'll record her performance using her iPhone and a Shure MV88 microphone — a device that's now on backorder, she said, because almost all musicians' work has gone virtual.
While virtual music projects are "not ideal," Austin deems OCM's video "a really smart choice" because of its length, a plus for musicians and audiences alike. And, she said, it allows musicians to do what they do and be paid for it. "It's a long time to hash through" without work, she noted.
Anderson said that other small opera companies are doing virtual recitals, recycling videos of old productions and experimenting with limited outdoor performances. In nearby Brandon, Barn Opera is making audio recordings of full operas using a method similar to OCM's.
In-person performances aren't in the near future for OCM; according to its own poll, the company's fans won't come to a reopened Town Hall Theater, where the company performs, until there's a vaccine. "Surprisingly," Anderson said, "our donations have remained at a very good level. People are realizing that, more than ever, you have to support the things you love."
Meanwhile, the company is putting its heart into "Completing the Picture."
"We're really going to fuss over every frame," Anderson said. "And we're also seeing this as a trial run for what might be opera of the next several years. Maybe there are longer productions to be done in this way.
"When we can reopen," he added, "it's going to be a real celebration, let me tell you."