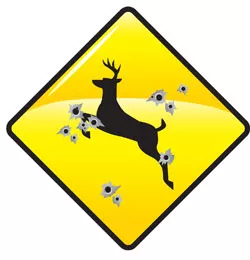 You'd never know from the bustling Church Street Marketplace that Saturday marks the opening of rifle season in Vermont. Any out-of-town foray leads to signs of sportsmen: trucks parked on rural roadsides, busy general stores, distant shots. As November unfurls, it's not unusual to see skinned deer carcasses hanging hoof-side-up in front of homes of all sizes. The vanquished animals — both totems and trophies — are a startling reminder that Vermont is a place where hunting has always been an integral part of life.
Until the great migration of Subaru-driving, fleece-wearing flatlanders challenged that primal relationship with nature. The outdoors, for non-hunters, tends to be a recreational refuge, a place to hike, bike, cross-country ski, snowshoe, birdwatch. Their perspective has gained ground, which may explain why fewer hunters, anglers and trappers are applying for licenses in Vermont. In his story, "Gun Shy," Ken Picard looks at other factors that may explain the declining numbers.
Why should we care? Because hunting brings bucks — green ones — to the outer reaches of the state; local businesses of all stripes are bolstered by the activity. The revenue from hunting licenses currently funds the state's conservation efforts, and sportsmen make great natural-resource watchdogs.
Furthermore, traipsing off into the woods for three weeks in November affords an altogether different view than a quick climb up Camel's Hump. You could argue that the survival skills required — tracking, orienteering, field dressing, fire-building — describe an experience closer to nature than skiing down the side of a mountain, or even scaling a wall of ice.
The hunter's aim may be grisly, but it's also fresh, organic, sustainable, localvore — frequent buzzwords that you see repeatedly on those Subaru bumpers.
*************
Also in this issue:
Gun Shy: Why is Vermont's hunter population dwindling?
by Ken Picard
Of Elk and Men: A Northeast Kingdom "farm" fights for the right to raise fenced game
by Mike Ives
Killer Instinct: News editor Patrick Ripley confesses his oft-taboo passion
by Patrick Ripley
Picture Book Helps Kids Prepare for Opening Day
by Margot Harrison
They Got Game: In the fall dining is a little wilder
by Suzanne Podhaizer
DIY Deer: A mini course in gutting and cutting
by Suzanne Podhaizer