Courtesy
Scott Pavek
When Scott Pavek declared last spring that he was running for the Vermont House in Burlington's two-seat South End district, he was prepared to challenge two longtime Democratic lawmakers.
A year later, Pavek finds himself in a much different race than the one he expected.
Mary Sullivan and Johannah "Joey" Leddy Donovan separately announced this spring that they plan to hang it up after a combined 36 years representing Chittenden 6-5, a left-leaning district that includes most of the city south of Maple Street, including the Five Sisters and Lakeside neighborhoods.
Their retirements busted open the race for the Democratic nomination. Instead of facing an uphill race against the old guard, Pavek finds himself in a five-way free-for-all with recently announced candidates Gabrielle Stebbins, Jesse Paul Warren, Tiff Bluemle and Annie Wohland.
The primary winners are unlikely to face much opposition come November. So far, there are no Republican candidates. Democrats have owned the district for decades, and Warren, who hopes to run as a Progressive/Democrat, said he would not continue on if he did not secure the Democratic nomination. Republicans and Progressives could still nominate one of their own after the primary, but there's no evidence so far of a serious challenge brewing behind the scenes.
"The primary is the election," Donovan said.
Candidates with the best shot to succeed Sullivan and Donovan are those who can appeal to a broad constituency. The two lawmakers have been reliably liberal voices in Montpelier, championing causes ranging from the climate crisis and early education to support for low-income people. Their district includes both subsidized apartment buildings and owner-occupied homes. Many young families view education as a top priority, while concerns about the health of Lake Champlain and the high cost of living are also common.
Beyond any single issue, however, South End voters value politicians they can trust, said Burlington City Councilor Joan Shannon (D-South District), who represents most of the legislative district. "The constituents aren't necessarily looking for somebody that they agree on every issue with, but somebody that they trust as a decision maker," she said.
Donovan noted that South End voters seem to appreciate representatives who understand a variety of issues — even if that means doing some homework. "There's no way you can know all the answers," she said. "The issues are so broad, so deep."
Donovan hasn't endorsed any of the candidates vying to succeed her; Sullivan is supporting Stebbins and Bluemle.
With less than two months until the August 11 primary, the five candidates face the difficulty of differentiating themselves in such a crowded field.
They share many characteristics: None of the five has held elected office. All five have a background in nonprofit or education work and are running on progressive platforms that support such policies as a higher minimum wage and mandatory paid family leave. Three of the candidates — Stebbins, Bluemle and Warren — even live within shouting distance of one another.
All five hopefuls believe their experience remains their most convincing asset.
Courtesy
Gabrielle Stebbins
Stebbins, 44, works as a senior consultant with Energy Futures Group, a clean energy consulting firm, and is the former executive director of Renewable Energy Vermont, a trade organization. The roles have often brought her to the Statehouse to weigh in on energy-focused legislation. "I really understand how you make good policy and how you negotiate, and then how you take that bill over the final line," she said.
Stebbins said she would push the state to adopt a long-term economic strategy that emphasizes green tech and sustainable agriculture. "We need to step back and stop trying to just create a budget year by year," she said.
Courtesy
Tiff Bluemle
Bluemle, 58, enters the race with similar leadership experience. She has spent the last 22 years leading organizations that seek to improve economic security for women, first Vermont Works for Women, and now Change the Story VT. She said her advocacy has offered her a crash course in the lawmaking process, teaching her that legislators must actively seek out viewpoints across the spectrum if they wish to make lasting change.
"That is hard work, and it requires a lot of humility and willingness to admit that you don't know everything," she said. "It also requires you to be curious and [to have] a lot of persistence to hang in there when the process gets ragged and difficult."
Bluemle said she'd strive to address the long-standing "inequities and vulnerabilities" that the pandemic has laid bare, by supporting paid family leave, workforce development and assistance for small businesses.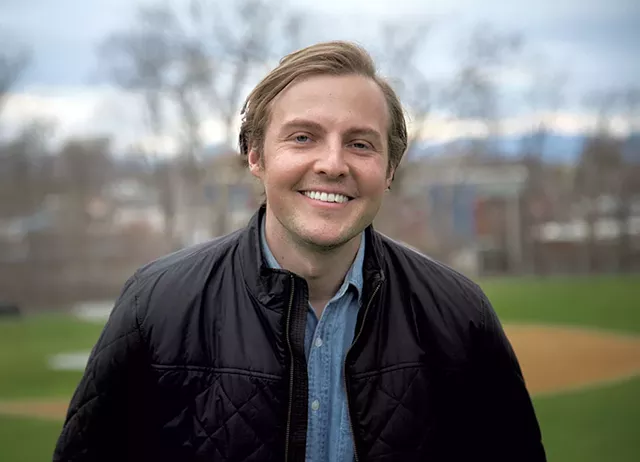 Courtesy
Jesse Paul Warren
Warren, 30, runs his own nonprofit, Democracy Creative, a design studio located in Burlington's Soda Plant complex whose services include design and photography work for advocacy issues and political campaigns.
He came up short in a 2018 race for the Burlington City Council but said he believes his creative approach would be particularly useful in the Statehouse as lawmakers confront the pandemic's wide-ranging disruption. He said he would push for a higher minimum wage, a green new deal and universal health care.
"COVID is helping people realize how malleable the world really is, because so much has changed so quickly," he said. "They're also realizing how so many things are broken all at once. It's really opening people up who weren't really receptive to big changes."
Courtesy
Annie Wohland
Wohland, 31, is a part-time online graduate student studying social work. She has led efforts to raise the minimum wage statewide and lobbied for a citywide advisory vote that passed in 2017. She served as youth outreach coordinator for Bernie Sanders' Senate 2018 reelection campaign, and her résumé includes five years at the Howard Center. She said her direct service experience is just as important as "being the executive director of some place."
"You're not telling people what's going to happen; you're actually listening to them and asking them, 'What do you want to happen?'" she said. She listed a number of priorities including police reform, investments in mental health services and combating food insecurity.
Pavek, 28, said he would bring to the Statehouse a different perspective than his rivals for the nomination. "There came a point in my life where I found myself without a job, without safe housing, without food, without health care, in the throes of addiction — essentially waiting to die," he said.
Seven years into recovery, Pavek works at the University of Vermont, where he manages a program that helps low-income, in-state students receive financial support. He said he wants to focus on addressing the opioid crisis, climate change and the exodus of young families from Vermont. "On any given policy, my first question is going to be: How does that impact the most vulnerable people among us?'" he said.
As they compete, all five South End contenders must cope with the way the coronavirus pandemic has upended the traditional campaign playbook, which in Vermont House races emphasizes person-to-person contact with voters.
"Campaigns can be won and lost by whichever candidate can knock on the most doors, talk to the most voters face-to-face, one-on-one," said Scott McNeil, executive director of the Vermont Democratic Party.
Not this year. "Shaking hands and kissing babies? Yeah, we're now staying eight feet away and saying, 'Let's talk later!'" Pavek said.
Social-distancing guidelines have made door-to-door canvassing a harrowing prospect. Most large gatherings have been postponed or canceled.
The internet offers one way to fill the void. Campaigns have become increasingly digital in recent years, a trend that the pandemic has "turbocharged," McNeil said.
The South End candidates appear to recognize the opportunity. Four of the five have official campaign websites, and most have spoken at virtual house parties or local meetings. At the same time, they acknowledge that online campaigning can only take them so far.
"With everyone on nine hours of Zoom every day, I think people are so tired of technology," Stebbins said. "We still have to do social media; we still have to do Instagram and Twitter and everything. But people are feeling saturated."
In response, candidates have sought to supplement conventional campaigning with new approaches.
Warren launched his candidacy with a campaign video and sent out 2,000 magnets to people with the slogan "It is possible." He's also stationed a bulletin board in front of his house that he's coined the "Wall of 'Impossible' Ideas." He's asking people to tack on messages detailing their most important issues. A handful of papers and Post-it notes have appeared on the board so far; some call for defunding police agencies or establishing universal health care. One note asks for a ski tow rope in Burlington's Calahan Park. "Be kind when it's hard," reads another.
Down the block, Stebbins has rolled out her own crowdsourcing effort: a whiteboard on her front lawn that asks, "What do you care about?" Responses include requests for investments in childcare and mental health services.
Stebbins and Bluemle, who have endorsed each other, organized a "walking parade" through their several neighborhoods to chat with potential voters.
Traditional campaign methods still have a place. Wohland has spoken about her candidacy at a recent online neighborhood forum and said she expects to soon send out mailers to homes in her district. Pavek is banking on mailers, including several hundred handwritten ones that he hopes will help him establish a personal connection with voters even if he can't meet them in person.
The candidates say they hope they may be able to resume more robust campaign activities before the primary. But given all the other challenges the state must address in the months ahead, including an ailing economy and a state budget in disarray, figuring out how to campaign is "a really small problem," Warren said.
"If we can solve that problem," he added, "then we move on to the next level, which is: How do we ... solve the really big problems that need creative solutions in this unprecedented time?"