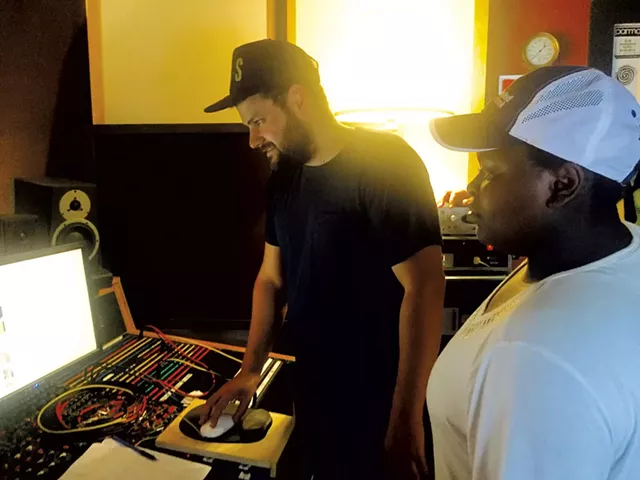 courtesy of Mollie Hart
Dave DeCristo and Neema Modeste
Selling lemonade on Burlington's Church Street Marketplace is a summer tradition for the King Street Center, a youth-centric nonprofit organization. By staffing the lime-green-and-orange stand, kids pick up entrepreneurial skills and learn the value of hard work. This past summer, though, five KSC youths took part in a different kind of internship: Instead of squeezing citrus into summer treats, they got hands-on experience with the arts and media. The goal of the program, called Only Make, was to plan a benefit concert by Sierra Leone's Refugee All Stars, who will perform on Saturday, October 1, at music venue and recording studio Signal Kitchen.
Although KSC offers a holistic education, including plenty of arts programs, the internship is the first of its kind for the center's teens, said Mollie Hart, who just departed as education director. There's "more drive for basketball, tennis and not so much media" in that age group, she explained.
"I want these kids to be aware of every field that they could go into and contribute [to]," Hart said. A friend of Signal Kitchen co-owner Alex Lalli, she enlisted him and design/branding agency Solidarity of Unbridled Labour to help her create the Only Make internship.
According to Lalli, Only Make is less about developing specific skill sets than about exposing the interns to careers in the arts. "It was just opening a door to the possibility of it," he said.
With the help of the music and design professionals, the interns learned to put together a concert. Over three months, they conceptualized the theme of the night, designed and screen printed a publicity poster, wrote lyrics for and recorded an original song with samples from the Refugee All Stars, and publicized the event through social media.
Solidarity's Ellen Voorheis, who was involved in the design and marketing components of the internship, said she was pleasantly surprised by the teens' enthusiasm. She thought she would have to coax them to participate in brainstorming sessions, but "They started throwing stuff out immediately," Voorheis said. "They had a million ideas for the stage design."
The final poster features a stylized lion and henna designs in yellow, red and orange — the hues of late summer.
Neema Modeste, 16, said one of her favorite parts of the internship was recording at Signal Kitchen's studio. That's not surprising, as she sang in chorus from fourth through eighth grade. The Burlington High School sophomore, who's been going to KSC since she was in kindergarten, said the song the interns recorded is a joyful one about people coming together.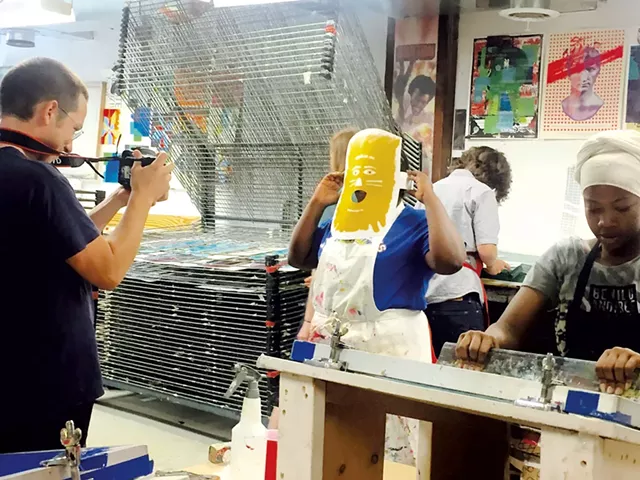 courtesy of Mollie Hart
The interns screen printing their poster
Misky Noor, 14, said she's learned what it takes to make a concert happen. "It was pretty fun," the BHS freshman said of Only Make. She'll bring her little sister to the concert, Misky added.
Voorheis hopes the teens now realize that the creative fields they've explored offer career opportunities beyond being a musician or a fine artist. "There's a ton of jobs, even right here in Burlington, they could go to college for," she said.
It wasn't just the interns who benefited from the program. Solidarity's Lizzie Brightly said the collaboration with Signal Kitchen and KSC was a rare opportunity to show kids how the planning of an event draws different professionals together. "I hope there's more of it in Burlington," she said.
On the day of the show, Lalli noted, the teens will assist in all on-site operations, including recording, sound engineering and production. "They will essentially be running the club and studio alongside us," he said. Although the interns will not perform, Lalli said he wouldn't be surprised if they ended up onstage with the band.
But, said Hart, "The real impetus to come to the concert is to see a student production of music, design and, ultimately, of their creative endeavor."
All proceeds from ticket sales will help fund the expenses of the Only Make internship — and the adults who served as experts said they'd love to do it again.