Courtesy Of Soapbox Arts
"Before We Put Our Hearts Away" by Wylie Garcia
It goes without saying that viewing art online is not like seeing it in person. On a screen, the art appears flat, the color is almost certainly not true, and detail and depth can be suppressed. Without being told, we have no sense of the scale of the artworks. The virtual experience cannot evoke the visceral reactions elicited by looking at art in a gallery or, for that matter, in our own home.
These drawbacks compromise viewing and decidedly challenge the task of critiquing. Yet the availability of artwork online — which thousands of museums and galleries around the world have facilitated — also democratizes the opportunity, and that's a good thing. We need only to be directed where to look.
Locally, I would recommend the website of Burlington's Soapbox Arts, where new floral paintings by Charlotte artist Wylie Garcia are on view. Soapbox's proprietor, Patricia Trafton, has chosen to release the paintings in one smallish batch at a time over the indeterminate length of the exhibition. As Vermont slowly emerges from pandemic restrictions, and galleries are allowed to open, we may soon be able to see all of Garcia's paintings at once.
Meantime, a selection of very small works, most four by six inches, is on view, and for sale at the affordable-for-many price of $200. "We're doing all we can to encourage continued art collecting while folks' financial situations may be less than ideal," Trafton writes in an email. And, yes, the gallery does curbside pickup and shipping.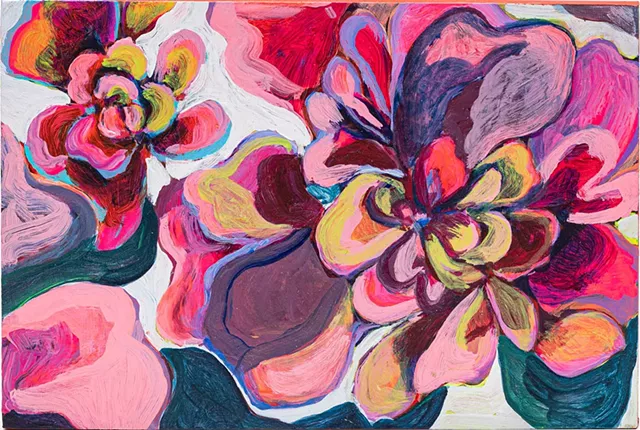 Courtesy Of Soapbox Arts
"Pajama Corsage" by Wylie Garcia
"Things Feel So Different Now" is the timely title of Garcia's show. It's an understatement to say the pieces are just what a quarantined person needs to look at. Though small, they are mighty — wild and vibrant and assertive, despite the depressed color valuations of the online platform.
Garcia does not tie herself to botanical specificity. These are simply voluptuous blossoms that fill the entire canvas (it's easy to imagine them quite large). Their rigor lies in the artist's fierce yet meditative attentiveness to the act of painting.
Garcia has a background in fabric art; locals may remember her extraordinary yearlong "The Dress That Makes the Woman" project in 2010 and 2011. That led organically to the large-scale paintings she's been working on since she received a Pollock-Krasner Foundation grant in 2019. Those works explore layer on layer of patterns, translating the vocabulary of textiles to paint, and manifest increasingly sophisticated brushwork.
Garcia began experimenting with the smaller floral works in December and started pursuing them in earnest after she moved from her larger (but colder) studio in Burlington's South End to tighter quarters at home. When the pandemic arrived, during the long transition from winter to spring, the artist was "thinking about the feeling of looking at flowers," she said.
Courtesy Of Soapbox Arts
"When We Come Together We Will Fit Like Matched Wallpaper and It Will Feel Like Old Times" by Wylie Garcia
Pre-pandemic, Garcia noted, she had felt overwhelmed by environmental and social justice issues. So it was good to "focus on something warm and comforting, something we can all embrace.
"The flowers kind of saved me," she continued. "They went from being fun to being kind of a safe space." She thinks of them as an "active resistance" to the pandemic.
The titles of artworks are often inconsequential to understanding the content. Here, though, Garcia's inventiveness with words is evocative and obliquely sassy: "When We Come Together We Will Fit Like Matched Wallpaper and It Will Feel Like Old Times"; "Streamers for Your Birthday Which Is Going to Be Everyday From Here on Out"; "Floating in a Sea of Green Spinning Slowly in a Universe of Stardust." Other works have more succinct names, such as "Sunset Apocalypse."
"A lot of titles for this show came out of immediate need," Garcia said. Example: "Pajama Corsage." "Some get a little more emotional, [reflecting] the ups and downs in life."
As we remain suspended in the uncertainty of a pandemic, Garcia's paintings feel as right as spring itself.