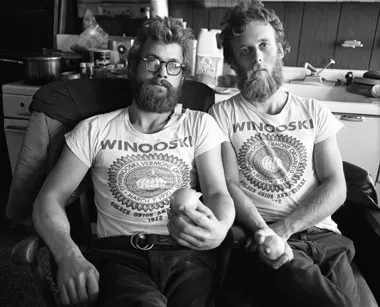 You can catch more flies with honey than with vinegar, as the old adage goes. But for longtime Winooski photographer Dan Higgins, the sweetest bait of all is often an onion.
Above and beyond the many careers he helped launch during his 34 years of teaching at the University of Vermont, Higgins has gained a certain local notoriety for the scores of portraits he's created of his fellow Winooski residents. In nearly every one, his subjects are holding the symbol of the city of Winooski. Raw, sharp and multilayered, an onion can be bitter or sweet - a fitting metaphor for Higgins' adopted city, which has a long and sometimes tear-provoking history of sloughing off its desiccated outer layers in a continual quest to re-create itself.
Higgins' photographs do not depict the grand, majestic vistas captured by Ansel Adams, or even the bucolic quietude of rural Vermont. For 37 years, he's been focusing his lens on the workaday people of Winooski and the seemingly mundane places where they congregate: Camie's Shoe Shine Parlor, which once doubled as a bootleg clubhouse; the smoke-filled bingo parlor in Corporation Hall, where Winooski-ites used to gather with their Tupperware containers full of marker chips and their favorite good-luck charms; and the American Rest, once a popular downtown eatery that, for a brief stint after it closed in 1976, transmogrified into an artists' enclave. It, too, eventually fell victim to the wrecking ball of urban renewal, a process Higgins has captured on film.
Even more than the changing face of the Onion City, Higgins has documented its changing faces: the shiny, bald pate and sausage-like fingers of Bernie, a Winooski barber; the quiet, leathery intensity of Dominic Franzi hard at work in his cobbler shop; the mop-haired patrons of Sloppy's Corner Pub. For years, Higgins was also the unofficial documentarian of local costume-clad Halloween revelers.
In more recent years, Higgins has turned his photographer's gaze on Winooski's newest arrivals - the immigrant families who have come to the city with the help of the Vermont Refugee Resettlement Program. They have been lured to his lens by the absurd appeal of the onion, agreeing to be photographed in their homes or businesses surrounded by worldly possessions from their countries, both old and new.
Higgins' portraits, once viewable by the public only in the windows of Winooski's downtown storefronts, are now available to a much wider audience with the recent collection, Vacancy, Art & Transformation: Winooski 1969-2005, which Higgins published himself. Like much of Higgins' photographic career, this book appears to be more about creating community than personal gain. If the book is well received, he hopes to offer it to local community groups as a fundraising tool.
Higgins lives above his studio in a converted garage adjacent to Papa Frank's Italian Restaurant on West Center Street. Like the town he's spent decades recording on film, his home has a rich social past. For years, it was the site of the first Returning Veterans of America Hall, a social club and drinking establishment set up by World War II vets. Later, an Essex manufacturing firm bought the building and turned it into a seamstresses' sweatshop. Today the modest, two-story walkup still has the original windows, doors and plumbing fixtures Higgins scavenged from the old Winooski Block building several streets away, just before it was gutted and subdivided in the late 1970s.
Higgins, 64, is a gentle, contemplative man with short, silver hair, round glasses and a disarming nature. Seated in his living room beneath a life-sized wooden Buddha, he bears a striking resemblance to writer and actor Buck Henry. Higgins' gaze isn't intense so much as it is focused. You get the sense that he's not scrutinizing you but taking you in, like an open shutter gathering as much information as time allows.
Higgins doesn't "take" people's pictures; he "makes" them. The distinction is more than semantic hairsplitting, but it speaks to his approach to the process. For Higgins, photography is a two-way street. First, he and his subjects choose the setting and create the scene. Afterwards, he returns with the developed prints and solicits his subjects' comments and feedback.
"Taking a picture kind of suggests you're a thief. I want people to be actively participating in the making of the image," Higgins explains. "In many ways, what's interesting to me aren't the photographs per se, but what the dialogue is, the stories I'm able to hear by getting into somebody's home."
*******
Higgins grew up on the outskirts of Detroit and attended the University of Michigan in Ann Arbor. He earned his undergraduate degree in anthropology and an MFA in printmaking and photography. He had trouble finding acceptance at Michigan for his style of photography, he admits. Back then, "visual anthropology" wasn't yet accepted as a legitimate social science.
Higgins eventually took a job in Toledo, Ohio, working on a field crew surveying potential archeological sites. One way to discover really old sites, he explains, was to work through the more recent past. To do that, he'd visit local bars, buy people drinks and ask them about the area. But soon Higgins discovered that his photography could be an even more effective anthropological tool for probing the past. He would fly over a town in an airplane, shoot an aerial photograph, enlarge it, and then hang around some of the local establishments.
"I could go anywhere - the laundromat, a bar, a restaurant - and if I put that picture out, it was like a magnet. It drew people over," Higgins recalls. "They wanted to tell me what the picture was all about. All this stuff would come pouring out."
Higgins came to Winooski in August 1969 through an odd turn of events. He was on his way to Woodstock - the music festival, not the Ver- mont town - when, upon hearing reports on the radio about all the traffic, lines and mud, he decided he didn't like crowds. He detoured to Burlington to visit a friend from Ann Arbor - Bill Davison, with whom he'd gone to school at Michigan.
Davison soon helped Higgins land his first job in Vermont, teaching traditional printmaking in UVM's art department. Higgins would later set up the university's first photography program, largely through the urging of his students.
In those years, Winooski was still a depressed city, with bars on every corner and plenty of cheap, vacant space left over from its 19th-century heyday as a mill town. Shortly after his arrival in Vermont, Higgins drove across the bridge from Burlington, parked his car, and wandered into a pub. He was astonished by the reception he got. Unlike in other blue-collar bars around the country, where in the late '60s a young man with long hair typically would be greeted with contempt and even hostility, Higgins was soon on a first-name basis with most of the patrons. He moved into a third-floor apartment in the Winooski Block, and has lived in the city ever since.
The onion motif began as more than a gimmick, he explains. It was a comical and non-threatening way for him to connect with local residents. Higgins' first onion portrait was of the stubbly, Lincoln-esque "Jake the Snake," a stoic, weathered character known around town as the neighborhood prankster. (His portrait is featured on the cover of Higgins' new book.)
"A town, if it has any kind of heart to it, has some sort of wizard somewhere, someone everybody knows but who's silent and inscrutable," Higgins explains. "Jake was that trickster. He was a guy who really got into the whole ritual of making a picture."
Initially, some of the locals were wary. But soon, Higgins was posting the onion portraits in the windows of the American Rest and other Winooski establishments. Residents would come downtown to see who was featured each day. Eventually, Higgins became known as "that guy who takes pictures of people holding an onion," and still others starting asking to be photo- graphed.
"All the firemen, all the nuns, all the garbage men, all the senators, everybody was included in this," says Jane Kramer, a Burlington-based ceramic artist and Higgins' longtime girlfriend, who assisted with many of those early portraits. "No social barriers existed."
Some portraits took just a few minutes to shoot and were done right on the street. Others were more time-consuming, Higgins recalls, such as one of an elderly woman who asked for his help selecting just the right necklace to wear. The refugee portraits take even longer, sometimes a week or more. "The families really put a lot of thought into it," Higgins says. "And they kind of want some coaxing, too."
Higgins seems intrigued by people, and his camera is merely a vehicle for reaching out to them. Bill Davison, his friend and former colleague at UVM, recalls how one year he and Higgins set up a booth at the Champlain Valley Fair, using hats, props and a portable set. "I don't know if Dan ever collected money or not. It was just an excuse for him to get into the fair," Davison recalls. "He was intrigued by the Champlain Valley Fair because it had all sorts of different people, and he loved that."
In the 1980s, with much of the international news focused on the civil war in Nicaragua, Higgins decided he wanted to counter the nearly ubiquitous imagery of bombing and bloodshed by visiting Burlington's Nicaraguan sister city of Puerto Cabezas. Just as he had documented Winooski's favorite local haunts, Higgins decided to do a parallel comparison of the two cities' social institutions, with no mention whatsoever of the war: Where do people get a cup of coffee? Where do they shop for food? Who cuts their hair and washes their dishes?
At first, some of the locals were understandably skeptical, though a few allowed him to make their portraits. The following year, Higgins returned to Puerto Cabezas and displayed his photos in a local community center, where he was approached by a group of women.
"They said, 'We're very important. We do the laundry in the hospital,'" Higgins recalls. "So I said, 'Yes, you are important.'"
Those pictures are featured in his first book, Sister City: Side by Side, a 1988 photo collection in which the two cities' various institutions - city hall, coffee shops, the local laundries - are juxtaposed on opposing pages. In an odd coincidence, the barber in Burlington and the barber in Puerto Cabezas are wearing the same, striped polo shirt.
It's easy to appreciate the technique and skill that goes into Higgins' work. Categorizing it is another matter. Higgins is neither a photojournalist nor a commercial photographer. And though his portraits are clearly artistic, Higgins doesn't consider himself an "art photographer," either.
"Nah! People don't buy my pictures! They're not the kind of things people want to put up on a wall," he admits. "My pictures are more about social documentation."
Sabin Gratz, a local commercial photographer who studied under Higgins at UVM in the mid-1990s, says he took every class that Higgins offered. He describes his former professor and mentor as "an anthropological photographer."
"I don't think he cares about selling," Gratz says. "He's more interested in going in, taking some pictures, and getting to know people and what they're all about. He's very low-ego."
But Higgins doubts whether his work would even be accepted in the field of visual anthropology. Much of what he shoots, he says, is "too hectic, too happenstance, undisciplined and unorganized . . . I'm more interested in what things look like."
Others are more generous in their assessments. Leslie Fry is a longtime Winooski artist who has known Higgins since the early '70s. She believes Higgins' role in chronicling the history of the Onion City cannot be overstated.
"Dan is the most steadfast Winooski artist ever, in part because of his focus on the city itself, as well as his dedication to living there and creating cross-cultural events," she says. "In fact, the only official acknowledgment of an artist in Winooski that I know of is when Bill Norful was mayor and gave Dan a key to the city. But I'd say Dan is the key to Winooski!"
Winooski's current mayor, Clem Bissonnette, agrees. He says Higgins' photos are perhaps the best extant visual record of Winooski's experiment with urban renewal. "Dan got around a lot and he captured, in my estimation, the lifestyle and history of what we've been through," Bissonnette says. "He's done some really nice work."
Ironically, the Winooski Historical Society told Higgins that it couldn't support his current book project, calling it more art than history. Higgins was unfazed. "I'm always in a hybrid situation - which I like."
Ultimately, it doesn't matter how his pictures are categorized. What's beyond question is that Higgins' goal is to make visual images accessible to everyone. According to Kramer, he was instrumental in getting the first community-access television channel set up in Chittenden County.
Back in the 1980s, when Henry Cleaves, longtime owner of the popular Winooski restaurant Henry's Café (now the site of Papa Frank's), sold his place, Higgins purchased all his furniture - booths, tables, chairs, even the "Henry's Café" sign - and set up a "video café" in his garage, where people could sit and chat on camera. One night, he threw a huge party and invited UVM professors, students and other Winooski residents who used to frequent the restaurant.
"So, we're all sitting around the counters and booths, and all of a sudden two policemen knock on the door," Kramer recalls. "They saw the sign and all these people from Henry's Café and they said, 'Is this real?'"
Higgins retired from UVM in 2003, though he's continued to teach and has maintained a close connection to Puerto Cabezas. About eight years ago, a small university was set up on the Atlantic Coast of Nicaragua, a largely autonomous region where many locals speak English or Creole.
Higgins visited there in 2000 and got involved in a project to interview the native Miskito Indians. He realized that, despite the informative interviews being conducted, no one was documenting these people on video.
Upon returning to Vermont, Higgins asked community access Channel 17 to donate an old VHS editing deck, which he brought back to Nicaragua, where he arranged for a local radio station to run an ad inviting people to learn how to shoot video. Eighteen people eventually signed up, including several Miskito Indians. Higgins taught them to use the equipment, and even made a deal with a local cable TV company to open a channel for the locally produced videos. Higgins still goes back to Nicaragua each year, for a period of two weeks to three months, and teaches video and visual anthropology to the locals, many of whom had no prior visual literacy.
"To see your own grandmother interviewed on the steps of her house is a totally different trip than watching CNN," he notes.
However, Higgins is still grounded in Winooski. In fact, his new book includes photos of the recent redevelopment downtown - he took one image a day for a year and a half, and the shots will be used in a video he's currently working on. But in light of the many changes Higgins has witnessed over the last 37 years, he questions the impact this project will have on his community. He wonders if this Winooski, unlike that of earlier generations, will be able to find its center, whether it will have a community hang-out like Henry's Café, where Winooski's motley assortment of characters will come into focus.