Courtesy of the Gutstein family
Trent Gutstein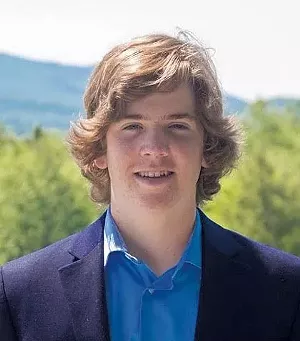 Courtesy of the Gutstein
Trent Gutstein
NAME: TRENT GUTSTEIN
AGE: 17
TOWN: STOWE
Trent Gutstein isn't sure how many days he spent skiing last year. Let's just say it was a lot.
From November to March, the Stowe High School senior is on snow six days a week as a day student at Mount Mansfield Winter Academy. Aspiring teen ski racers train there every morning with the Mount Mansfield Ski Club, then spend afternoons and evenings working with teachers on course work from their home middle and high schools.
Last winter, Trent ended his first U18 ski season (a category for 16- and 17-year-olds) at the United States National Ski Championships in Sugarloaf, Maine, competing in Slalom, Super G and Giant Slalom alongside America's top skiers. Then, in July and August, he "double-wintered" in Bariloche, Argentina, training and competing with a youth and teen ski club there.
It's fairly common for elite ski racers to spend several weeks training in the Southern hemisphere, but the Gutstein family's approach is uncommon. Trent's mom, Denise, has relocated to Bariloche with Trent and his older brother and fellow ski racer, Grant, for the past five summers. Denise enrolled her sons in Argentinian school, and says that, in addition to providing the opportunity for cross-cultural learning, ski racing has taught her sons how to set goals and be resilient. "They learned to pick themselves up when they didn't succeed," she says.
Competitive ski racers must contend with bad weather, equipment malfunctions and ever-changing course conditions, so it's important to stay focused and positive. "All I can do is take one race at a time and prepare myself mentally and physically for that race," Trent says. "Then when race day comes, try to have an optimistic outlook."
Lorant Gudasz, Trent's coach at the Mount Mansfield Ski Club, appreciates balance. "I like athletes to be motivated, but I want it to be fun," says Gudasz, who describes Trent as a passionate and talented athlete.
Trent recognizes that some of the most valuable skills he has picked up each winter at MMWA have nothing to do with skiing. In order to stay on top of a rigorous high school course load, he's had to learn how to manage his time, be organized and focused, and effectively communicate with teachers.
Fortunately, it's not all work. Trent recalls a memorable experience that happened off the slopes at last year's national championships. During a break in the racing action, he and several rival skiers found themselves on a volleyball court.
"We were all at Nationals trying to beat out the next guy," Trent explains. "But that day we were playing a game none of us really play. We were supporting each other, making friends and just having fun."