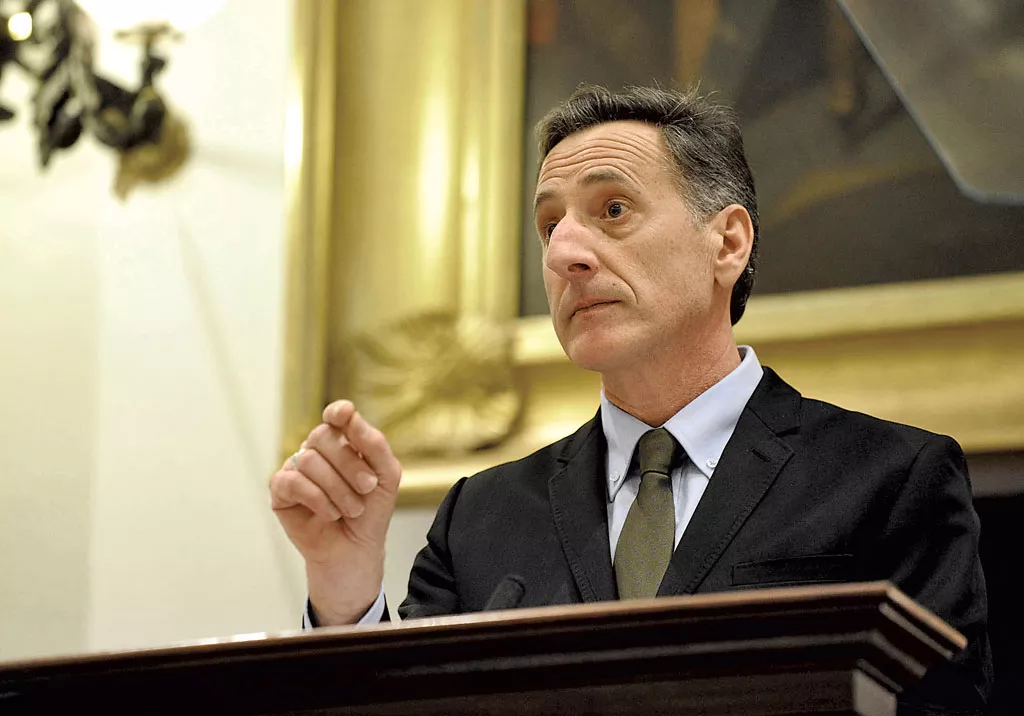 FILE: Paul Heintz
Gov. Peter Shumlin giving his State of the State address in 2014
One year ago, Gov. Peter Shumlin devoted his entire State of the State address to what he called Vermont's "opiate epidemic." He described a "crisis" that had ensnared thousands and overwhelmed the system designed to help addicts get clean. The speech received national media attention and included many proposals — to increase treatment options for drug addicts, reduce backlogs at medical facilities and boost awareness.
Shumlin's 2015 State of the State address last week didn't even mention Vermont's opiate problem, which left many questions about the so-called crisis: How much progress has been made on Shumlin's proposals? Has Vermont beaten back the "epidemic"?
Experts say the state has made great strides in getting more addicts off the streets and into treatment. But while the waiting list for treatment is shorter, they lament that it hasn't been eliminated.
"We have been able to take 400 patients from our community to a place where they are moving substantially forward in their recovery," said Jeff McKee, who oversees Rutland's West Ridge Center for Addiction Recovery. "If you take 400 people from our little community out of the drug-use-and-distribution chain, that's enormous."
Vermont treats drug addicts through the so-called hub-and-spoke system. The state funds five regional hubs — West Ridge is one — that provide intensive treatment and dispense the maintenance drugs methadone and buprenorphine, which wean addicts off more potent opiates. Once patients are stabilized in hubs, their treatment is taken over by the "spokes" — local doctors and therapists certified to treat them.
Last year, Shumlin noted that hundreds of people were waiting for help. The state has since spent $6.7 million on additional hub staffing to boost their capacity. It is here that the state can claim its greatest success, though not total victory.
At the time of Shumlin's speech, 994 people were waiting to be admitted for treatment at a state hub. That number has been reduced to 523. Meanwhile, the number of hub patients has increased from 1,482 a year ago to 2,517 today, according to the Vermont Department of Health.
Officials say the governor's speech itself, and related media attention, informed addicts that help was available, therefore increasing patient numbers.
"We made a lot of progress in terms of access to treatment, and that was our first goal," said Barbara Cimaglio, deputy commissioner at the Vermont Department of Health. "We had an avalanche of people all wanting to come in for treatment at once. We gave that message that there's help for you," Cimaglio said. "A lot of people responded to that."
Some progress was in motion long before Shumlin delivered his speech. West Ridge Center opened in November 2013 and quickly reached capacity at 400 patients.
Still, a big reason why more patients are receiving treatment is the state's decision to hire more drug counselors and support staffers in the existing hub facilities, officials said. Some 15 new hires went to the Howard Center, a hub in South Burlington that currently serves 950 clients — up from under 600 last year. The waiting list at the Howard Center has dropped from 900 to 220 people.
"There is no way we would be in a position to take more clients if we didn't have more staff," Howard Center executive director Bob Bick said. "I think the state and treatment providers can feel good. It's not like we solved the problem, but we've had a significant impact."
Other initiatives worked to bring addicts back to life. Weeks after Shumlin's speech, his administration announced that every Vermont State Police trooper and ambulance crew in the state would carry the fast-acting drug naloxone, which revives patients who overdose on opiates. More than 100 people in Vermont were saved in 2014 using naloxone, Cimaglio said, including a 20 year-old man revived by Vermont State Police in St. Johnsbury last November.
Shumlin also pledged $760,000 to help state's attorneys launch programs to funnel nonviolent drug addicts out of the court and prison systems and into treatment. As a model, he cited Chittenden County's Rapid Intervention Community Court, where prosecutors drop criminal charges against drug addicts in exchange for the successful completion of drug-treatment programs.
Since the speech, similar programs have launched in Lamoille, Addison, Rutland and Franklin counties. Cimaglio said it was too early to determine how much of an impact the programs were having.
Another of Shumlin's proposals aimed to raise opiate awareness. Thanks to a $20,000 allocation, students at 25 schools across the state saw the documentary The Hungry Heart, which chronicles a St. Albans pediatrician and his drug-addicted patients. Film director Bess O'Brien and cast members engaged in post-screening Q&As. Every Vermont middle and high school received a copy of the movie and accompanying informational packets.
"People really started to talk about this issue at a grassroots level," O'Brien said. "Awareness has really taken off in the past year. It put a human face on it. Vermont is ahead of the game."
Vermont is not alone in its alarm about opiate abuse. All along the East Coast, mayors and governors have voiced concern about the surge in heroin use. O'Brien has screened her film in Maine and New Hampshire, and heard stories similar to the ones she documented in Vermont.
Locally, officials say that more must be done to eliminate the treatment waiting list: Both the Howard Center and West Ridge are at full capacity. To ease the burden in 2015, more primary care doctors — the "spokes" in the system — are needed.
"There is a shortage of primary care physicians in Chittenden County who are willing," Bick said. To dispense buprenorphine, doctors must complete an eight-hour online course given by the federal government. Fewer than one in five primary care physicians in Vermont have taken that step, according to the health department.
"Our challenge in the next year is developing those spoke resources in the community in order to keep our front door open," McKee said. "The model we would like to see is much more integrated ... all primary care doctors need to do it."
State health officials caution that they don't know how many more addicts need treatment — though Cimaglio noted that demand appears to have peaked and is starting to wane. "We're hoping that we're starting to turn the corner."
But the waiting lists only measure those who come forward. Last year Burlington closed public bathrooms along the waterfront and in the Fletcher Free Library because maintenance workers found hypodermic needles clogging the toilets — glaring evidence that there is still work to be done.