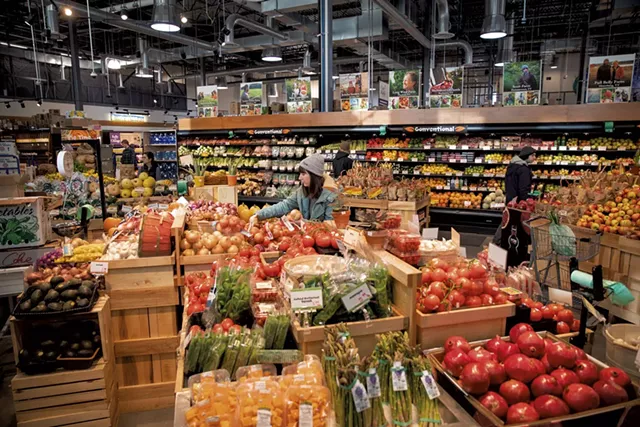 James Buck
City Market South End
When City Market, Onion River Co-op opened a second location a year ago, longtime member Don Schramm facetiously proposed that a new position be created for the store in Burlington's South End. He floated his idea to general manager John Tashiro.
"I suggested to John that they provide therapists on the floor, because people are going to feel lonely and isolated and confused because there's so much space," recalled Schramm, a former co-op board president. "And they'll miss bumping into each other."
The South End store, now staffed nearly to full capacity, does not include an in-house therapist. But Tashiro said he talks to members who are concerned that the new store doesn't "feel busy." They ask if the Flynn Avenue branch is "performing to the forecast," he said.
"I tell them the busyness of the downtown store is not normal," Tashiro said, referring to the large number of customers. "They think that it's common practice, but it's not."
He also noted that the South End store is about 30 percent larger in size than the downtown branch.
The "not normal" amount of business that's conducted in 12,000 square feet of retail space on South Winooski Avenue has placed City Market among the top-performing single-store food co-ops in the nation. Its $42 million in annual sales, pre-expansion, was just behind that of the Park Slope Food Coop in Brooklyn. That members-only co-op brings in $57 million annually, according to general coordinator Ann Herpel.
Expansion, Herpel said, is one of the things "that can doom a co-op."
But a series of indicators at City Market one year after its expansion suggests initial success. These include sales revenue, membership growth and purchases of local products.
"I would think City Market has a positive reputation across the country," Herpel said. "It's a strong co-op for Vermont."
The store's regional reputation is certainly solid: Allan Reetz, public relations director of Hanover Co-op Food Stores, called City Market an "astounding" store.
"It's doing its best in a vibrant and competitive market, where you can buy food online and buy a gallon of milk at a drug store," he said. "But there's City Market, churning out and holding true to its values and its principles."
In Hanover, N.H., where Co-op Food Stores was established in 1936, the business has expanded over the years to include four food stores within seven miles. It also owns and operates a commissary kitchen in Wilder and an auto service shop in Hanover. Next month, it will open its second car shop, this one in Norwich. Reetz, who has worked at the Hanover co-ops since 1995, said he "crossed [his] fingers" for City Market when he heard it was expanding, knowing how hard it is.
"I walk in, and I'm feeling good," Reetz said of the South End store.
"When somebody says, 'City Market,' it brings to mind certain things for the consumer," he noted. "And that's local foods, community-focused and trust ... That's something that has to be earned."
Two factors typically drive a food co-op's decision to expand: an interest in growing the business and a desire to expand the mission, said Michael Healy, an independent consultant who works with food co-op boards and managers around the country. Healy lives in the South End and is a member of City Market, which is one of about a dozen co-ops he consults with on a year-round basis. (He was not directly involved in City Market's decision to grow.)
"Co-ops are small businesses," Healy said. "Like any other small business, they've got to make a profit and function as a business."
The measure of success is whether a co-op remains in business, he added, noting last month's closure of Harvest Co-op Markets in the Boston area. The member-owned co-op shut down its two remaining stores after more than 40 years in business.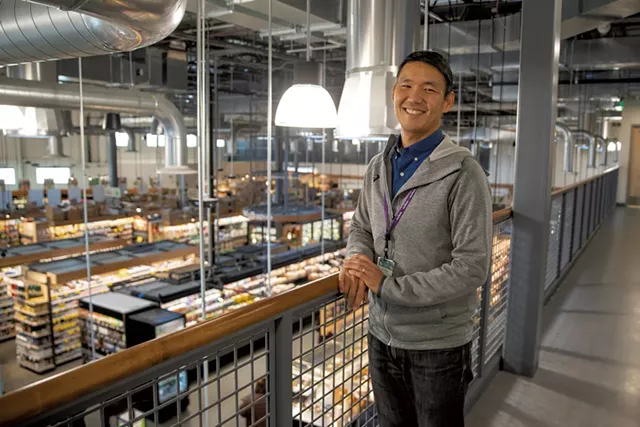 James Buck
John Tashiro, general manager, at City Market South End
For City Market, the primary purpose of building a second store was to relieve traffic — people and cars — at the downtown market, Tashiro said. "Whether parking spaces, general safety in the store or overall customer experience, we had been considering [expansion] over the years," he said. "And we were getting to the point of having major concerns."
Management had predicted that 20 percent of the co-op's business would migrate to the South End store over about three months, according to Tashiro. In fact, he said, "It was almost instantaneous and sustaining."
This presented a service challenge at the new store, because about half of its positions were not yet filled upon opening, he said. Being understaffed meant that prepared food — among the co-op's most popular items — was limited at first.
"Our hiring rate is 4 to 5 percent [of applicants]," Tashiro said "We're picky ... We value the cultural fit. If we think about how we differentiate [from] any other food retailers, our people really are an invaluable asset and what makes the co-op really special."
By other measures, too, the store has exceeded its early goals, according to Tashiro. Projections for the first fiscal year anticipated that combined revenue at the stores would grow from $42 million to $46 million. Sales exceeded that by $2 million, he said, a 14 percent increase in fiscal year 2018.
"That's extremely exciting for us," Tashiro continued. "I'm delighted to say that we did better than what we forecasted. We're about a year ahead from where we thought we would be ... I attribute that to tremendous support from members, customers and the city."
The nature of the new store's revenue, too, has proved to be what City Market values and is consistent with the downtown store: 70 percent of sales are to members and 40 percent are for local products. The co-op is raising its financial goal to exceed $50 million in the next fiscal year. "Complacency is dangerous," Tashiro said.
Every Monday, Tashiro and some staffers review customer comments from the two stores: about 25 per week from the downtown branch and 50 to 60 from the South End, he said. Topics range from product requests and parity between the two outlets to compliments for the staff and questions about patronage refund checks — a share of profits that is divided among members and returned to them, based on money spent, each fall.
This year, for the first time in a decade, members will not receive a patronage check; despite increased revenue, the business is not profitable because of its huge investment in the South End store. The co-op is making payments on a bank loan of about $10 million, or half the cost of construction. As management anticipated — and has communicated to members several times — there will be no patronage checks for several years, perhaps until 2023.
"Until we are profitable," Tashiro said, "we don't have the option of patronage refund checks."
Faye Mack, current president of the co-op board, started working at City Market as a cashier 10 years ago. She is now advocacy and education director at Hunger Free Vermont and said her background in food access is part of what she loves about working with food co-ops.
Mack said she measures the co-op's success in a number of ways. These include financial strength and sustainability, impact on the community, expanding access to wholesome foods, supporting local food producers, and growing membership.
"We're at an interesting place of learning and reflecting on the wild ride it's been," she said. "We're developing a [five-to-seven-year] vision right now: What comes next? How else can the co-op have a strong impact on the community and the needs of the community?"
Healy, the co-op consultant, belongs to the 20 percent of people who immediately shifted their shopping from downtown to the South End. Speaking as a member, he said he thought a second store was a good idea, because the downtown store was so crowded.
"My own sense is, I'd be glad if co-ops took over the world," Healy said. "We're still a small player in the grocery industry. Grocery profits in our community are going to other countries and other states. Why would we not want to have more locally owned groceries in our community? Why stop at two?"
Disclosure: Sally Pollak is a member of City Market, Onion River Coop.
City Market by the Numbers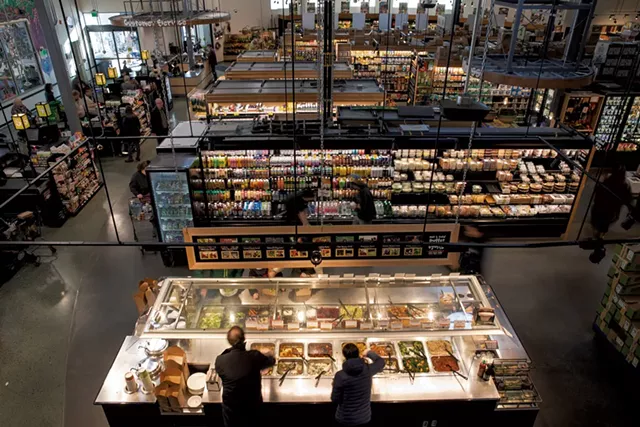 James Buck
City Market South End
Co-op membership: 13,470 at the end of fiscal year 2018 (9 percent increase over the previous year)
Number of employees at the two stores: 340
Volunteer work hours performed by members: 19,000, of which 17,700 were at 24 local nonprofits. These hours equal the work of roughly nine full-time employees.
Local-product sales: $19,500,000, about 40 percent of total annual sales
Food for All shopping program for income-eligible members: 15 percent discount in produce and bulk, 10 percent discount in other departments. In 2017, FFA members saved roughly $200,000.
Rally for Change: Launched in October 2014, the program raises money from shoppers (by rounding up their grocery total) for local nonprofits; half the contributions go to the Chittenden Emergency Food Shelf. In FY 2015, it raised $93,913; in FY 2017, $171,897. Current donations average $24,000 to $25,000 a month.
Patronage refund: Since the refund was started in 2009 for FY 2008, the peak was in FY 2014 with a total distribution of $968,000 (average check: $93). In FY 2016, the distribution was $348,000 (average check: $30). This year, there is no refund, because the co-op is not profitable.
Current average daily sales: $145,000 to $150,000 between the two stores; 66.6 percent at the downtown store, 33.3 percent in the South End
Six values of the co-op: kindness, diversity, fun, responsibility, learning, positive impact
Source: City Market, Onion River Co-op
Top 10 products
Downtown store:
Organic bananas
Organic avocados
Hot buffet
Filtered water
Cold buffet
City Market coffee, tea and cocoa (large)
City Market coffee, tea and cocoa (small)
Conventional limes
Conventional lemons
City Market iced coffee
South End store:
Organic bananas
Hot buffet
Filtered water
Organic avocados
Organic watermelon
Aqua ViTea bulk kombucha
Cold buffet
Organic lemons
City Market coffee, tea and cocoa (small)
City Market coffee, tea and cocoa (large)
Source: City Market, Onion River Co-op