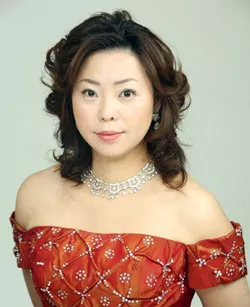 Vermont's small, vibrant opera world is rarely as dramatic behind the scenes as on its stages, but one recent development did come as a surprise. After seven years as the energetic director of the Green Mountain Opera Festival, Taras Kulish has left. The Montréal-based singer-director parted ways with the board of the festival's parent nonprofit, the Green Mountain Cultural Center in Waitsfield, at a postseason meeting.
The GMCC is awaiting the full board's approval to release a statement about Kulish's step-down that may also contain an announcement of his replacement, according to board member Wendy Brauer. Meanwhile, the former director offered his own explanation.
"I felt like the organization wasn't growing in the ways I thought it needed to grow," Kulish says. Specifically, he was interested in "growing the Burlington connection" — which he initiated last season with a gala concert and emerging-artist performance at the University of Vermont's Recital Hall. (Audiences are likely to be bigger in Burlington for the festival's fully staged operas than at its current venue, the Barre Opera House.) Kulish had also envisioned the GMOF as a freestanding nonprofit; having a parent organization meant "the financials were not clear," he contends.
"I think that an organization that stays stagnant tends to go downhill," Kulish concludes, though he adds that he has no regrets about the past seven years.
Meanwhile, the news from Vermont's other resident opera company, the Opera Company of Middlebury, is that it's growing. Director Doug Anderson added a second opera to the small company's annual roster in this, its ninth season: Puccini's Madama Butterfly, which will receive two semi-staged concert performances this weekend.
Anderson chuckles at the audacity of the expansion, not to mention the extra round of fundraising he brought on himself. "We're a tiny company in a tiny town. The fact that we do one opera [a year] is a miracle," he declares. But sold-out performances of OCM's summer opera, Massenet's Thaïs, proved that the audience is there, and a concert version of Butterfly — using Japanese props such as tatami mats and a screen — is manageable.
Anderson says he and music director Emmanuel Plasson chose the warhorse — the world's seventh-most-performed opera over the past five years, according to Operabase statistics — because, "if you only have the singers for a few days, you're going to do work that they know."
The pool of sopranos who can already sing Butterfly, for example, is larger than those experienced in the roles of the lesser-known operas Anderson tends to favor for the company's summer productions. The OCM Butterfly will star a particularly experienced lead: the Japanese soprano Mihoko Kinoshita, who has sung the part around the world.
Plus, Anderson notes, "You never need an excuse to do Puccini." Butterfly's music is "among [the composer's] most melodic and heartbreaking," he adds.
The opera's story is no less a tearjerker. It's set in 1904 in Nagasaki, Japan, where an American naval officer named Pinkerton is set to marry an excited 15-year-old Japanese girl, called Cio-Cio-San ("Butterfly"), in a native ceremony that the Navy man has no intention of taking seriously.
The two share a single romantic night, and when Pinkerton's ship leaves shortly thereafter, he promises to return soon. Three years later, Cio-Cio-San is still waiting, now with their son, born in Pinkerton's absence. When the officer does come back, he brings his American wife. The cowardly man sends her to break the news to Butterfly that they're taking the child. Pinkerton finally finds the courage to face his abandoned Japanese bride a moment too late to prevent her suicide.
"Pinkerton is the most reviled character in all of opera," says Anderson, and the standard interpretation of the work is one of "American imperialism raping the world" — a view that has inspired such gender- and race-bending works as David Henry Hwang's powerfully critical play M. Butterfly. But Anderson intends to challenge that accepted view.
"I feel sorry for him," he quips of Pinkerton. According to historical accounts Anderson has read, in the late 1800s and early 1900s, the American Navy actually encouraged officers posted to Japan to take a Japanese wife for the duration, rather than risk venereal disease in the red-light district with the common sailors. "When it came out in the American press 20 years later, the Navy was 'shocked, shocked.' My point is, it wasn't his idea. I just think he's a kid placed in a bad situation."
Anderson is equally skeptical about the standard interpretation of Butterfly as an innocent, "simpering thing"; after all, she has had to get by as a prostitute for a couple of years after her father's death, he points out. "I'm not sure who's seducing whom in that final scene of Act 1," Anderson contends, referring to the duet in which Pinkerton pressures Cio-Cio-San to say she loves him. "He falls in love with her — and I know because the music tells me so."
Far from competing, Vermont's two opera companies offer each other mutual support. Despite their recent rupture, both the Green Mountain Cultural Center board and its former director are enthusiastic about Midd's innovations and expansion. GMCC has sent out emails advertising the unaffiliated company's upcoming production.
And Kulish is genuinely excited about Anderson's music director, Plasson, who came on board in 2011. (Butterfly will be Plasson's third opera with OCM.) Kulish cites the French conductor's pedigree — Plasson's renowned conductor-father, Michel, is better known outside the U.S. — and his connections in the classical world. "For Middlebury to get Plasson is quite a coup," Kulish enthuses.
The Opera Company of Middlebury performs Giacomo Puccini's "Madama Butterfly" on Friday, October 5, at 8 p.m.; and Sunday, October 7, at 2 p.m. at the Town Hall Theater in Middlebury. $40-45. townhalltheater.org