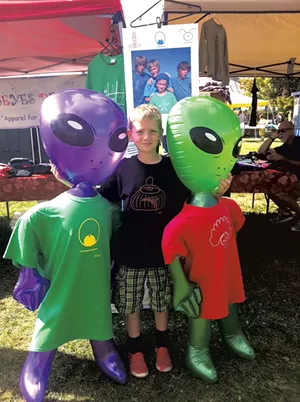 Wyatt selling his T-shirts at a summer market
Age: 10 Town: Underhill
It all began with a doodle. About three years ago, when Wyatt Leombruno-Nicholson was in second grade, his friend made a face at him during class. "It was a weird, cross-eyed funny face," he explains. Inspired, Wyatt put pencil to paper to create a spare and silly cartoon face with big crossed eyes and a playful expression.
He didn't stop there. Before long he'd filled two pages of his notebook. "A hundred faces on each page," he recalls. He wanted to do something with the drawings, so he decided to put them on T-shirts. Wy'seyes (pronounced "wise eyes") Designs was born.
With his parents' help — and their underwriting — Wyatt has created about 25 different face designs for shirts, hats, bags and stickers since then. Each one has a name: Party Rocker, Westache, Frogio, Muffin Boy, Uptown Funk, Sad Boy. One has a particularly distinctive proboscis. "It's a Peter Shumlin nose," he explains.
Since starting the company, Wyatt and his folks have sold about 800 shirts at the Jericho Farmers Market and other local craft markets, as well as at Lenny's Shoe & Apparel in Barre and Williston. They're currently for sale at wyseyesdesigns.com.
Shirts cost $15 a piece, or $25 for two. Most profits go toward making more shirts.
Wyatt's marketing strategy is simple: Wear the shirts. "When people see me wearing them, they say, 'Where did you get that?' Then they can go buy them," he says. "It makes me feel really good."
Wyatt has created a couple of special shirts: one for the Browns River Middle School football team to which he belongs; and one for a school fundraiser. He raised about $900.
Mom and dad may be footing the bill for now, but Wyatt understands the company's finances. He rattles off the costs involved: $2-3 to buy each shirt; $25 for local screen printing company Catalyst Design to upload and edit each drawing; $65 to create a screen; and $3-5 to print each shirt. Wyatt's parents see the endeavor as a valuable lesson. "It helps with his math," says his mom, Tammy, and it's showed him "what money means."
Wyatt says it's taught him the value of saving for something special. "I have this dream," he says. He wants to save enough to someday attend Windells, an action sports camp on Mount Hood in Oregon.
He plans to keep cranking out funny faces until he gets there.