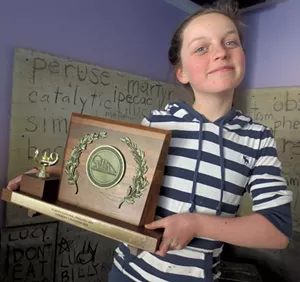 Age: 11 Town: Kirby
Lucinda Storz comes from a word-loving family. Her 20-year-old brother, Walker, won the Vermont state spelling bee in 2008, and her 17-year-old sister, Samantha, was runner-up in 2011. Lucinda, a sixth-grader at Thaddeus Stevens School in Lyndon, has won the independent school's spelling bee every year since she was in first grade.
In March, she competed on a bigger stage during the Vermont Scripps Spelling Bee at Saint Michael's College. After a tough, 43-round competition with Alice Early, a fourth grader at St. Mary's School in Middlebury, Lucinda snagged the gold medal. Her winning word? Ipecac, a syrup once used to induce vomiting. The victory earned her a ticket to the national championship in Washington, D.C., at the end of May.
"It felt really great," Lucinda says of winning. "I felt relieved because I put a lot of time and work into it."
The Storz family's logophilia is well documented on the cement wall behind the woodstove in their Kirby home. Years ago, they created a "Spelling Wall of Fame and Shame" there. They use charcoal from the fire to scrawl words that have tripped them up, as well as words they've spelled to win previous bees. These include epiphyte and ayatollah — Walker's winning words — metaphor, martyr, catalytic and Lucinda's least-favorite word, femininity (she just doesn't like the way it sounds).
Lucinda has always loved words and reading — and paper. She had the habit of eating it when she was 3 or 4, her mom, Thea, reveals. That's why the phrase "Lucy, don't eat paper," is also written on the wall.
In preparation for a bee, Lucinda spends one or two hours a night studying a list of thousands of words in English, Latin, Greek, Arabic and other languages.
Her favorite word? Queen. "I like the way it sounds," she says. Lucinda also loves staphylococci, though she's not sure what it means; Google says it's a genus of bacteria. Lately, she's been digging gelid — icy or extremely cold — too.
An enthusiastic student, Lucinda wants to be a teacher when she grows up. Training for the bee helps her to build vocabulary and to exercise her memory. But her mom points out that it's also a valuable lesson in public speaking.
"You have to retain composure and poise in front of a huge audience," says Thea, "I don't know if that's something I could have done as a kid."
Lucinda is getting pumped about the national bee, where she could take home "a huge gold trophy" and $30,000 in college scholarships. "I'm more excited than nervous," she says. "I had really high expectations for the state spelling bee. Now I'm just really excited about the process.