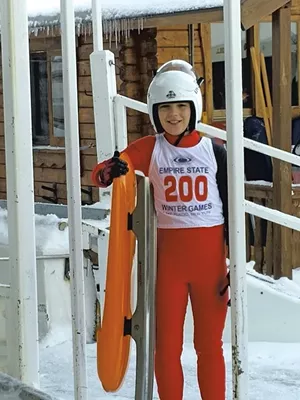 Age: 12
Town: South Burlington
Gavin Shamis is super excited about luge. The enthusiastic sixth grader came to an interview at Frederick H. Tuttle Middle School wearing an official USA Luge T-shirt and toting all his gear: an aerodynamic skin-tight suit, a sleek helmet, pointed shoes and gloves with metal spikes on the fingers. You'd never guess that just 18 months ago, this kid was fighting leukemia.
Gavin, a member of the USA Luge Junior Team, was 8 years old in 2011 when he started experiencing joint pain. Several months later he was diagnosed with leukemia and soon began two and a half years of chemotherapy.
Before getting sick, Gavin had been a busy kid who loved biking and swimming. During his treatment, he tried to stay active. He met with a tutor, but at times suffered complications that left him "curled up in a ball, trying to fall asleep," he says.
Gavin missed much of third and fourth grade. He returned to school in the fall of 2013 for fifth grade.
In October 2013, Gavin attended the USA Luge Slider Search in Burlington (the organization holds these events to recruit young athletes). He didn't know much about the sport — in which racers zoom feet-first on fiberglass sleds down an ice-covered track — just that an athlete from the country of Georgia had died in a freak luge accident just before the 2010 Winter Olympics in Vancouver.
"Ooh, this is dangerous," Gavin remembers thinking. "I want to try it." (He quickly learned that luge is not as dangerous as it seems; according to a 1997 paper in the American Journal of Sports Medicine, far fewer athletes are injured in luge than in alpine skiing or football.)
"Gavin is tough, fearless and not afraid of living on the edge," says his dad, Andrew. "But he is a different sort of thrill seeker. Although he is intrigued by danger, he is very cautious and deliberate in the risks that he takes."
Several months later, Gavin was called back to the USA Luge screening camp, where he made it onto the team. Soon after, he competed in his first race, the Empire State Games in Lake Placid. Oh, my God, I've found my sport, he recalls thinking.
Now the middle schooler trains eight weeks a year, for six days each week, at the Lake Placid Olympic Sports Complex. Last month, he came in second place at the Empire State Games, and as this issue goes to press he's competing in the national championships in Salt Lake City.
He dreams of making it to the Olympics — and coming home with a medal.
"Gavin is one of the most helpful and mature students I've ever known." says his social studies teacher, Edith Ainsley. "He's the best kind of star: one who is motivated by authenticity and his own sense of personal best."
One to Watch shines a spotlight on a young Vermonter who is going places. Know a local child, age 17 or under, who's recently done something amazing? Nominate him or her at kidsvt.com/vermont/kidsvtonetowatch/page.
The original print version of this article was headlined "One to Watch"