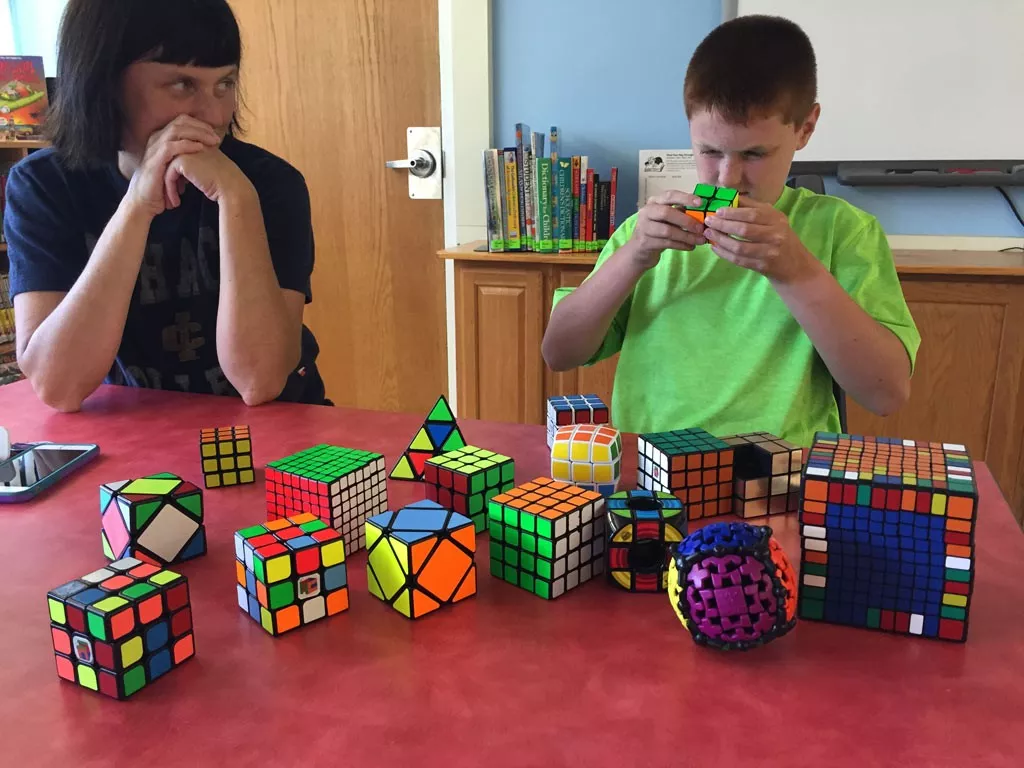 Brady solves a puzzle while his mom looks on
A 12-Year-Old Solves 3D Puzzles With Lightning Speed
Name: Brady MacKay Age: 12 Town: South Burlington
Put a Rubik's cube in Brady MacKay's hands and everything clicks: his brain, his conversations and, most notably, the cube. The South Burlington 12-year-old twists its layers, lightning fast, until he has solved the classic, multi-colored puzzle.
His quickest time on the original three-by-three cube is 9.79 seconds, recorded at his home. He racked up his best time in competition — 16 seconds — at this summer's Rubik's Cube U.S. National Championships in Hilton Head, S.C.
Brady's hobby has a name: speed cubing. Three years ago, when he first watched someone on YouTube solve the puzzle in 15 seconds, he wanted to try it. He bought his first Rubik's Cube using his own money, says his mom, Amy MacKay, "because I remember saying to him, 'I'm not spending money on these things that you're never going to do anything with.'"
Since then, the freckled seventh grader has participated in four competitions and laid the groundwork for his current career plan: to become a 3D puzzle designer.
His skill is impressive, says Greg Warrington, an associate professor of mathematics and statistics at the University of Vermont. "He's pattern matching," says the prof. Brady recognizes and understands patterns, much like a chess player, Warrington explains. "We look at a cube and see a bunch of colored stickers, and he sees a path to a solution. It's a great skill," one that's applicable to mathematics, science, medicine and economics.
Brady owns about 25 3D puzzles and practices two hours a day. He has his own YouTube channel, called Brady CUBES, and takes requests for interviews.
He arrives at ours carrying a backpack that looks like a Rubik's Cube and proceeds to unpack 17 puzzles: spheres, prisms and cubes in various configurations. As he talks, he casually picks them up and solves them, as if he's just fiddling with a paper clip.
Yes, he says, it all began in fourth grade: "That's when I started fake solving ... I would, like, cheat." Instead of twisting the cubes, Brady admits he would take them apart and reassemble them correctly. "And then I thought I was all cool," he says.
Until his older brother caught him. In fifth grade, Brady decided to come clean. He announced his plan to solve the puzzle during February break. "And by the end of the week," his mom says, "he had."
He copied algorithms he'd found online onto strips of paper and memorized them. Back at school, friends started bringing in their cubes for him to solve during snack time. One kid paid him $5.
Brady still takes cubes apart, but now it's to clean, lubricate and adjust tension. The young puzzler, who sometimes faces social anxiety, has found a world in which to thrive. At his first competition, he told his mom, "These people understand me."