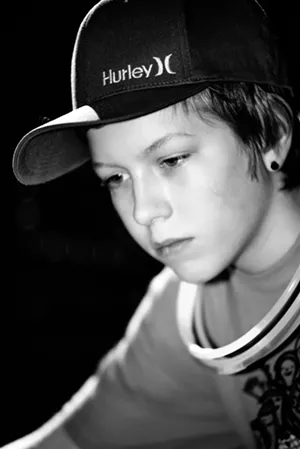 Age: 13 Town: Essex
Seventh grader Ben Sprenger knows how to mix it up. Over the last couple of years, Ben has been performing as DJ Necutron, a made-up name that references his favorite movie, Tron. He's spun tunes at a skateboarding competition at Talent Skatepark and at dances and lunch periods at Essex Middle School. In March, he had his biggest gig yet: the Kids Are Alright benefit concert at Higher Ground in South Burlington.
"It was awesome," says Ben of performing on the same stage where he'd recently watched one of his favorite electric dance music (EDM) duos, Adventure Club.
At 13, Ben already displays a striking sense of style. On a recent afternoon he's wearing two black stud earrings, black sweatpants and a black T-shirt emblazoned with the logo for Neurobotik — the video game his dad's company, Xemory Software, created. A pair of red high-top Converse All-Stars, printed with the Campbell's tomato soup logo, adorn his feet.
Ben was inspired to start DJing at 11 when a counselor at his YMCA camp brought in a Yamaha DJX keyboard. "I thought it was so cool," Ben recalls. "I'd create beats on it." Soon after, Ben got a similar used keyboard for his birthday. "Boom," he says. "That was my opening."
He's accumulated quite a bit of equipment since then, saving up his money — from paid DJ gigs — to buy a laptop, a speaker set, a mini-keyboard and a Numark Mixtrack Pro turntable. All of that gear takes up prime real estate in his bedroom. Ben mixes beats at home on a digital turntable and laptop set up on a plastic craft table. An enormous speaker looms over his twin bed.
He's honed his technique watching YouTube tutorials and local DJs like C-Note Entertainment's Charlie Rice, who works the school dances with him.
Inspired by artists such as Daft Punk and the Canadian EDM producer deadmau5, he's started mixing his own songs, too. Those musicians, Ben says, "amaze me."
Ben hopes he can parlay his hobby into a career one day. "I really want this to be my job," he says. "Creating music is awesome. I get that adrenaline rush and it makes me feel happy."