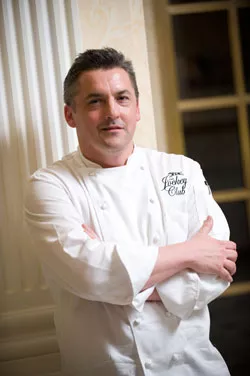 Wondering what's happened to Aaron Josinsky since he flew away from Bluebird Tavern late last year? The chef has finally landed — at Norma's Restaurant at Topnotch Resort in Stowe. But Josinsky isn't nesting. His official title is "seasonal chef," and he's working closely with chef de cuisine Cortney Quinn to prepare her for his departure later this spring.
The resort's menu under Josinsky has taken a turn toward the rustic meats that made him a James Beard Foundation award nominee at the Bluebird. The chef's recent specials have included sweetbreads and braised pig shanks. Housemade sausages and charcuterie are now a part of the regular menu.
Josinsky replaces Mark Timms, who finished his two-year tenure at Topnotch at the end of August 2010. Timms left Vermont following his recent divorce and put out a call to his friend Daniel Bruce, executive chef of the Fairfax Hotel chain, to keep him in mind for any openings. Just before Christmas, says Timms, Bruce phoned him with an offer — the executive chef position at the Jockey Club, the 50-year-old restaurant at the Fairfax at Embassy Row in Washington, D.C.
"Every other day one of the embassies is eating here," Timms marvels. "It's really like a comeback to the big leagues."
Though Timms has left Vermont, he says he makes a point of feeding visiting politicos a taste of the Green Mountains. "I'm still doing Vermont," he says. "I'm serving all Vermont cheeses down here."
Those who hope to try Timms' fare without a trip to the capital are in luck: He says he'll be at this summer's Stowe Food & Wine Classic at Trapp Family Lodge, cooking in Vermont for old times' sake.