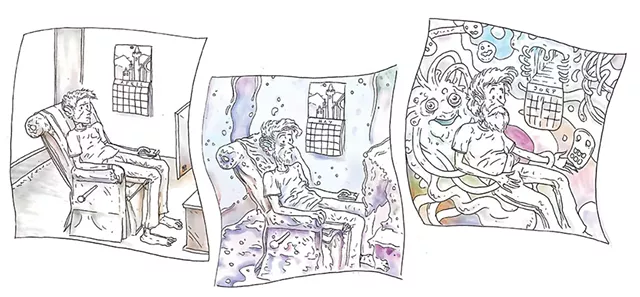 When the pandemic brought Vermont to a halt in mid-March, Paul lost most of his freelance work and found himself marooned at home in Burlington. He and his roommates diligently whiled away their days: They took five Zoom yoga classes a week, worked in the yard and processed their feelings.
As the sameness of self-isolation reached its apex, Paul, who requested anonymity for this story, decided to start microdosing — consuming small quantities of psychedelics to achieve a subtle sensory lift. He had microdosed before — "not for enjoyment, but to work through something," Paul explained — but this sudden windfall of time, unaccompanied by guilt over shirking any obligations, had created the ideal conditions for a spelunk into his psyche.
The pandemic has given rise to a tense monotony, a stillness enveloped in ambient dread. At a time when once-pedestrian thrills — mass gatherings, casual sex, nonessential travel — are fraught with public health perils, consciousness-altering substances can provide a psychic escape, a means of disorienting ourselves in familiar environments. This April, liquor sales in Vermont rose 16 percent over last April, which seems to be a sign of the times in terms of coping mechanisms. "I would be inclined to say that personal consumption has increased," Liquor and Lottery Commissioner Patrick Delaney told members of the Senate Appropriations Committee last month.
In the immediate aftermath of widespread stay-at-home orders, cannabis sales spiked across the country; in Oregon, where recreational use has been legal since 2015, March and April 2020 saw the state's highest cannabis revenue on record.
On the online forum Reddit, the global psychedelic community has convened to weigh the pros and cons of tripping while quarantining. One user wrote: "Hell no, this isn't a great time! This is the most anxious that humanity has been since 9/11. Everyone is expecting bad things to happen. Everyone has bad vibes." Another disagreed: "There is literally no better time than now to eat a whole friggin sheet."
For Paul, microdosing became a project, a spiritual exercise regimen. "Normally, I'd be going to work every day, but instead, I committed to this. My responsibilities had basically gone to nil," he said. "So I thought, This is my shot. What better time to microdose than the end of the world?"
Every morning for the next two weeks, Paul took a corner of an acid tab after breakfast and then went about his day. It was early spring, still monochromatic and blossomless, but through the microdose filter, everything seemed warmer, as if someone had turned up the saturation dial on his field of vision.
"It's not like getting stoned, where your perception can be so far off and you might have anxiety or paranoia," he said. "It's a very gentle, comforting feeling, like putting on a pair of sunglasses that brightens the mood."
One of Paul's regular LSD sources, an Old North End resident who goes by the moniker Skiz, has been selling weed and psychedelics since the mid-'90s. Over the last three months, he said, his psilocybin mushroom and LSD sales have quadrupled. In May, Skiz went through a pound of mushrooms, a quantity he typically would move over an entire year.
"People are definitely gravitating toward the unusual," Skiz said. "I think everyone is trying to get out of their stuck thoughts and experience an altered, creative mindset. It's the way to travel from home."
Another Burlington dealer, who asked to be identified only as Dave, has also seen a shift in demand: "The people who would buy a quarter pound of 'shrooms, like a party dose, they're not doing that anymore, because there are no concerts or festivals happening," he said. "But my individual-use people are definitely buying more, and I'm going through them faster than I normally do."
Both Skiz and Dave have noticed an uptick in two kinds of customers: the habitual psychedelic consumers, whose home-centric lives have allowed them to trip more freely; and skittish newcomers, emboldened by the once-in-a-lifetime nature of a global pandemic.
"These sweet older ladies are asking me, 'So, what's this microdosing thing all about?'" said Skiz. Recently, he got a call from a friend who decided he was finally ready to try acid. "He was nervous about it to begin with, and he knows some of my neighbors, so he was freaking out that they'd wonder what he was doing at my place."
Before the days of social distancing, Skiz would let people into his apartment to hang out and chat while they picked out their product. One of his customers likes to select her pot using a high-contact dowsing method, inadvisable under the current circumstances. "She takes a little taste of each one, and she'll either be like, 'I feel a tingle in my nose! I don't think I want this one,' or 'Oh, that tastes nice and herbaceous,'" Skiz explained. "She uses all of her senses to intuit what she wants, which is definitely something I can't let her do anymore."
To keep face-to-face encounters to a minimum, Skiz has been hiding plastic bags around his apartment building. Some of his clients have had a hard time unlearning the social rituals of the exchange: "There's always one kid who comes by for weed who never has any money, and I'll usually just give him some," he said. "And he always gets all excited and wants to hug me, and but it's like, 'No, no, can't hug me!'"
Other underground purveyors have taken even more rigorous precautions. A Georgia couple who, pre-pandemic, sold marijuana and homemade edibles out of their home, launched an encrypted virtual store and a contactless delivery system to reduce in-person transactions. One half of the couple, Jamie (not her real name), said that many of their clients are immunocompromised; to protect them, she and her partner wrap all of their products in vacuum-sealed plastic and sanitize the packages with Clorox.
When they make deliveries, they leave the packages in mailboxes or other discreet drop-off nooks. "We don't go into people's houses for anything," Jamie said. Most of their customers send them money via Venmo; when someone pays in cash, Jamie and her partner place a machine-washable cloth sack on the ground and stand at least 10 feet away while the customer dumps the bills into the bag. When they get home, they launder the bag, with the money inside it, in hot water. (Miraculously, the bills survive.)
Over the past few months, according to Jamie, their customer base has doubled — from 50 or so clients, most of whom are word-of-mouth referrals, to nearly 100. Their buyers rely on cannabis for their physical and mental well-being: "I think some people want their weed more than they want food," Jamie said. "In a time of stress and anxiety, cannabis makes things a little lighter, makes the time go by faster." Recently, she embarked on an edible-fueled spring-cleaning spree: "You have some candy, and then you clean that garage with a slightly different perspective."
Paul, the microdoser, found unexpected beauty in the mutedness of the outdoors in the cold, rainy days of late April. One of his friends, who was microdosing at the same time, told him that he suddenly understood why there were so many colorful houses in Burlington: "'Otherwise, it'd just be so fucking gray!'"
Since his two-week microdosing spell ended last month, Paul has been feeling nostalgic for his days of introspection. Like so many gig workers, he rarely took vacation time before the pandemic; having no choice but to tend his small bubble — his yard, his relationships — felt like an unexpected gift. "When you lose everything, and all you have to do is take care of yourself and your home," he said, "it's almost like being a child again."
As life slowly begins to return to something masquerading as familiar, Paul's nostalgia has darkened into sadness. "I really felt like this pandemic was the opportunity to halt our culture's insane operating system. I think microdosing was a way of teaching myself to be grateful for my health, for the people I love and everything I interact with," he said. "Now, it feels like the old world is seeping back in, and it's making me anxious."