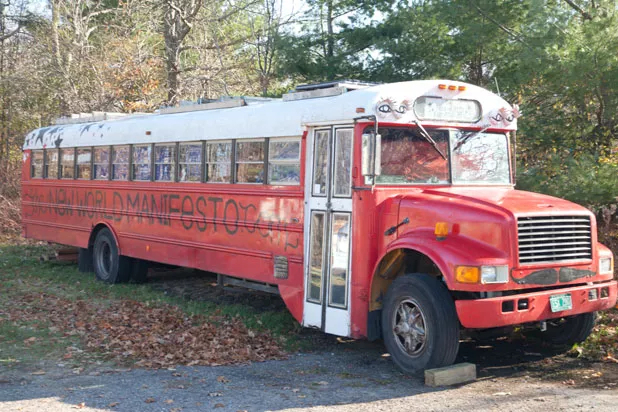 Adam Linnebur thinks of his South Burlington home as an artist's oasis — a freewheeling hangout for musicians, poets and performers of all varieties. But some of his neighbors are complaining that Linnebur has allowed this suburban section of town to become an unlicensed campground for his tattooed and scruffy friends.
The dispute has become something of a culture clash, with South Burlington homeowners on one side and Linnebur and his bohemian friends on the other.
On Monday night, the city's elected officials stepped in the middle to mediate.
At issue is a city-owned right-of-way at the end of Hadley Road adjacent to Linnebur's property. Linnebur has allowed the green space to become a parking lot for multiple vehicles, the biggest of which is a vegetable-oil-powered tour bus owned by the Burlington-based band Vermont Joy Parade. Detractors say the vehicles have hampered pedestrian access to wooded walking paths behind Rice Memorial High School and are creating "quality of life" problems for the neighborhood.
But the disgruntled neighbors never brought their gripes to Linnebur; they took them directly to the city's public works, police and zoning departments. Officials at all three told the complainants that Linnebur's parked cars and rambling abode weren't breaking any laws, codes or ordinances.
So 23 homeowners signed a petition asking the South Burlington City Council to "take whatever steps are necessary to remedy this situation."
On Monday, the matter went before the council for a public airing that was alternately heated and humorous. Frustrated neighbors told councilors they felt uncomfortable weaving through the used-car lot outside Linnebur's home to get to the walking paths.
"I feel like I'm trespassing," one woman said.
Another neighbor asked the council to amend city ordinance to make parking on public green spaces illegal.
Paul Demers of Meadow Road said Linnebur has essentially annexed public land for private use, allowing numerous friends to camp in cars and in tents pitched on the right-of-way. He worries that sets a bad precedent for the city.
"It's surprising that someone who claims to have really great community values would just grab something that is everybody else's and claim it for their own," said Demers, who circulated the petition to the council.
One of Linnebur's friends, poet and Vermont Joy Parade cornet player Ben Aleshire, said the band would soon be moving the tour vehicle, a converted school bus named Zeitgeist Apparatus II. Then he lightened the mood with a profession of love.
"I don't know you, but I love you and I think you're beautiful," Aleshire told the council, as nervous laughter erupted in the meeting room. "I would suggest that after the meeting we could all hug each other, touch each other."
Without missing a beat, City Council Chair Rosanne Greco shot back, "That's the first time anyone's ever said they wanted to hug us. But then, you're from Burlington."
In an interview three days earlier, Aleshire was more serious about what he sees as the motivation underlying the dispute. The situation isn't about green space, parking or access to woods, Aleshire surmises; it's about "middle-class fear."
"Adam Linnebur and his housemates aren't doing anything illegal, but they do have tattoos, ride motorcycles, plant gardens, play music, drive around in painted buses and take part in a style of vibrant community that is more commonly found in [Burlington's] Old North End," he said.
But some neighbors reject the hippies-versus-squares narrative. "The whole thing of framing this as between conventional and bohemian really chaps my hide," Orchard Road resident Laurel Williams told the council. "It's about manners and recognizing boundaries. This is a public good and should remain as such."
Added Demers, "This is not a lifestyle kind of issue. We're kind of a bohemian neighborhood, too. There's a pretty live-and-let-live attitude."
Linnebur bought his split-level house on Hadley Road — two blocks off Route 7 — a year and a half ago and immediately put his own stamp on the property. He turned his front lawn into a vegetable garden. He bought a 104-year-old upright piano and lugged it upstairs so friends could entertain. He also parked two boats and several cars he's fixing up — all legally registered — on his property and on city streets and the publicly owned green space.
Linnebur says he wants to be neighborly and can move the cars to clear a path to the woods. That's the easy part. But he says, "I'm not sure what to do about the aesthetic difference." He likes the mix of artists and musicians that live and hang out at his place and hates the idea of having a tidy, manicured yard without any "junk."
"I came home one day and this amazing accordion player was on my front steps playing," he recalls. "And I'm like, this is so awesome!"
Last summer, Vermont Joy Parade performed at a neighborhood block party and barbecue for residents of Meadow and Hadley roads, and Linnebur said it went over smashingly. In light of that, he was surprised that his neighbors would take their concerns to city hall instead of engaging him directly.
At Monday's meeting, Greco recommended the neighbors find a solution together and offered the assistance of the city's mediation specialist.
"We're not a mediation board," Greco said. "We can pass ordinances ... but it takes neighbors coming together and speaking amongst yourselves."
Linnebur is in the process of soundproofing his garage so neighbors don't hear bands practicing or artist friends using his power tools. He feels positive about resolving the dispute but says he can only compromise so much.
"I'm within my rights as a property owner," Linnebur said. "I'm not going to get rid of all my stuff because people don't want to look at it."