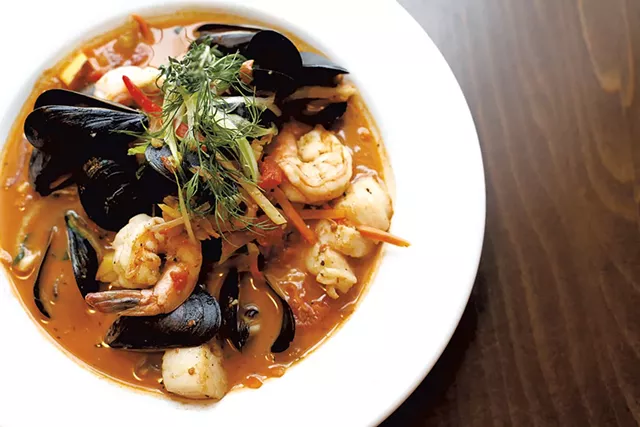 Sarah Priestap
Bouillabaisse
Many American cooks and diners ages 50 or older will recall bouillabaisse from decades past. The Provençal fish stew was an upscale menu stalwart in the 1960s and '70s, as culinary tastemakers including Julia Child, James Beard and M. F. K. Fisher composed veritable odes to French country cookery.
At Woodstock's 506 On the River Inn, 506 Bistro & Bar executive chef Dana Hansen recalls tasting the dish for the first time in the 1980s at a swanky French restaurant in Kona, Hawaii. "It stuck with me," he tells Seven Days, "and it sparked me as something that I could bring back. I thought I could do better."
Soon after, Hansen composed his own rendition of the dish and put it on the menu at the raucous, 450-seat High Five Restaurant and nightclub in Manchester, N.H. That's where he cut his teeth as a young cook and worked for a decade. Hansen has been toying with the stew off and on ever since. At the Barnard Inn Restaurant & Max's Tavern, where he rose from assistant chef to kitchen manager over a six-year period ending last July, Hansen workshopped the recipe with former inn co-owner Ruth Schimmelpfennig. She helped him refine and balance the flavors.
Sarah Priestap
Dana Hansen
When Hansen joined 506 Bistro last August, he continued to perfect bouillabaisse, taking advantage of late summer's abundant plum tomatoes for the broth. International hoteliers Aaren (a Woodstock native) and Paulina Macksoud — whose home base is in East Africa — opened the 53-room 506 On the River Inn in 2014 on the site of the old Pond Ridge Motel.*
Since the hotel tends to draw an older crowd, Hansen builds his menu around tried-and-true classics and updates on midcentury fare. Think lobster bisque and wild-mushroom linguine tossed in peppered crème sauce. The trick to making these dishes feel modern is to perfect the execution, and Hansen has developed the chops to do so over his 30-year career.
At a bistro dinner last week, the crunchy strips of romaine in an expert ahi tuna Caesar were slicked with just enough dressing. The fish was seared to a marvelous rosy pink. But the saffron-scented bouillabaisse stole the show.
Hansen makes the shellfish broth ahead; fennel and white wine soften the zing of the tomatoes. All combine for a balanced taste that evokes a saline coastline without being too salty.
With stock at the ready, the kitchen fires the fresh fish to order, gently sautéing a fistful of mussels, lobster and shrimp along with trimmings from whatever filleted fish are on the menu that night. The buttery diver scallops that bob in the red stew are purchased super-fresh but in pieces, rather than whole, at a huge discount.
Sarah Priestap
506 Bistro & Bar
Some diners may consider a soup of fish trimmings and broken mollusks uncouth. But Hansen's formulation represents the original spirit of the dish, which has long been prepared in coastal French kitchens with leftovers from the day's catch.
In a 1968 episode of her cooking show "The French Chef," Child lamented the gold plating of bouillabaisse by many of her contemporaries. "All it is, really, is a plain fisherman's stew," she said. "Unfortunately, when you get a famous recipe like this, the gooor-mays get hold of it, and they fancy it up so much ... that us ordinary people feel it's impossible to do and terribly expensive."
To be fair, Hansen's version isn't cheap at $26. But each scallop is springy as a new pillow, each petite shrimp pops with tender succulence and each cut of salmon falls apart in clean, soft layers with the slightest encouragement of a spoon.
And I found myself wanting to write sonnets to the broth, which was light but warming on a January night. Even after soaking up the final drops with more bread than I care to admit, I left with a bounce in my step.
*Correction, January 13, 2017: An earlier version of this story misidentified the number of rooms at the 506 On the River Inn. The hotel has 53 rooms.