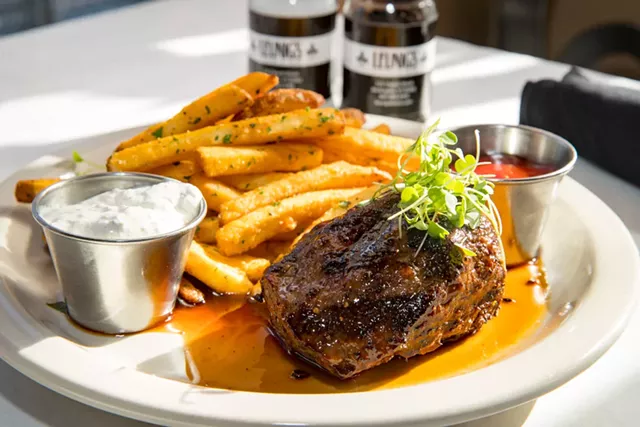 James Buck
Steak frites at Leunig's Bistro & Café
When Bob Conlon started working at Leunig's Bistro & Café 36 years ago, he was a fill-in bartender who worked the breakfast shift. The restaurant on the corner of Church and College streets in Burlington was open from 7 a.m. to 2 a.m. and occupied only the street-front room. Leunig's served croissants in the mornings, salads in pita pockets for lunch and wild mushrooms over polenta at dinner.
"It was more of a bar back then," said Conlon, who is now a co-owner of the restaurant. "And we had some food."
In the mid-'80s, Leunig's added steak and fries to its menu, though not the current version, Conlon pointed out. The cut of meat was thinner, the sauce different.
I can't pinpoint when I had my first steak frites at Leunig's, but I'm guessing it was more than 20 years ago. I can say with certainty that I knew after that first bite I'd be back for more.
Steak frites at Leunig's has been a periodic source of comfort and pleasure since that inaugural meal. I've celebrated the dish at birthday dinners with friends, eaten it alone at the bar and consumed it to satisfy periodic red-meat cravings. Along the way, I've developed a major fondness for the sour-cream-horseradish sauce served on the side.
Steak frites is a classic French bistro meal, simple and straightforward: a piece of steak with a side of French fries. Presentation and style can vary to a degree: The meat is sometimes served in slices. It might come with sauce on the steak or dipping jus on the side. Aioli might dress up the salted frites.
Steak frites is one of the most popular items on the Leunig's menu, Conlon said. His brother-in-law, for instance, will order only that dish when he dines at the restaurant. "There's a lot of people like that," Conlon added. "It's a French classic, and it goes with American tastes. With duck or octopus, people may feel a little challenged. But steak and French fries — I mean, come on. It's a no-brainer."
The present version has been on the Leunig's menu for about 16 years, since executive chef/co-owner Donnell Collins started cooking at the restaurant. She uses a part of the shoulder muscle, a cut called teres major, for steak frites.
"There's not that many on each cow," Collins said with a laugh, explaining why she sources her meat from the Midwest. "I would put a small farm in Vermont out of business with the amount of meat I need."
On a weekend night in the summer, Leunig's serves close to 100 steak frites a night, running through about 400 pounds of meat a week, Collins said. She butchers the beef herself. "You can come down here on any Friday morning and find me in a pile of meat," she said.
I was pleased that a small pile of that meat — half a pound — found its way to me the other night at Leunig's, where a friend and I ate steak frites at a back-corner table. (The meal comes in two sizes: eight ounces of steak for $25, five ounces for $18.) From our primo spot, we could look out the window, spy on other diners and eat at a slight remove from the bustle of the room.
Missing from steak frites is a little green, but that's happily remedied by the other thing I've ordered at Leunig's for about 25 years: Caesar salad. This, too, is a classic dish done right and with style. The romaine leaves are laid out whole on the plate, dressed and topped with shaved Parmesan and croutons. You need a steak knife to eat the salad.
So we were in serrated-knife mode when our medium-rare steaks were served the perfect length of time after our salad plates were cleared. I'd say it was a seven-minute, anticipatory lull, accompanied by a glass of Malbec.
The grilled steaks, red within, were served in their signature demi-glace with horseradish sauce and ketchup on the side. The ample serving of fries came with salt, pepper and diced parsley on top. The steak's port-wine demi-glace is, said Collins, "the mother of everything that we do."
The sauce achieves its richness from the marrow of veal bones. These are darkened in the oven overnight, then cooked on the stove top for another 24 hours with water and mirepoix. The broth is strained, and what remains is "liquid gold," Collins said. It is then cooked another two to three hours with port wine, thyme and other herbs.
"If it's done right," Collins said of the sauce, "you can't compare anything else to it."
I can testify that it was done right last week. Danika Beaulieu of Rutland, who dined at Leunig's the same night with her husband, Matthew, will back me up. The couple traded food halfway through their meal: He gave her his half-eaten steak frites in exchange for the rest of her chicken.
"Every time we go out to eat, we order the three best things on the menu, and we share," explained Danika, a labor and delivery nurse. When it was her turn for the steak frites, she wanted sole possession. That way, Danika said, she could dip in the demi-glace and slather in horseradish sauce without interference.
"It was amazing," she enthused. "The food is always amazing. And so is the service."
When I returned to my table, I ate the last bites of coconut cream pie my friend had ordered. Usually, for dessert, I sop up the demi-glace with a stray fry, but I'm not arguing with pie.